Is defending really a dying art? Ahead of the Super Sunday clash between Everton and Burnley, Adam Bate looks at why Clarets central defender James Tarkowski exemplifies the qualities that will always be valuable but many prefer to overlook.
Sean Dyche enjoyed an 18-year career as a centre-back. So when he talks about defending it is with all the passion you might expect. "Defending is a dying art, and I think it is a massively important part of the game," he said earlier this month. "You can ask coaches across the country, the one thing they are struggling for is defenders who can defend and want to defend."
Speaking to Paul Williams, another former central defender who has since worked with some of the most talented young players in the country as head coach of England's U20 side, that sentiment is confirmed. Williams also worked as a specialist out-of-possession coach across various England age-groups and it was there that he noticed a recurring issue.
"It is tricky to get strategies over and get them to buy into it because it is hard work," he explained. "At international meetups, guys just want to think about how they can score goals and attack, especially with the mentality of the players now. Defending is suffering because we do not have the players who want to focus on defending."


For some, this is progress. An emphasis on universality - defenders who can attack and attackers who can defend - has become a feature of football at many of the finest clubs across Europe. But what of the pure defenders? Those players better suited to stopping an opposition forward than building an attack of their own. Surely they still have a role to play?
Embracing those qualities is certainly serving Dyche well at Burnley. His work with Michael Keane helped the club to sell the young defender for £30m, a vast profit on the £2m fee paid to Manchester United only two years before. Dyche could have brought in a big-name replacement but instead entrusted the job to Keane's erstwhile deputy, James Tarkowski.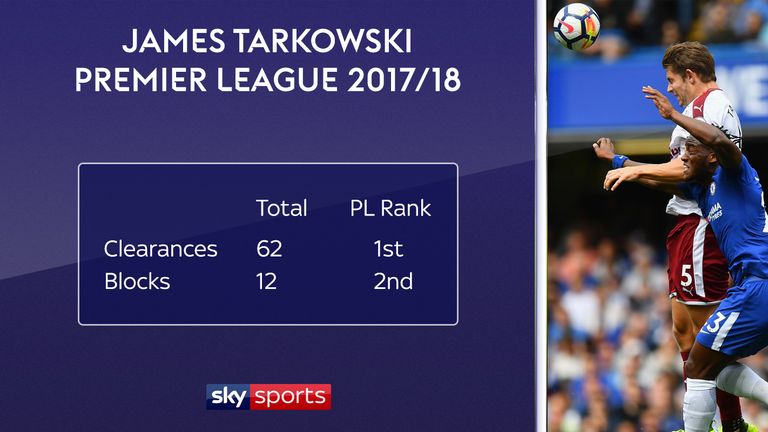 The 24-year-old has justified the faith shown in him. A bargain buy from Brentford in February 2016, Tarkowski helped Burnley to their surprise victory over Chelsea on the opening weekend and was man of the match in the 1-0 win over Crystal Palace that did for Frank de Boer. Dyche described Tarkowski as "immense" in dealing with Christian Benteke.
The statistics highlight the player's role in repelling Palace. In total, he made no fewer than 17 clearances - at the time, the most by any player in a single game this season. Indeed, Tarkowski actually broke his own record, set in that away win over the champions at Stamford Bridge. These might be seen as the basics but they bring Burnley points.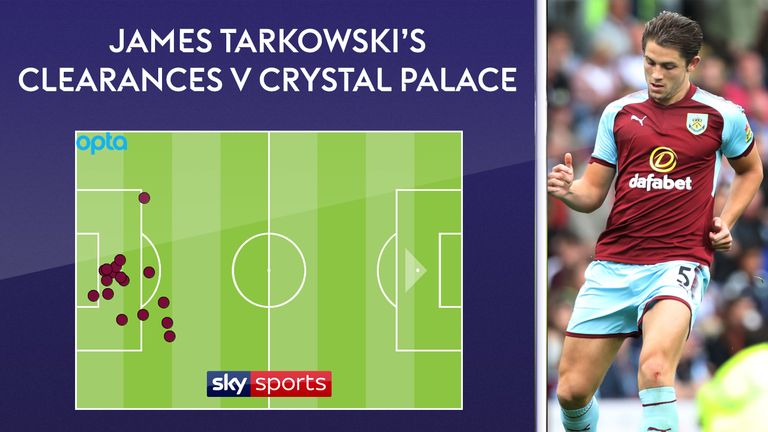 "We've definitely worked on that with our centre halves, all of them," said Dyche. "I know Tarky can play. But his defending, the little details I look for in a defender, as with Keano, Ben Mee, Longy (Kevin Long), even Duffo (Michael Duff), we were still talking to him about details when he was 36, 37. I have a lot of belief in our defenders defending."
As well as ranking top of the Premier League for clearances, Tarkowski is also second on the list for blocks too. Not everyone is convinced that such metrics are evidence of a defender's quality but they are indicative of what he brings to the team. Tarkowski gets the ball away from the danger zone when he can and gets in the way of it when he cannot.
There was more of the same in Burnley's most recent game at Liverpool as they held Jurgen Klopp's side to a 1-1 draw. Once again, Tarkowski was key, making more clearances and twice as many blocks as anyone else. Keith Andrews, covering the game for Sky Sports, described him as "sensational". Player and team return to Merseyside in confident mood.
With both Everton and Burnley boasting players who have benefited from Dyche's coaching, expect the fundamentals of defending to be on show when the teams meet at Goodison Park on Sunday. Fundamentals that some think are being forgotten, but live on in the principles of players like Tarkowksi. Perhaps the art of defending is not quite dead yet.