Sean Dyche hoping for better luck with officials when Burnley face Olympiakos again
Last Updated: 29/08/18 11:42pm
Sean Dyche is pleased an experienced referee will take charge of Burnley's vital Europa League clash with Olympiakos on Thursday night.
Dyche's men lost last week's qualifying play-off first leg in Greece 3-1 and the Burnley boss was not impressed with the standard of referee Slavko Vincic.
Vincic sent Burnley defender Ben Gibson off for a handball which also resulted in a penalty and led to the Greek side's important third goal.
Dyche afterwards questioned Vincic's decision-making in that moment, and said that at half-time "all and sundry" from Olympiakos had spoken to the referee in the tunnel, "making it clear they weren't happy" with his performance.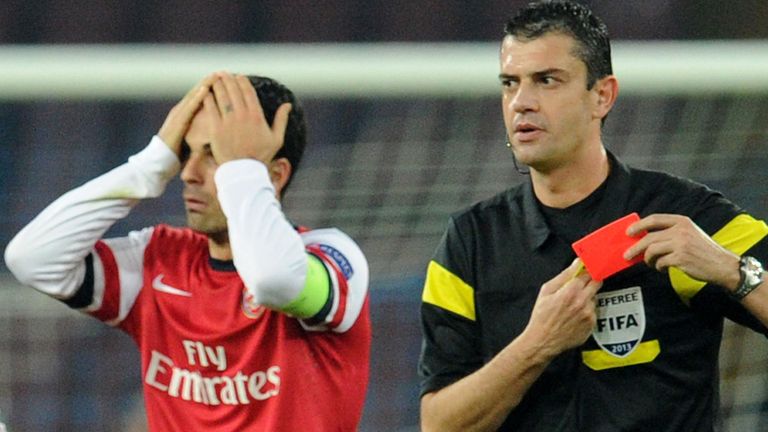 Hungary's Viktor Kassai, who refereed a semi-final at the 2010 World Cup and the 2011 Champions League final, will be in charge of the second leg at Turf Moor, and Dyche
Dyche said of the appointment: "Maybe [they] looked at the reports from the last game and thought 'hmm - maybe not as good as what we would hope.' I don't know.
"It's one of those fine lines for a manager, and it's a hard one, because you have to question the referee appropriately at the right times, but you have to leave them alone to do their job.
"I've always said, the toughest three jobs in football on any given Saturday, or whenever a game is played, are the two managers and the referee.
"[Referees] often get questioned heavily, and I tried not to. I just tried to state some facts in the game at Olympiakos.
"If the referee [on Thursday] is that good and his background is that good... I didn't even know that - that's the interest I pay in referees. I just want them to officiate right and proper.
"I don't look into their background. Some managers do. I don't know how many red cards, yellow cards they give out. I'm never interested in that.
"I just hope on that day they deliver a good performance."