Why 'unhappy' Maurizio Sarri snubbed media after Chelsea's draw with Burnley
Sari was sent to the stands as Chelsea drew 2-2 with Burnley
Last Updated: 23/04/19 6:36am
A "really unhappy" Chelsea boss Maurizio Sarri snubbed the media after he was "misinterpreted" and sent off, according to assistant Gianfranco Zola.
Burnley battled hard to earn a point at Stamford Bridge and tempers flared in stoppage-time as Mateo Kovacic squared up to a number of the visiting players.
Sarri made his way down the touchline to intervene and referee Kevin Friend decided to send Sarri off, something which Gianfranco Zola said made Sarri "really unhappy" and only added to his anger at Burnley's tactics.
"Well I think there was a lot of emotion," Zola said when asked why Sarri had sent his assistant to do the post-match interview.
"He was really unhappy with a couple of situations on the pitch. He was unhappy with why he's been sent off, he just went down the line to tell the players to get on with the game. He's been misunderstood by Kevin.
"I'm unhappy about that, he's unhappy about that. That's why I'm here."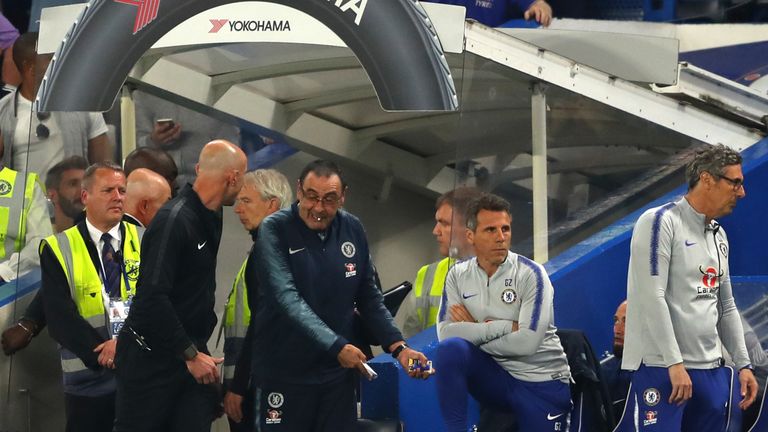 Zola conceded that Sarri often does leave his technical area during games but that it did not happen against Burnley, even though he appeared to sarcastically applaud the visitors' bench when Ashley Westwood went down with cramp.
"When he's on the touchline he moves around a lot," Zola added. "He's very emotional. Sometimes he comes out. Today he didn't come out too much.
"When he went there Kevin misinterpreted what he wanted to do. We just wanted to calm our players down. He was trying to help him."
There was a melee at full-time involving members of both benches as well Chelsea defender Antonio Rudiger, who was not in the squad due to injury.
"It's a football game and there is lots of passion. We are not happy because of the result and we are not happy because as I said, we felt like didn't play enough," Zola said.
"We show our emotions because we care, they did the same."