Barton banned for 12 matches
QPR captain Joey Barton has been given a 12-match suspension by the FA for his behaviour on the final day of the season.
Last Updated: 23/05/12 9:03pm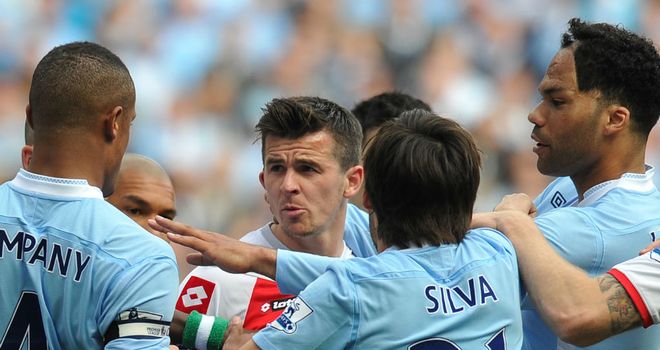 Queens Park Rangers captain Joey Barton has been given a 12-match suspension by the Football Association for his shameful behaviour on the final day of the Premier League season.
The midfielder was given the punishment, which includes a £75,000 fine, as a result of his red card and subsequent actions in the defeat by Manchester City on the dramatic concluding fixture of the campaign.
Barton was shown a straight red card, which carried a four-game ban as it was his second dismissal of 2011/12, for elbowing Carlos Tevez in the 55th minute at the Etihad Stadium and he was then involved in further clashes.
The controversial former Newcastle and City player kneed Sergio Aguero and seemingly attempted to head-butt Vincent Kompany, which he denied, before being led off the pitch and the two actions carried two additional four-game bans as a result of violent conduct charges.
Critics
Following a seven-hour meeting at Wembley on Wednesday, the Football Association stuck to its initial charges.
The chairman of the regulatory commission stated after the hearing: "There are rules of conduct that should be adhered to, and such behaviour tarnishes the image of football in this country, particularly as this match was the pinnacle of the domestic season and watched by millions around the globe."
QPR announced earlier in May they were planning to investigate Barton for his inexcusable behaviour at a time when some critics have called for the 29-year-old to be sacked.
The Loftus Road club have refused to comment in the wake of the FA's action, but the internal probe will still go ahead as planned.
They said on their official Twitter account: "QPR will be making no comment in regard to the Joey Barton case. Internal investigation will begin in due course."