Harry Redknapp on brink of taking charge at QPR and looking forward to challenge
Harry Redknapp is on the brink of taking charge at QPR and is looking forward to the challenge.
Last Updated: 24/11/12 11:07am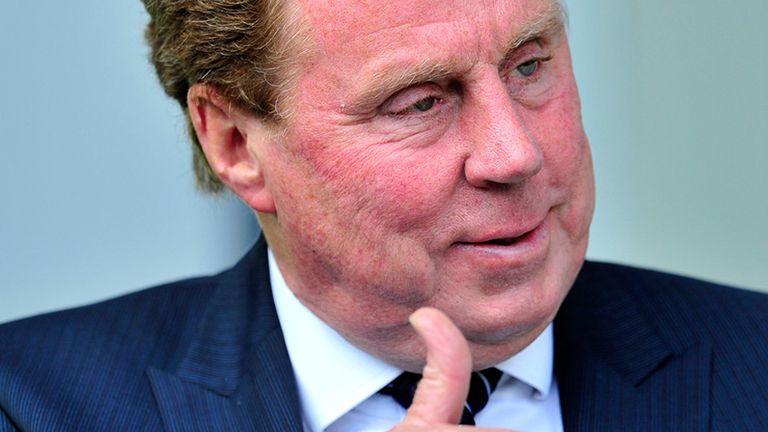 The 65-year-old is poised to take over the reins at Loftus Road after Mark Hughes was sacked on Friday morning, and is on the brink of agreeing a deal following a day of negotiations.
Rangers are four points adrift at the bottom of the table after failing to win any of their opening 12 matches but Redknapp, who has been out of work since leaving Tottenham in the summer, believes he can guide them to safety.
"I'm hopeful we can get it done tonight, there shouldn't be any problems," Redknapp told Sky Sports News on Friday evening.
"I fancy getting back into the Premier League. QPR is a good club, with great fans and a great atmosphere.
"I am looking forward to it. It's a big challenge. It will be a tough job to take on but I am up for the challenge.
"Mark Hughes is a top, top manager and a great guy as well. He was just unlucky and they just couldn't get the results they needed.
"I'm ready to give it a go now and see if I can change their fortunes around. But it won't be easy for sure.
"There's some good players there and I have obviously got to find a way of picking a team that can win some games. They have gone 12 games without a win so you couldn't have too many worse starts than that.
"It's going to be a tough job to keep them up but it's a challenge and I love a challenge. I am going to go in and give it my best shot and if it works it will be fantastic."
Hughes' assistants Mark Bowen and Eddie Niedzwiecki will be in charge for Saturday's game at Manchester United, but Redknapp hopes to watch that match before taking over for Tuesday's trip to Sunderland.
He added: "I will travel up to Old Trafford probably on Saturday and just sit in the stand and watch the game.
"If everything gets sorted, and I'm sure it will, I'll be in on Sunday morning, have the team in for training, train Monday and then fly up to Sunderland."
Redknapp also revealed he hopes to have his former Tottenham assistants Kevin Bond and Joe Jordan working alongside him at QPR.
QPR owner Tony Fernandes took to Twitter to reassure fans that he still had the same vision for the club as when he took charge last year.
"Though we have a change the long term vision of the club remains and much good work has already been done and will continue," he wrote.
"This is a club where the chairman and shareholders look at all things in a long term view. But also take the views of the fans who are the most important constituents of the club. To us fans come first."
Fernandes constantly backed Hughes on the social networking site as the club went in search of their maiden league victory but a 3-1 home defeat to Southampton last weekend proved to be the final straw.
A club statement read: "Queens Park Rangers Football Club has today terminated the contract of manager Mark Hughes with immediate effect.
"This decision has been taken after careful consideration by the board of directors, following numerous meetings over the last few days.
"The board of directors wish to thank Mark for his commitment, hard work and dedication in his 10 months in charge. Mark has shown integrity and professionalism throughout his time here, but ultimately the circumstances we find ourselves in have left the board of directors with very little choice but to make a change."