Claudio Ranieri will not be adding superstars to his Leicester squad
By Mark Crellin
Last Updated: 04/05/16 9:01am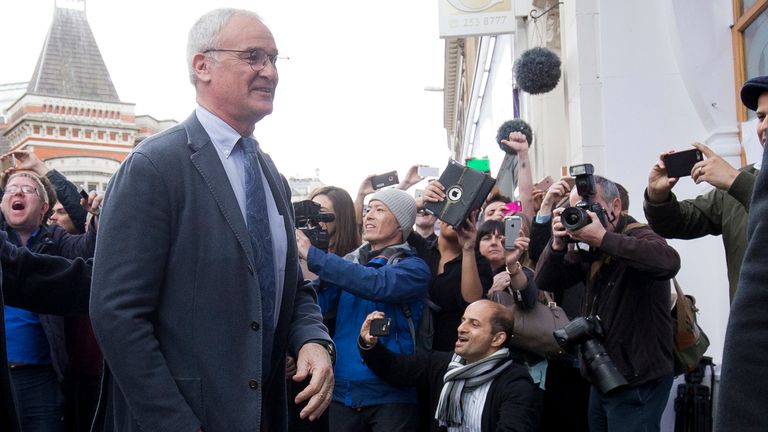 Leicester manager Claudio Ranieri says he may make some additions to his squad ahead of next season but definitely won't be shopping at the higher end of the market.
While Leicester may find some of their top performers targeted when the transfer window opens, Ranieri is optimistic that his players will prefer to stay put and be part of what he sees as a bright future for the club.
Considered likely relegation candidates at the start of the season, Leicester were confirmed as the unlikeliest of Premier League champions when Tottenham were held to a 2-2 draw at Chelsea on Monday night.
Next season, the Foxes will face the demands of a Champions League campaign alongside the defence of their title, but Ranieri is planning to spend judiciously rather than splashing out on big names.
"We don't need the superstars," said the Italian boss. "We need our players.
"You see in January we bought Demarai Gray, we bought Daniel Amartey.
"I want to improve the squad without big stars but the right players.
"It is too early to say we need five, six, seven or eight players. We have to see."
PFA Player of the Year Riyad Mahrez will be a player coveted by many of Europe's top clubs after his breakout season while standout midfielder N'Golo Kante has already indicated he could be tempted to go elsewhere. 
Ranieri, however, has warned his stars against leaving the club where they have enjoyed such success this season.
"I would like to maintain all my players but, if one of my players says to me I want to go there, I try to keep him," Ranieri said.
"I suggest to everybody this is a fantastic club, we won the title, we can do something good in our few years.
"Leicester in the long term will go in a very high position. If you go away, you don't know what happens. Here, you are the king."
Ranieri signed a three-year deal when he took charge last summer and says he is not in any hurry to sign an extension.
"I have three years," he said. "Why do I have to sign a new contract?"
The experienced manager prefers to dwell on Leicester's incredible achievement, and says it reminds him of one of his earliest jobs in Italian football.
"I don't forget when I started, where I started, and in which division," he said.
"I came from non-league, from amateur football, and, when I arrived at Cagliari, in the Third Division, and we got to Serie A, that was my first fairytale.
"So I have a little love with this fairytale. Of course, to win the Premier League is something. But in my heart there is always this (Cagliari)."