Danny Simpson handball 'clear cut', says Bournemouth manager Eddie Howe
Last Updated: 30/09/17 7:32pm
Bournemouth were denied a first-half penalty in their goalless draw at home to Leicester City after what boss Eddie Howe described as a "clear-cut" handball by Danny Simpson.
The controversial incident happened just three minutes into the contest at the Vitality Stadium after Jermain Defoe's close-range shot had hit the bar.
However, from the rebound Marc Pugh's goal-bound effort was diverted wide of the gaping goal by the visitors' covering right back, an offence that had it been spotted by referee Graham Scott and his officiating team would have resulted in a penalty and a red card.
"I had no view at the time, I just saw that the shot had been blocked," said Howe after the game. "I have only seen replays just a second ago and it looks a clear-cut handball.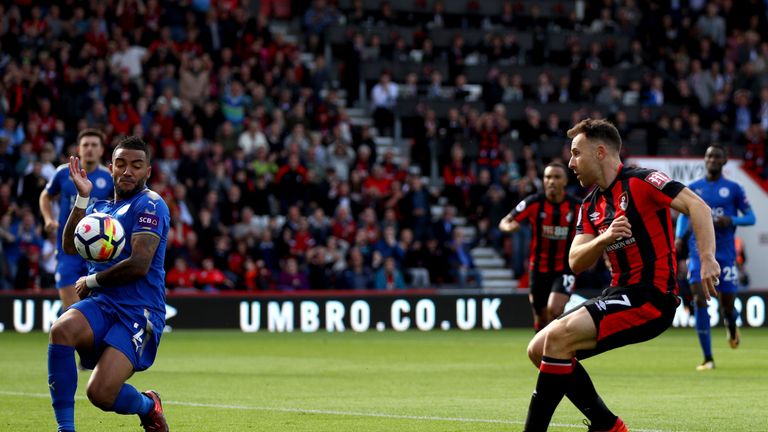 "But I am sure from the referee's perspective he did not see it, otherwise he would have given it.
"The linesman is on the other side, so you hope that someone could see it out of the four of them with the fourth official as well, but it was not to be from our perspective.
"We cannot look at that one incident, we had enough chances to win plenty of games there today and that is the really positive thing. I always say that if we are creating the chances, I think we have the quality to take them on another day."
Overall, though, Howe was pleased that his team kept their concentration at the back and did not gift their opponents a goal in a match they dominated from start to finish.
"Very disappointed not to win, I thought we did everything to do that, the intent, attitude and energy of the team was very good," he said.
"Right from the first few minutes I thought we made a really good start to the game, created a number of chances.
"The most positive thing I can say is that despite the fact we dominated and made all those chances, we did not concede at the other end. And sometimes that can happen in games like this when you are so dominant.
"So we will take the point and be positive about how we have played today."