Harry Maguire 'driven' by Leicester and England success
By Richard Cooke
Last Updated: 14/04/18 8:21am
Harry Maguire says he is "driven" by finishing the season strongly with Leicester and the prospect of playing for England at the World Cup.
The defender has made an impression on Gareth Southgate following his £17m move from Hull to Leicester last summer and has been involved in every international squad in the build up to the tournament in Russia.
"Obviously it's going to be an honour, if I do get chosen, to be in the World Cup," Maguire told Sky Sports.
"I've been in every squad this season, Gareth has shown great faith and trust in me, so I've just got to work hard from now until the end of the season and see where it takes me.
"If I keep performing how I have done, stay fit and fresh, then hopefully I'm there.
"It drives you on all season when you see the end rewards, first and foremost for your club, and then obviously to play at a World Cup is the pinnacle of anybody's career.
"To play for your nation at a World Cup is something you only dream of when you are a kid and I feel like I'm on the ladder to try to get there."
Maguire has made four appearances for England and helped to keep clean sheets against Brazil, Germany, Lithuania and the Netherlands.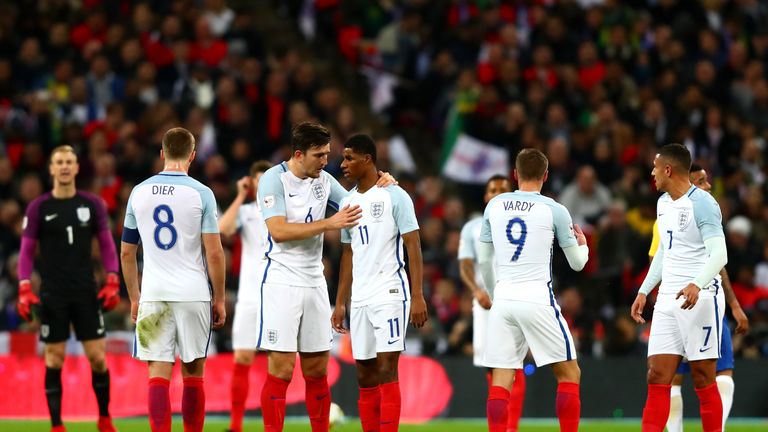 Southgate recently went to three at the back and the 25-year-old is enjoying being part of the system.
"I haven't played three at the back this year for Leicester but I manged to play it quite a bit last year for Hull under Steve Bruce," he added.
"It's a formation that's been working well in recent years. You've seen Chelsea, they won the league playing it really well and if you get it right you can be successful and fingers crossed if we do play three at the back at the World Cup we're successful doing it."
Maguire's immediate priority is to help Leicester leapfrog Saturday's opponents Burnley and finish seventh in the table.
He added: "If someone said at the start of the season we would finish seventh we would snatch their hands off, so if we do manage to get that seventh spot it will have been a very good season."