Harry Maguire's record suggests Manchester United are missing out
The England defender's reputation is growing fast
Last Updated: 07/09/18 8:47am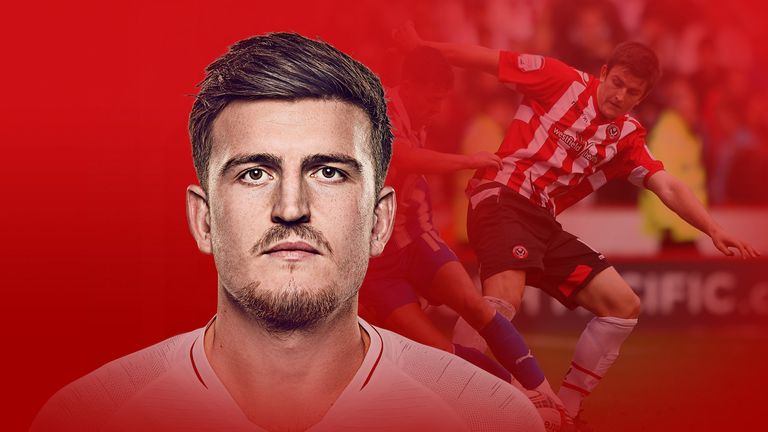 Harry Maguire has shown that he can adapt with England so are the bigger clubs missing out? We take a look...
When England return to Wembley on Saturday evening for the first time since their exploits in Russia, one of the loudest cheers will be reserved for Harry Maguire. There are no great club rivalries to divide opinion over the Leicester defender whose opener against Sweden took the country to their joint-best World Cup finish on foreign soil. He is well liked.
And yet, for all the popularity, there are outstanding questions too. He was England's only outfield player to feature in their semi-final against Croatia who has never played Champions League football. Despite being widely tipped to join Manchester United in the summer, that will continue to be the case for the rest of the year too.
So just how good is Maguire? His Leicester team-mates have no doubts about his quality. Asked recently if this would be the player's year, goalkeeper Kasper Schmeichel could not have been clearer. "I don't think it's going to be his year, I think it's going to be his decade," he told Sky Sports. "He's going to be one of the best defenders in the world, I think."
Schmeichel went on to explain his reasoning. "He has got absolutely every attribute you could possibly want in a defender," he added. "He's an exceptional football player, very, very intelligent. He can see a pass and he can pick it out as well. Positionally, he's very astute, very clever. He's a big lad so on set pieces both for and against, he's a threat."
Leicester captain and centre-back partner Wes Morgan also pointed to Maguire's ability in an offensive capacity. "It is the confidence that he has on the ball and the way that he starts attacks," Morgan told Sky Sports. "He has a lot of attributes for a big central defender."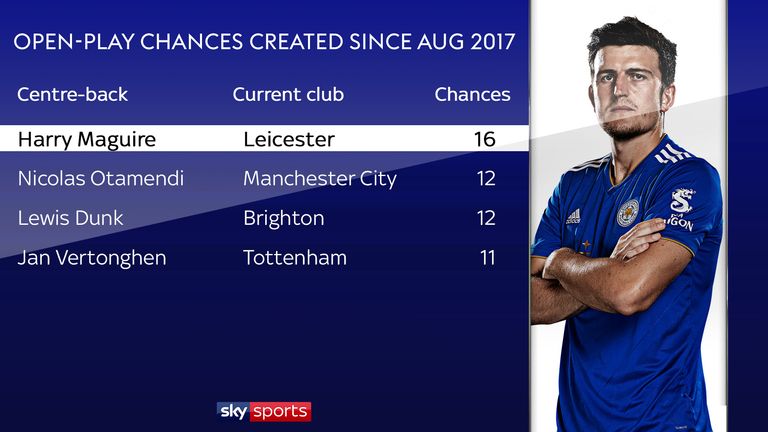 The statistics bear out these claims. Despite Leicester's modest results since Maguire joined from Hull in the summer of 2017, since that time he has created more chances from open play than any other centre-back in the Premier League. That's largely due to his ambition when in possession. Maguire's forward runs are a real feature of his game.
He may have a robust frame - and, according to Jamie Vardy, the cranium to match - but Maguire's ability to take the ball past opponents is almost unique given his position. Since signing for Leicester he has completed 56 dribbles in the Premier League. That's 26 more than Jan Vertonghen, the next centre-back on the list, and twice as many as anyone else.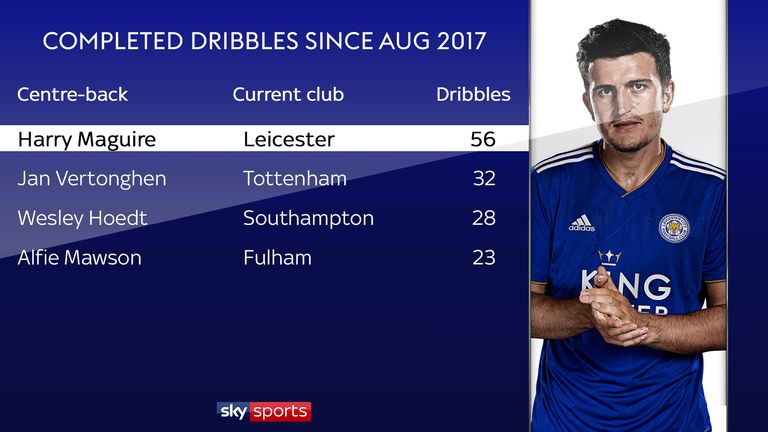 For Craig Shakespeare, the coach who took him to Leicester, it just goes to show that he has been misjudged. "I think a lot of clubs looked at him when he was at Sheffield United and probably questioned his mobility if I am honest," Shakespeare told Sky Sports. "But he is one of those players who is deceiving in that he can run. He is quick over five or 10 yards."
Having mobile defenders who are comfortable with the ball at their feet is of particular interest to top teams and helps to explain why Jose Mourinho was interested in taking him to Old Trafford. Certainly, it was important to England at the World Cup. In a three-man defence, it is essential that players are able to carry the ball out from the back.
But for all the praise that Maguire went on to receive in the summer, it was not all straightforward. In fact, there were some challenging moments during the early stages of the World Cup campaign. Against Tunisia, a couple of stray passes could have proven costly.
In total, Maguire misplaced 31 short passes at the tournament - more than the other four England players to occupy those defensive positions made between them. Despite starting all seven matches, John Stones misplaced only 12 with Kyle Walker responsible for 11.
Perhaps that should have been no great surprise given that Maguire's passing accuracy with Leicester last season was 78.4 per cent compared to the 95.8 per cent accuracy of Stones. But this could largely be explained by the greater emphasis on forward passes at Leicester.
Maguire attempted nine long passes per 90 minutes for the Foxes last season, with the team's tactic of hitting the ball over the top to Vardy still central to their plans. City, of course, opted for a more measured build-up play. But even when passing the ball short, Maguire's pass completion numbers were not particularly impressive for Leicester.
He misplaced 14.9 per cent of his short passes last season. Stones misplaced only 2.4 per cent, a fraction of that number. In part, of course, it's because Maguire does much of his work in more advanced areas and attempts more probing passes. But it was interesting that, at the World Cup, he was able to cut out the errors as the tournament progressed.
Ultimately, he misplaced only 8.7 per cent of his short passes at the World Cup, still more than his team-mates but far fewer than at club level. There is growing evidence that the 25-year-old centre-back is someone who can adapt and grow when he is challenged.
That's certainly Shakespeare's view. "I think he has always had that development in him," said the former Leicester boss. "I also think his condition has improved tremendously. That's credit to him and the sports science he has bought into. There is still development in him."
Schmeichel agrees too. "Harry can go as far as he wants," said the Dane. "He was the players' player of the year here at Leicester so that says everything about him last season. With his work ethic and attitude, I am in no doubt that he is going to kick on this season."
The next chance to do so comes against Spain at Wembley on Saturday evening, before England travel to Maguire's home ground, the King Power Stadium, to take on Switzerland on Tuesday night. For the defender who still has only a dozen caps to his name, there's lots left to learn. But the signs are that Maguire can deal with anything that's thrown at him.
Watch the Nations League live on Sky and get two football channels for one great price. Get Sky Sports Premier League and Sky Sports Football in HD - now £18 a month.