Angus MacDonald says a signed shirt from his "idol" John Terry helped inspire him to bounce back from illness as a teenager and achieve his dream of becoming a professional footballer.
The Barnsley defender, 24, was told he'd never play football again while he was an academy player at Reading, but eventually worked his way back from non-league to the Championship - before being named club captain at the Tykes in the summer.
And now he could face Terry for the first time when Villa visit Oakwell on Saturday, live on Sky Sports Football from 5.15pm.
"When I was 15 or 16 I got picked to play for England, but when I came back from a competition I felt poorly for about two or three months and couldn't figure out what it was," he told Sky Sports.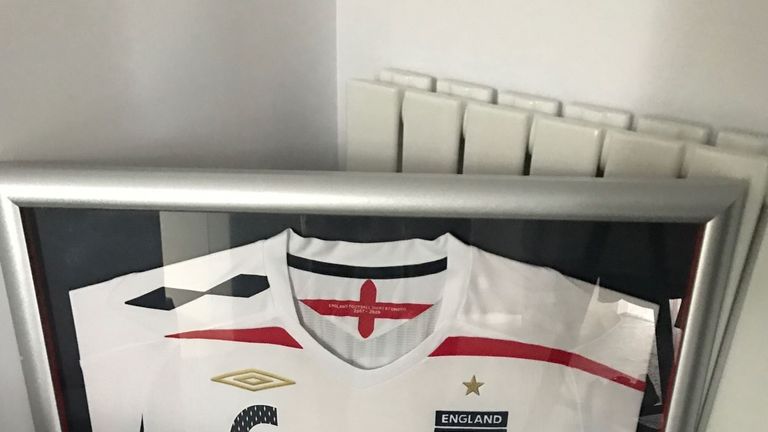 "I ended up having a CT scan and found out I had a blood clot on my lung and ended up missing 19 months of football and being told I probably wouldn't play again. Obviously, it was a dark place for a 15/16-year-old to be in because obviously, it was all I wanted to do growing up.
"I had to work my way back and drop right down and then come back up to the Championship. This is where I originally started and where I've aimed to be. To get back to full fitness and to where I am now is a real achievement.
"I think the hard work I've put in and the foundation I've got to succeed is definitely going to put me in good stead for the long run. I never had a plan it was just football, football, football, so it was good to be back on the pitch after the illness.
"I got the shirt from JT with a signed pair of boots, and to receive something like that from my idol really inspired me to think: 'I'm not going to listen to what the doctor said and I'm going to get back to playing football'. That's where I wanted to be because it was my dream."


MacDonald has been a key figure for Barnsley since joining last year, but a needless sending off against Sheffield United last month has put his place in the side in jeopardy for the visit of Villa.
Barnsley recorded two wins and a draw in his absence, and the captain knows he faces a battle to get back into the team, admitting that the possibility of missing out on facing Terry and Villa would come as a massive disappointment.
"I regretted [the red card] instantly," he said. "To be out for three games then potentially not be selected against my idol, it's got to be a learning curve for me, but I'll do anything to get back into the team.
"I'll probably be a bit speechless [if I get to line up against Terry], but it'll be a great experience."
MacDonald made a huge jump in the summer of 2016 from Torquay United in the National League to Barnsley in the Championship. Much like the defender he replaced at Oakwell, however, he has no plans on stopping there.
"It was a short space of time because Alfie Mawson left as soon as I came in and I got chucked in at the deep end, but you've just got to adapt and take every game as it comes," he said.
"My next aim is the Premier League and following in his footsteps."
Don't miss the Sky Bet Championship clash between Barnsley and Aston Villa on Saturday, live on Sky Sports Football and Sky Sports Main Event from 5.15pm