Barnsley boss Daniel Stendel loving life at Oakwell
Watch the full interview with Daniel Stendel on Soccer Saturday from 2pm on Sky Sports News
Last Updated: 07/09/18 2:57pm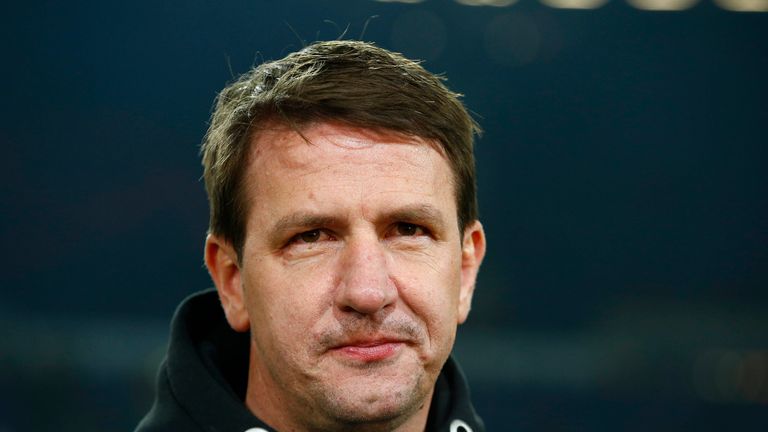 Daniel Stendel has made a big impression during his short time in Barnsley so far, which is impressive considering he had not even heard of the town just a few months ago.
The 44-year-old was last manager of Hannover in 2017 and is experiencing football away from Germany for the first time, but has started life in Sky Bet League One with four wins and two draws from his first six games.
"Even two months ago it would have been difficult for me to say where Barnsley was on the map! But it's a very nice country and Yorkshire is a very nice area with very nice people," he told Soccer Saturday
"The food is very different to Germany and sometimes I have a few problems with it, but that's not just in Yorkshire! Moving here has been a good decision for me.
"The summer here was very nice. I'd heard [back home] that England was very different from Germany but my impression was not quite like that.
"It's a new experience in my life and not only for football. My family are back in Germany at the moment and that's not always easy for me because it's the first time we haven't been together, but I'm happy here."
Stendel adjusted to life in England during the summer, and spent much of his time in the local pubs of Barnsley watching the World Cup. It was an invaluable experience to give him an insight into English football and its fans.
"During the World Cup we watched the games in the city and pubs in Barnsley," he said. "It was a good atmosphere and we learned a little bit of how the people of Barnsley think about football, because most of the time I'm in the stadium and there's not too much time to see people in the city.
"I was living in a hotel at the time and I asked where I could go and watch the games and it was important for us not only to see the games but also see the feeling of English people together.
"At the weekend and on matchdays all the people of Barnsley seem to be here and we take 2000 or more to away games. You see people here live Barnsley Football Club."
He has not, however, quite got his head around the Yorkshire accent yet.
"It's very difficult to understand when people from Barnsley speak! It's very fast with a lot of words and at the moment it's too fast for me," he joked. "But I have time to learn English and Yorkshire English. By the end of the season I'll understand it all."