James Collins has been punished following his actions at the Cheltenham Festival on Tuesday
Last Updated: 17/03/16 12:00pm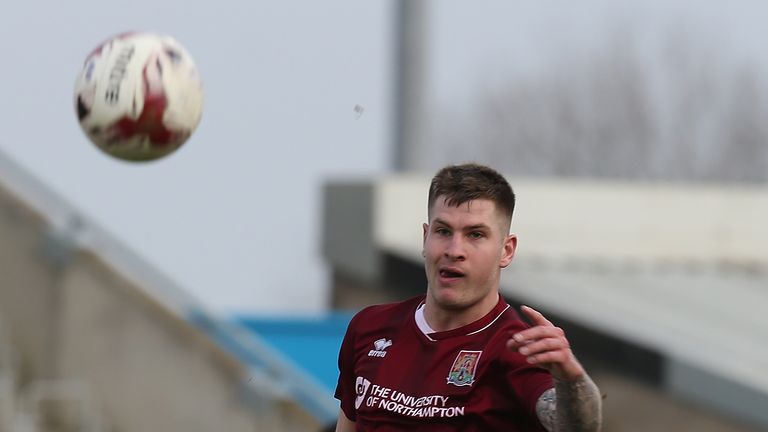 Shrewsbury striker James Collins has been fined the maximum allowable two weeks' wages and warned of his future conduct following his part in an incident at the Cheltenham Festival.
Collins, currently on loan at Northampton, was one of several footballers banned from attending the second day of the Festival after pictures published in a national newspaper appeared to show him urinating into a beer glass and throw the contents over a balcony.
The 25-year-old has issued a full apology and while claiming there was nobody underneath the balcony said there was no excuse for his actions.
Cheltenham had earlier cancelled Wednesday's booking by a group of footballers after pictures, which appeared to show two of the players urinating into a beer glass on the first day of the festival, were published.
MK Dons midfielder Samir Carruthers, 22, has also issued an apology and has been disciplined by his club.
A joint-statement issued by Shrewsbury and Northampton said: "Following a joint internal investigation and discussions between both clubs, on-loan striker James Collins has been fined the maximum allowable two weeks' wages and warned of his future conduct."
Collins has scored six goals in 12 appearances for Northampton since arriving on loan from Shrewsbury in early January, helping the club open up an 11-point lead at the top of Sky Bet League Two.
He said: "I cannot apologise enough for my actions and the pictures from my visit to Cheltenham Races yesterday.
"I have completely let myself, my family, the fans, and the two clubs that I represent down and I am sorry to everyone involved.
"My actions are not excusable and whilst the pictures are rather misleading in that there were no people below this balcony and it was only a grassed area there is still no defence to what happened.
"As a footballer I understand and appreciate that we are role models and this has only emphasised the negative stereotype of the modern footballer and for that I am truly sorry and disappointed in myself. It is now something that I will work hard to change.
"I do feel this is totally out of character and something that has embarrassed me and my family and I fully accept the club's punishment. I will now focus on what I know I am extremely lucky to do for a career and that is to play football."
Northampton chairman Kelvin Thomas added: "James knows full well of our disappointment in him and fully accepts that his actions have damaged the reputation of the two clubs and football in general.
"We cannot control what players do in their spare time, however we do expect a level of behaviour becoming of being a professional footballer and that has been made very clear to James.
"We feel that he has taken ownership of his actions and is truly sorry for what he has done. By firm and swift action, plus James' contrition, we expect to draw a line under this matter and allow James to concentrate on rebuilding his reputation as a professional footballer."
Cheltenham earlier barred the group from attending day two of the Festival.
Cheltenham Racecourse tweeted: "In regards to images of inappropriate behaviour from yesterday, we have cancelled their booking for today."
Sophia Dale, the Festival's head of communications, added on Sky Sports News HQ: "It was just this small group of people who made this incident happen and they are not welcome today."
Bristol City defender Luke Ayling was pictured alongside Carruthers, with his arm around the Dons player at one point.
While there is no suggestion of any wrongdoing from the 24-year-old, the Robins said in a statement: "We are aware of the disappointing images from the Cheltenham Festival that have been printed in various national newspapers this morning.
"We will be speaking to the players concerned and will take appropriate action where necessary."