Millwall praise medical staff after collapse of a supporter during win over Northampton
By Andy Charles
Last Updated: 15/04/17 10:30am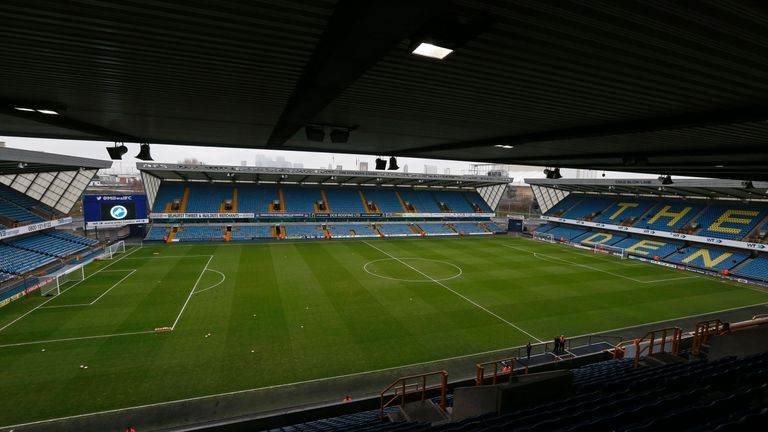 Millwall have praised the reaction of medical staff and supporters after the Good Friday clash with Northampton was stopped early when one of the club's season-ticket holders collapsed.
A group of home fans tried to get on to the pitch in the closing stages of Millwall's 3-0 win to bring the incident to the attention of referee Graham Salisbury.
Medical staff performed CPR on the fan for more than 30 minutes with Salisbury calling a premature halt to the game a couple of minutes before the scheduled end of added time after requests from Lions manager Neil Harris and his counterpart Justin Edinburgh.
Millwall issued a statement on the supporter's condition later in the day, which read: "Millwall Football Club can confirm that the supporter who received lengthy medical treatment in The Dockers Stand during today's game has been taken to hospital and was breathing on departure from The Den.
"The club would like to praise the medical staff for their outstanding work in treating the man, who is a season-ticket holder.
"Millwall also wishes to extend praise to fans of both clubs for their understanding, help and support in difficult circumstances."
The Lions retained the final League One play-off berth with the victory but Harris said after the match his thoughts were firmly with the stricken supporter.
He said: "We could see the medics and the stewards. I don't think the players knew until right at the end. The first thought from me and the dressing room is, pleased with the result, but health and safety comes first.
"Me and Justin were saying to the fourth official there's two-and-a-half minutes left in injury-time, they're not scoring three goals. Let's get everyone off the pitch and let's get the person looked after.
"I don't know what the rules and regulations are, but somewhere human nature and the reality of what's important in life has to take priority.
"We can't have players, officials, anybody as robots. People have to think for themselves. The principle of why [people ran onto the pitch] we get it. I'm pleased the referee saw sense."