Swansea v Tottenham is David against Goliath says Carlos Carvalhal
By Richard Cooke
Last Updated: 15/03/18 4:11pm
Carlos Carvalhal says Swansea will be up against it when they face Tottenham in the FA Cup quarter-finals on Saturday.
Swansea lost 2-0 at home to Spurs in January and are just four points above the relegation zone while Tottenham are third in the table and reached the last 16 of the Champions League.
Speaking ahead of the game at the Liberty Stadium, the Swansea head coach said: "They lose very few games and are very hard to play against. It is David against Goliath.
"I think we are in a better moment than when we played them in the league. In this moment I think we could say we have a 30 per cent chance compared to maybe 10 per cent as we are progressing.
"They will be favourites, they are out of the Champions League so this is the trophy they can win and they will be favourites.
"But we are on the pitch to try to win and do our best to explore the weak points they have and to cover the many strong points they have.
"We will be ready for this and we are complete underdogs because this is not our main competition.
"We have an opportunity and we will give the maximum to go to the semi-finals. I trust my players and believe we can do it."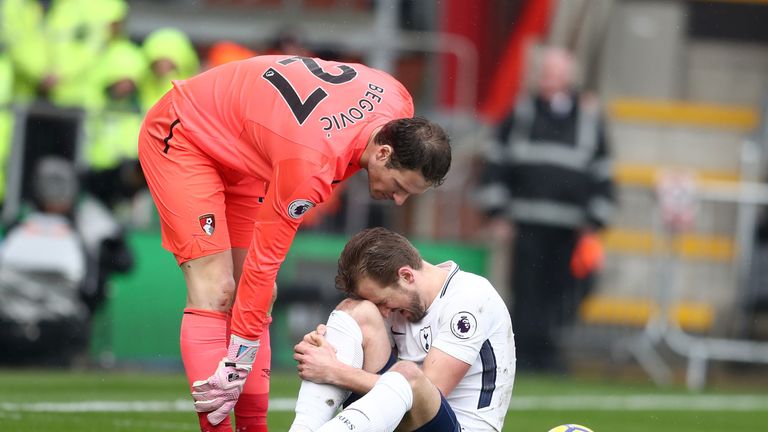 Tottenham will be without Harry Kane, who will not return to training until next month after damaging ankle ligaments.
Mauricio Pochettino says they will not use Kane's absence as an excuse if they fail to reach the semi-finals and Carvalhal believes Spurs will still be formidable opposition.
"In the last game he was playing [against Bournemouth] they were losing 1-0 and he came out and they won 4-1.
"He is fantastic and I like him a lot, but at big teams, players can replace big players. All their players are international players, they are big players."
Despite remaining preoccupied with steering Swansea further clear of the relegation zone, Carvalhal is promising they will do all they can to reach the last four.
"I have never put out a weakened team, we protect players with small injuries and problems and we will do the same here. We will not take risks, we will not change anything but we do not field a weak team
"We will try and fight and do our best. If we win, fantastic. If not, it's not the end of the world.
"It is a big challenge, we have not reached this stage in my lifetime so it is a challenge."