Renato Sanches has kicked his last ball for Swansea but boss Carlos Carvalhal says it is not because of the fallout from the social media storm involving the Bayern Munich midfielder.
Sanches has had a disastrous loan spell at the Liberty Stadium, failing to score or create an assist in the 12 Premier League games he has featured in this term.
The Portugal international was rounded on by Swansea fans on Wednesday after announcing his new personal emoji on his official Twitter account,
The tweet came the day after Swansea had lost their crunch relegation battle against Southampton and hours before the club's relegation was all but guaranteed after Huddersfield held Chelsea at Stamford Bridge.
"Renato will not be involved on Sunday. He will not be on the bench," Carvalhal said ahead of the final game of the season at home to Stoke.
"It is not about that (the emoji post). It is because Leon (Britton) will instead be on the bench in his last Swansea game.
"But I say all the time to the players about (the dangers of) social media, and the majority of the time it is not them doing it.
"They are getting people who support them to do it - and sometimes their friends are stupid.
"They put things in their hands that are not football and they think they are doing a good thing. But they are doing one of the more stupid things in the world!"
It remains unclear whether Sanches will be at a game where Swansea need a football miracle to survive.
Swansea must beat Stoke and hope Southampton lose at home to Manchester City, while enjoying a 10-goal swing in the process.
"I talked with him Wednesday and explained he would not be involved Sunday," Carvalhal said.
"I told him if he preferred he could go home, he was given the decision.
"He decided himself to stay here and said that he would prefer to train.
"But I don't know if he will be at the game."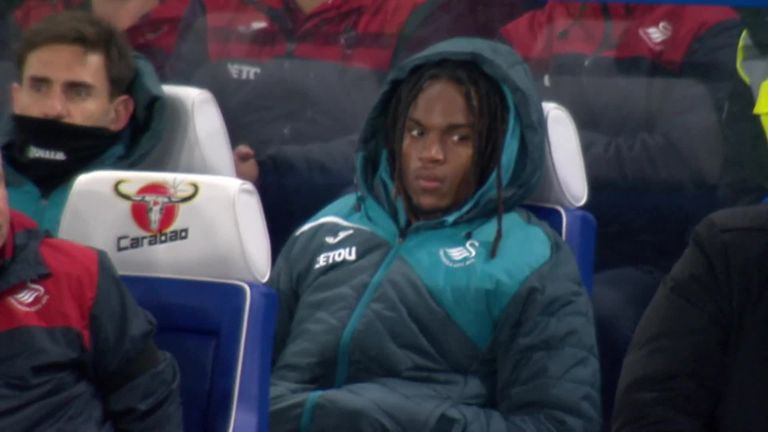 Sanches has not featured since January 2 because of a hamstring injury, and Carvalhal chose not to use his compatriot even though he has been among the substitutes for the last three games.
"He knows that he did a very bad season," Carvalhal added.
"The press are talking that maybe he can go back to Benfica and, if that is the reality, that is the best step for him.
"Renato jumped very fast from the under-19 team to the national team, but was he ready to go out of Portugal to a big club? In my opinion, no, because he is a boy.
"He needed to stay at Benfica for two or three years, but he goes to Bayern Munich - one of the biggest clubs in the world - and there it is very hard to play games.
"He was inside the machine when he was not ready to be. If he can go back to Benfica he would benefit from having his parents and friends still around him. He has a big potential still."