Free agent
The next free agent to fall under our microscope in his search for a new club is former Doncaster midfielder Simon Gillett. Over the next month we'll be speaking to a host of footballers at a crossroads in their careers as they look to get hooked up for next season.
Last Updated: 30/07/12 10:21am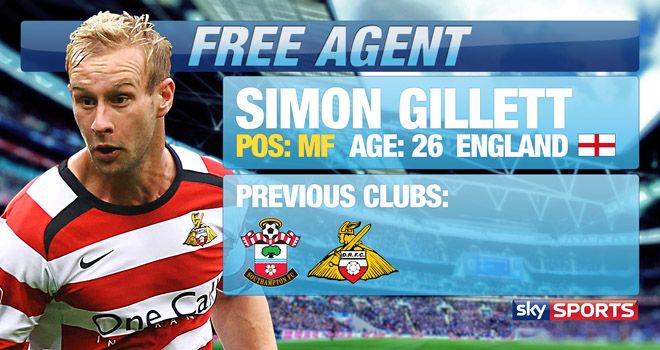 Simon Gillett is relishing the challenge of joining a new club after joining the long list of free agents in the UK.
The 26-year-old midfielder was one of Doncaster's shining lights in a disappointing season for the Yorkshire side which culminated in their relegation to League One.
Gillett, who was named South Yorkshire Writers' Player of the Season for Doncaster last term, is ready for a new challenge after seeing out his contract at the Keepmoat Stadium and he hopes to stay in the Championship.
The midfield dynamo is now waiting to see what offers come his way as he looks to build on what he feels was his most consistent campaign to date last term.
What's your situation at the moment?
I am a free agent after seeing out my contract at Doncaster Rovers. I have been a free agent before when I left Southampton and subsequently signed for Doncaster two years ago. I am open to offers and obviously I want to play as high as possible, but I am open to offers from anyone.
How worrying was it to find yourself become a free agent?
Obviously it is never nice being out of work. It is part and parcel of football and I have experienced it before when I left Southampton, but every footballer would prefer to be at a club to have some stability.
Has there been much interest shown in you?
Yeah, there's been interest from clubs but nothing where I have actually been able to sit down and sign a deal anywhere. That is what I want to do and the sooner the better really. I have been in training with Portsmouth and I know there are a few other clubs who have asked my agent to go and train with them. Whether anything happens with Portsmouth we will have to wait and see.
What level would you like to play at? Are you hoping to stay in the Championship?
I hope to play in Championship. I played in every game last season. It was a tough season at Doncaster with all the goings on there and it didn't end too well, but personally as a player I think it was probably one of my best seasons. I was injury free, I played every game and I was quite consistent so hopefully it is something people noticed.
Have you been keeping yourself fit over the summer?
As a player you have got to keep yourself fit. I have been working hard through the summer to keep myself fit, doing all I can to be ready to go into a club. While that is going on, my agent is speaking to clubs and trying to sort things out.
Taking your family commitments into account, are you prepared to relocate?
I am quite flexible. It's just me and my girlfriend and I am open to offers all across the country. I have been on quite a few loans in my career meaning I have been around the country so I do know it is something that is part and parcel of the game.
Do you want your situation sorted quickly?
Yeah, ideally I want my situation sorted out as quickly as possible as it just over two weeks to the start of the season. I want it resolved as soon as possible and these things do take time. It has been quite a slow summer in terms of transfers and there are plenty of people in same situation as I am.
How big a decision is this for your career?
I am 26 now and I feel I am still a couple of years away from being in my prime. I want to make the right decision, I want to know the manager is going to back me; you want to be in a good set-up. It is a big commitment coming up and I am looking forward to making that decision.
Are you confident you can do a job for a new club?
I am ready to go wherever, even down the leagues if I need to as I would back myself to go anywhere and do well. I am a hard worker and you can't get anywhere without any hard work and wherever I go I know the club will at least be getting that. I am looking forward to a new challenge wherever I end up and I will try and to grab it with both hands.
We would like to hear your thoughts on the best free transfers out there. Who should we be talking to? Who are this summer's bargains? Who should your club be targeting?
Maybe you are a player that would like to be featured, or an agent looking to get a client fixed up for next season. To offer your suggestions fill in the feedback form below or get in contact with either chris.burton@bskyb.com (@SkySportsChrisB) or alex.dunn@bskyb.com (@SkySportsAlDunn)