Stoke to seek banning orders against fans involved in Vale Park trouble on Tuesday
Last Updated: 05/12/18 4:57pm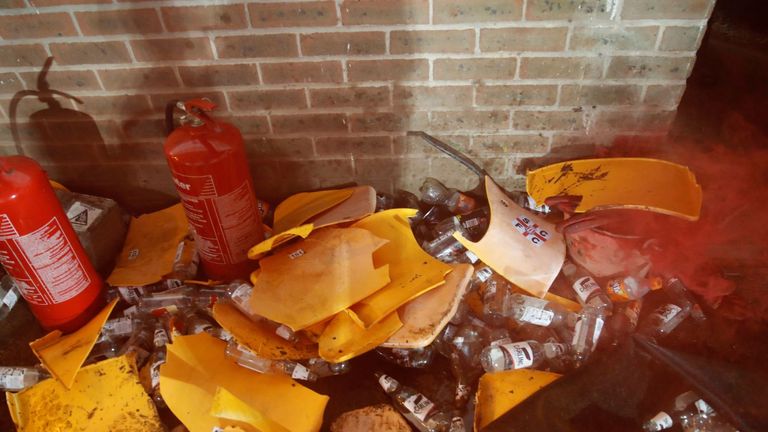 Stoke City say they will seek lengthy banning orders for any fans involved in the trouble at Port Vale on Tuesday night.
The Sky Bet Championship club are liaising with Staffordshire Police after bottles and flares were thrown onto the pitch during the Football League Trophy match at Vale Park.
The toilets in the visiting end were also vandalised and all the windows smashed.
Eleven people remain in police custody, aged between 18 and 61, having been arrested for a mixture of public order and violence offences.
A Stoke City spokesperson said on Wednesday morning: "The actions of a minority of the crowd at last night's Checkatrade Trophy game against Port Vale were deplorable.
"Where this behaviour involved so-called supporters of Stoke City, we will be working closely with Staffordshire Police and Port Vale to bring the culprits to justice.
"We will be pushing for anyone found guilty of disorder on the night to be handed a lengthy football banning order."
Port Vale have launched an internal investigation into what happened. The club claim a "significant amount" of damage was caused to the away stand and "missiles were thrown onto the pitch during the game".
The Sky Bet League Two side said in a statement: "Port Vale Football Club condemns the actions of those people who attended the game with the intention of not enjoying a football match. Their actions were a danger to other supporters and match day staff and police, who were working to ensure that everyone could enjoy the match in a safe and friendly environment.
"This type of behaviour by some people has no place in society let alone at a football match and Port Vale Football Club will work with Staffordshire Police and our neighbours Stoke City Football Club to ensure that those already arrested are punished appropriately through the courts.
"We will also continue to work to identify others through CCTV footage and other means to ensure other culprits are also identified and brought to justice.
"Referee Seb Stockbridge has included a number of incidents in his report and we will wait to hear back from the FA on those reports."
Port Vale say repairs have begun at their ground and they fully expect the next home game against Cheltenham to go ahead on December 15.
Vale increased stewarding for Tuesday's match, and 180 police officers were on duty to try to prevent any violence.
All 72 EFL clubs reaffirmed a Charter commitment at the start of this season to enforce three-year bans for any fans trying to take flares into a match.
The English Football League released a statement, that said: "The EFL was in attendance and saw first-hand the unacceptable disorder that took place during last night's match between Port Vale and Stoke City Under-21s.
"The EFL will provide whatever assistance that is available to us as the police and the FA conduct their investigations into the matter."