Walk like an Egyptian
Port Vale ace Sam Morsy reveals his international ambitions in our latest League Two spotlight.
By League Two Spotlight
Last Updated: 27/05/13 11:46am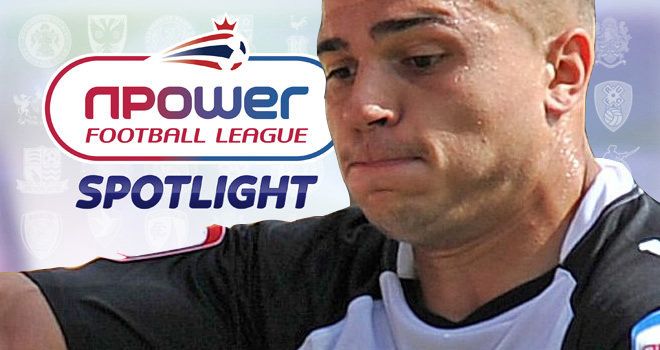 The 2012/13 campaign is now well under way, with divisions beginning to take shape.
Here at Sky Sports we will look to take you to the very heart of the Football League over the coming months, with our Spotlight features intended to give you a greater insight into the clubs and players that keep us on the edge of our seats.
We hope to bring you the views and thoughts of a representative from each of the 72 teams over the course of the season, with those involved asked to give their take on the division they compete in, the club that pays their wages and those we should all be keeping an eye on.
Port Vale ace Sam Morsy talks to Graeme Bailey and reveals his international ambitions in our latest League Two spotlight.
You began your career with your home town club Wolves. Are they your club, is that where you always wanted to be?
Yeah it was really, my older brother who is three years older played for Wolves when he was young and I got into it from there and I signed for them when I was 8, and my real ambition was to play for Wolves but it did not work out for whatever reason and at 16 I moved.
Was that a massive disappointment for you?
It was a big disappointment back then but I didn't really take it as serious as I do now, but in a way it was a blessing as it made me realise that I don't want to be in that position again, it was gutting for me but made me stronger.
You were picked up quickly by Port Vale and within 12-months you were on the verge of the first team, which is remarkable progress?
Bill Chetwyn [Vale youth development boss] brought me in and I had other options with Derby and Crewe, but with Port Vale speaking to Andy Porter , who was the youth team manager at the time, I knew that if I was good enough I would get the chance at Port Vale so I got my head down and within 12-months I was on the verge of the first-team.
Since you got into the first-team, you have gone from strength to strength...
I got my chance, but I have worked hard and done a lot of extra work - my former youth boss Mark Grew became assistant and that helped me too, but I have had the chance this season and played every game bar one and I have enjoyed myself and am happy with my form.
How would you class yourself, a midfield enforcer, box to box or a goal scorer?
I would not say that I am box to box as I do see myself as an enforcer, but I do try and get into the box and get on the end of things, I like to do all that.
You have over 50 first-team appearances now, so you are gaining big experience already?
I have managed to notch a few appearances over the last few seasons and even though I came to the team late last year, half-way-through. but this season I am delighted to have started the year well and think I have got stronger and stronger.
Obviously there has been speculation about your future in recent weeks with clubs being linked, no doubt you're getting a bit of stick from the lads, but that is a sign you're playing well?
It is one of those things that happens in football, if your performances attract interest it is always a positive, but I get good advice and I keep my feet on the ground and I am striving to improve.
We read you're a Man United fan, surely not true?
Well it is fairly true, my older brother is - I am actually a Barcelona fan! I have three older brothers and they got me into those when I was young and one of those was always a Barcelona fan.
Your name as Sam is a nickname, as your full name is Sammy Sayed, where does that come from?
My dad is from Egypt, and I am half Egyptian - so I am qualified for them.
Is that something you would look at?
Yeah definitely, I think that it would be a great opportunity if I could get through to something there, and something I definitely want to do and I think it would be great.