Arsenal product Jay Simpson at home at Leyton Orient after Thailand adventure
By Nick Wright
Last Updated: 15/11/15 11:18am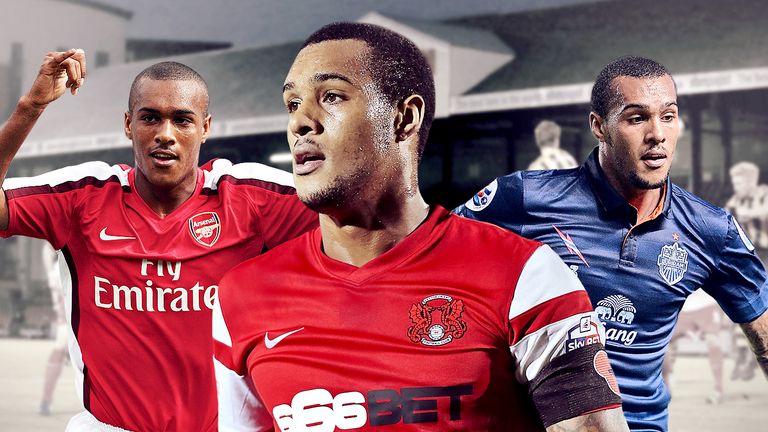 Jay Simpson talks to Sky Sports about coming through the youth ranks at Arsenal, playing in Thailand and finding his scoring touch at Leyton Orient...
Take a look up and down the football pyramid and you'll struggle to find a career more varied than Jay Simpson's. The Arsenal youth product, now 26, counts Thai side Buriram United among the seven clubs he has represented, but after years of jumping from one place to another, he is finally settled and happy back in London with Leyton Orient, where he tops the League Two scoring charts with 11 goals in 16 games.
"It's been a nice return to score those goals at this stage of the season," he tells Sky Sports. "We had a bad patch in September but we're still in and around the play-off places. It's not a bad position to be in. I've got a young family so as long as they're happy, I'm happy. They're settled and I've been able to go in and enjoy my football, which has been nice."
Top scorers in England's top four divisions
| Player | Club | Goals |
| --- | --- | --- |
| Jamie Vardy | Leicester | 12 |
| Adam Armstrong | Coventry | 12 |
| Jay Simpson | Leyton Orient | 11 |
| Andre Gray | Burnley | 10 |
The relief in Simpson's voice is palpable. It hasn't always been so straightforward. The striker's first season at Orient was a chaotic affair for everyone at the club. Four managers came and went under enigmatic owner Francesco Becchetti but results never picked up and they were relegated from League One.
"The last manager [Fabio Liverani] didn't speak English so it was very difficult," says Simpson. "The environment we had wasn't really an enjoyable one. You've got a great job being a footballer, you're lucky to have that job, but last year you didn't really appreciate it much. I think it showed in our results. We should have done better on the pitch, but it was an odd season."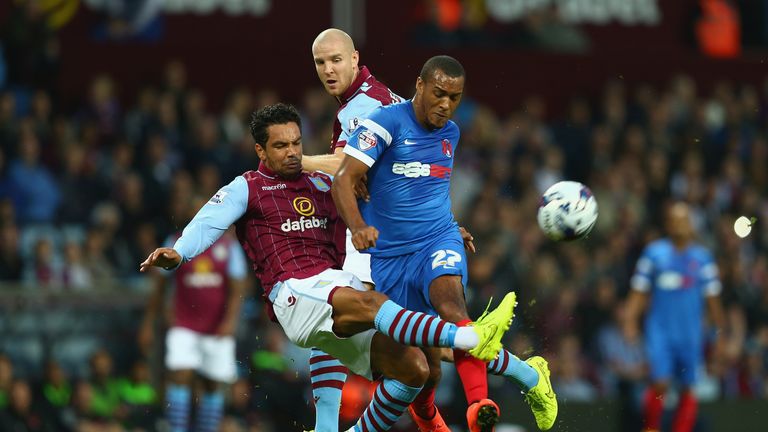 For Simpson, it was a continuation of a challenging stint in Thailand. Simpson made the unusual switch to Buriram United in the Thai Premier League in September 2013 after leaving Hull City, who he had joined after his departure from Arsenal three years previously. "I always wanted to play abroad," he explains. "My son started school this September and I wanted him to go to school in England, so at the time it was really my last opportunity to go abroad.
"I never planned to go to Thailand, but they kept calling me and inviting me over. When I finally went over there to have a look I was impressed with what I saw." Simpson was shown modern facilities and a state-of-the-art 32,600-seater stadium nicknamed 'Thunder Castle', and Buriram eventually got their man. "It was something different," he says. "I've always wanted to travel the world and Thailand is a place with a lot of culture. It was interesting to me while I was out there."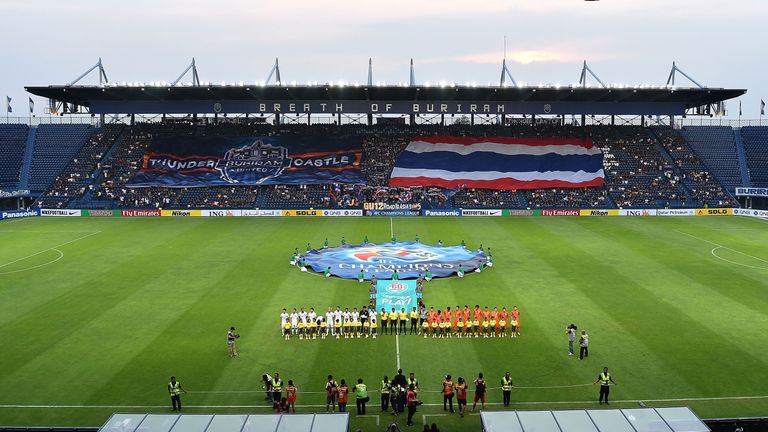 Simpson signed a two-year contract with Buriram, a small town four hours' drive from Bangkok, but his circumstances suddenly changed. "The day I was moving over there, I found out my wife was expecting our third child," he says. "They came over with me at first but she had to come and go for her doctor's appointments and scans and so on. The plan was always for the baby to be born in England."
Simpson had to contend with language barriers and sweltering conditions in Thailand, but what was the toughest aspect? "Even though my family moved over with me, I hardly got to see them because I was always on the road travelling," he says. "Before the games you have to stay in the team camp for three nights, so when you've got a game on Saturday, on Wednesday you're near enough in the camp the whole week.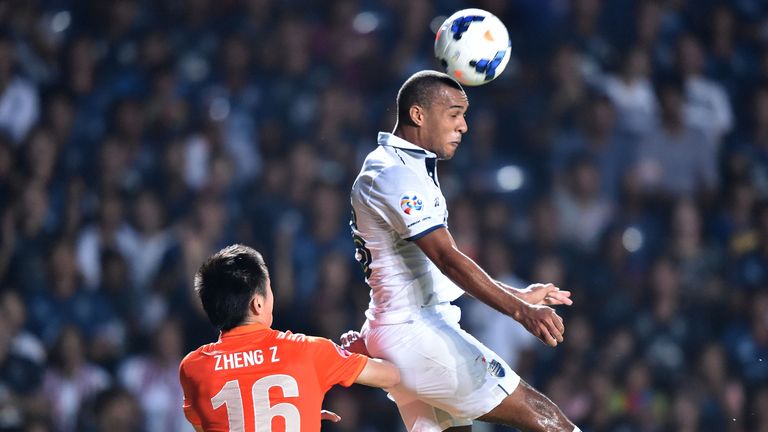 "It was a bit unfair on my family to move them over and then not be around. The toughest aspect was seeing them unhappy." Simpson returned to England after just one season with Buriram, but he doesn't regret the move. "I try not to look at things with regret in life," he says. "It was something I wanted to do and it was something that maybe I would never have had the chance to experience. When you go over there it makes you grateful for a lot of things that you have in England. Even the atmosphere of playing in England, there aren't many places where you'll see that."
If he does have any regrets, it's that he wasn't given more first-team opportunities at Arsenal. Simpson grew up "on the doorstep" of Tottenham's White Hart Lane but idolised Ian Wright and Thierry Henry in Arsenal's academy, and he was living every youngster's dream when he scored a brace at a packed Emirates Stadium in a League Cup tie against Wigan in November 2008. "It was a dream come true," he says. "It was an amazing feeling and something I'll always look back on with good memories."
The pacey, muscular young striker was tipped for a bright future at the club by Arsene Wenger, but he would make just three appearances in total before departing in 2010 following loan spells at Millwall, West Brom and QPR. It was tough to take. "It was disappointing not to get another chance," says Simpson, who is still friends with fellow academy graduates such as Gavin Hoyte and Henri Lansbury.
Hat-trick record
Jay Simpson became the first player ever to score a hat-trick at the Emirates Stadium with a treble in an FA Youth Cup tie with Cardiff City in 2007.
"I had an opportunity which I thought I took by scoring those two goals but I never got a look-in after that," he says. "I'm not too sure why. For a young boy who had come through and scored a couple of goals, you would expect to get another opportunity. It was disappointing, but I had to move on, I wanted to go and play."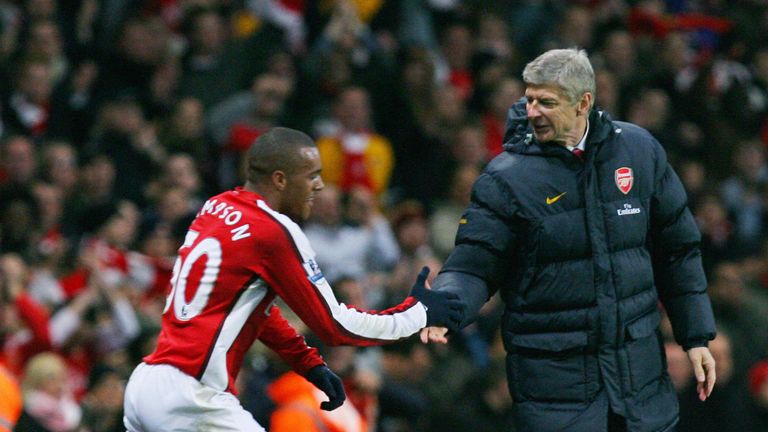 But Simpson isn't one for getting hung up on the past, and right now life is good. Orient overhauled their coaching and playing staff after last season's relegation, and Simpson has shone under new boss Ian Hendon. "He's created an enjoyable environment," he says. "Training is competitive but we enjoy it. We can have a laugh and a joke but when it's time to work things are serious."
In England's top four divisions only Leicester's Jamie Vardy and Coventry's Adam Armstrong have scored more goals than Simpson, but he puts promotion before personal accolades. "Everyone is pulling in the same direction. You've seen in this division anyone can beat anyone so it's a bit of a funny one, but we're in a good position at the moment."
And in the long-term? "I've got a long way to go, God willing," he says. "Obviously I want to play in the higher divisions. I want to play as high as I can, at a level I previously did." Finally, it feels like he's on the right track.
Watch Hartlepool United v Leyton Orient live on Sky Sports 1 HD from 12pm on Sunday