Blackpool and Leyton Orient fans unite in protest on final day of League Two season
By Lyall Thomas
Last Updated: 06/05/17 10:25pm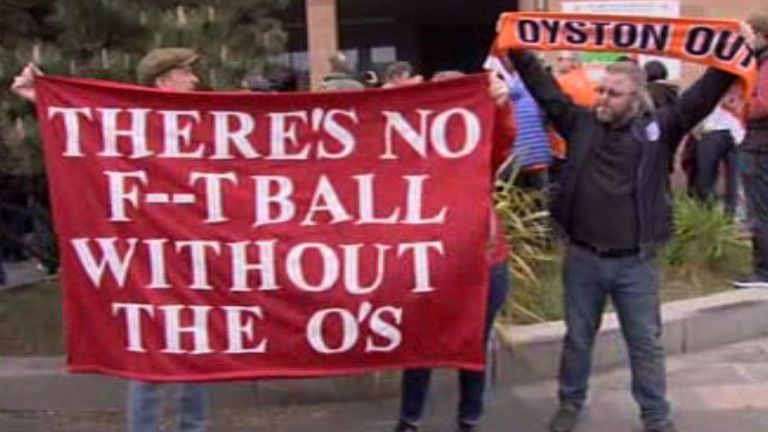 Blackpool and Leyton Orient fans united in protest at their respective club owners ahead of their final Sky Bet League Two match of the season.
Having already been relegated from the English Football League, Os supporters paraded the streets of Blackpool with their Tangerine counterparts, who have been protesting against their owners for a number of years.
They marched from the Pleasure Beach along the seafront, parading banners, chanting and burning effigies before making their way up to Bloomfield Road ahead of the 5.15pm kick-off, where there were clashes with security staff.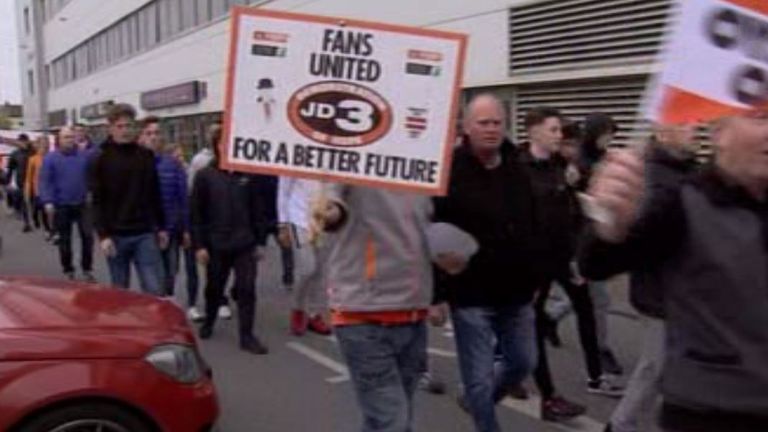 Leyton's Orient's final home game of the season was temporarily abandoned last week before being finished behind closed doors after fans took to the pitch in protest against owner Francesco Becchetti, who is in talks to sell the club.
Becchetti bought Orient in 2014 after their unsuccessful League One play-off final but they were relegated the following season and have struggled to pay players and staff their wages this term.
Blackpool suffered successive relegations from the Championship to League Two from 2014 to 2016 but have secured a place in this season's play-offs under Gary Bowyer.
However, that has not stopped Seasiders supporters from protesting vehemently for the removal of Karl Oyston and his family as owners.
Football Supporters Federation chairman Kevin Miles was at the event on Saturday and said: "It is always refreshing to see, in a game which is so much about tribalism and rivalry, that people are coming together because they recognise a common interest
"There has been a good representation of what we can refer to as 'clubs in crisis', and there are sadly a few which are at war with their own fanbase. Blackpool and Orient are the obvious ones, but we had people here from Coventry, Blackburn and others who have had their own sorts of problems.
"Even at clubs who are not like that, there is always the feeling at the back of your mind that 'it could be us one day'. The events today could have left nobody in any doubt about the strength of feeling and how deep these issues go into communities and a fanbase.
"If there is one message, it is people are not going to give up and go away, it is not something owners can just ride out because there is no alternative for people - you cannot just go and suddenly become a fan of somebody else."