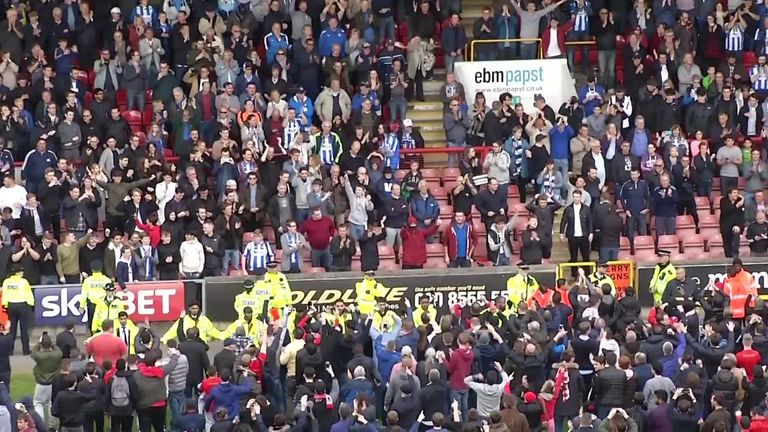 Blackpool have agreed to admit a reduced number of Leyton Orient supporters to Sunday's final League Two game.
Ticket sales to away fans were suspended by the EFL on Monday at the request of Blackpool, who expressed concern in the wake of the pitch invasion that delayed Orient's game against Colchester on Saturday.
A similar incident forced the abandonment of Blackpool's final game of the 2014/15 season, and a suspended three-point deduction remains in place.
But a deal has now been struck for 1,000 Orient fans to make the trip to Bloomfield Road - 700 fewer than the original allocation.
All tickets already sold will remain valid, but any Orient supporter now wishing to attend must be a current season ticket holder or a member of the Leyton Orient Fans Trust (LOFT).
An EFL spokesman said: "We are delighted we have been able to find an amicable solution to this particular issue and would like to place on record our thanks to all those parties who have assisted the EFL in achieving the outcome."
LOFT released a statement expressing relief that "common sense has prevailed at the EFL" but added that they had not been party to any discussions and would not be releasing any of their members' personal information.
"LOFT would like to note that the conditions of eligibility for sale of further tickets to Leyton Orient supporters were not of our asking, nor indeed our suggestion," it read.
"LOFT was not consulted about this, nor will we be divulging who is and isn't a LOFT member (in line with our Data Protection Act obligations), nor do we take responsibility for any issues as a result of the EFL's criteria for sale.
"We feel that no restrictions beyond those which would ordinarily be in place for such a fixture are necessary, nor should it be necessary to restrict the number of tickets available to O's supporters."