Sky Sports presenter Jeff Stelling has appealed to potential investors in a desperate attempt to save Hartlepool and is willing to fund Ronnie Moore's return as manager.
Stelling and a Teesside businessman are understood to have raised £1.2m to complete a takeover of the National League side but require an additional £600,000 to pay off the club's debt and buy out current owner John Blackledge.
On the pitch, player Matthew Bates is in charge following Craig Harrison's sacking last week but Moore - who masterminded a dramatic end-of-season escape in 2015 only to later be sacked 10 months later - has admitted he would be keen to return.
In an emotional plea on Wednesday, Soccer Saturday host Stelling revealed he fears "time is running out" on the club's existence but said he would pay the wages of Moore until the end of the season in a bid to provide fresh impetus on the field.
"It is all about raising the money to save the club because we won't get to end the of the season otherwise," Stelling told Sky Sports.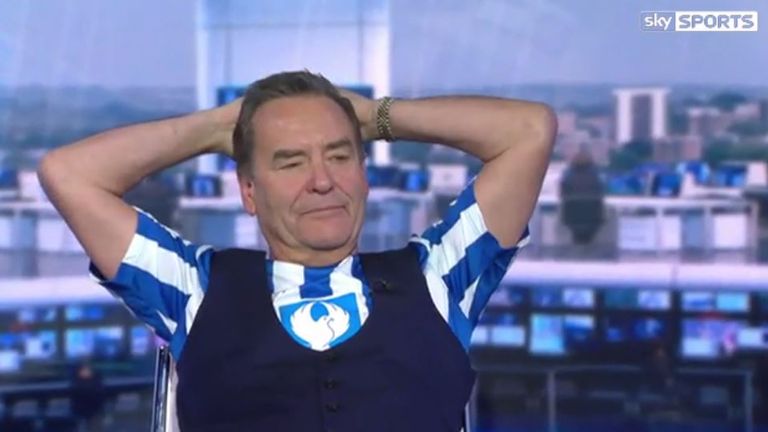 "But young Matthew Bates was isolated on the bench on his own of Saturday. I suggested we bring Ronnie Moore in and as a little gesture I would pay his wages until the end of the season. He was the architect of our great escape and he is a great motivator. We're under embargo so a motivator is all we really need right now.
"He loves the club and the fans adore him. I've been in communication with Ronnie and I know he would be up for it. I'm hoping that something happens."
On his desperate bid for funds, Stelling said: "We can't afford to find ourselves in the same position 12 months from now, so we need sufficient funding in place to guarantee the club's long-term future.
"Our money is there and waiting if we can find the extra funds. But time is running out. Though it breaks my heart to say it, I don't believe the club can survive much longer. The club needs investment - and it needs it now.
"We have been working hard on this for the past couple of months, but we now feel we need the extra funding within the next week or it may be too late.
"If somebody else comes, good, then I'll support them. It isn't about trying to take control of the club, it is simply about keeping it going.
"I can't bear the prospect of this club going to the wall. I just hope there are some wealthy individuals or businesses out there that may feel the same. The town would be forever grateful."
Hartlepool survived a winding-up order earlier this month after a fundraising campaign set up by a fan successfully paid off their outstanding tax bill.
The appeal raised in excess of £84,000, with football fans around the world contributing towards the effort of saving the club.