Dean Keates interview: Walsall's unbeaten start against the odds
An ode to the Walsall manager who has turned things around
Last Updated: 10/09/18 7:13am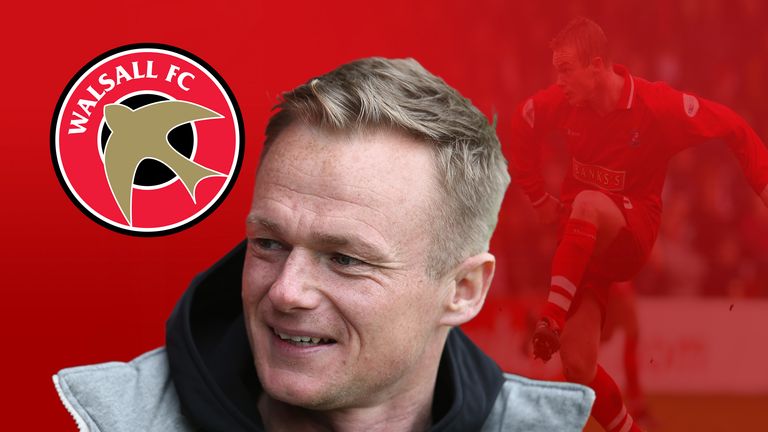 Walsall were among the favourites for the drop but have made an unbeaten start to the season under former player Dean Keates. Adam Bate met up with him to find out how he has done it and discovered a tale of hard work and imaginative recruitment...
It is not often that an interview begins with the manager scrubbing the rainwater from the chairs outside the club's training ground. But Walsall manager Dean Keates is the hands-on type and on a crisp September morning it is just another task to add to the list. He might have a poetic name but it seems that the secret to his success is honest graft.
"I try to set an example to my kids in terms of hard work," Keates tells Sky Sports. "I get up at the crack of dawn and I'm out my house for 15 hours some days. That's the example that I want to set - if you want to achieve things in life then you have to put the hours in."
It helps that this is a job that he has always wanted, though he admits the opportunity has come rather sooner than he had anticipated. Keates, 40, is in his third spell at Walsall. This is his hometown club. The one that gave him his professional debut as a teenager. The place where he won both promotion and the player of the year award just over a decade ago.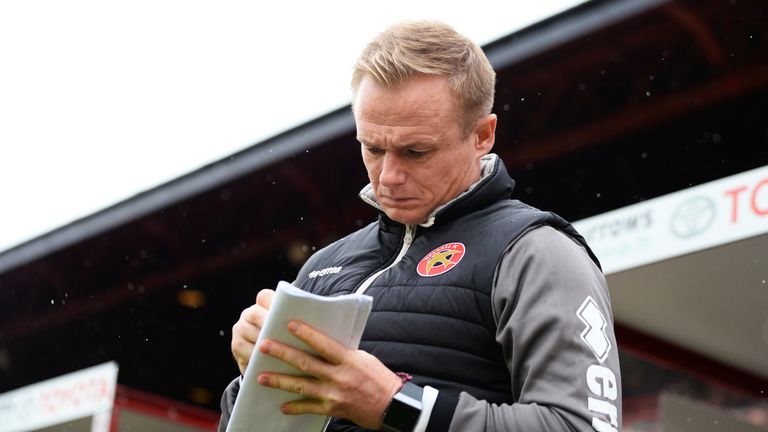 There have been a few changes since then at Walsall. The days of meeting at the stadium before going to train at a local school have long gone. The new training complex in nearby Essington is modest but delivers where it matters. "Now it is like an actual home," says Keates. "That is the important thing. It is part of taking the club forward."
Home is the appropriate word where this manager is concerned. After six years in Wales, the last two in charge of Wrexham, he is relishing being closer to family. His old pals are just down the road from the training ground, though Keates himself still lives in the north west. "Just far enough away that I can't hear the boos if it is going wrong," he says.
Of course, the key point is that it is not going wrong. Far from it. Walsall were many people's tip to go down this season but they are currently unbeaten in seven League One games, exceeding all expectations after their brush with the drop last term. The run was maintained at the weekend thanks to Andy Cook's late equaliser away to in-form Barnsley.
Some supporters are even dreaming of promotion but Keates is keen to keep a lid on such talk in a league that includes clubs with far bigger budgets. "The aim is to get to 52 points as quickly as we can get there because that's normally the cutoff," he insists. "If we can get there in January or February then let's see where we can go from there.
"It's a good start, that's all it is. It will plateau at some point, we know it will. We are not going to be the biggest payers so we can't compete with everybody. Budget-wise, we are among the lower end of the division so let's not try and smokescreen anything. We know what we are. But we have got some momentum behind us and you never know in football."
Appointed in March, having that time to assess has helped. But it was not easy. "It wasn't exactly a bedding-in period, it was being thrown in at the deep end," he says. "We had nine games and the instruction was to make sure we were a League One club this season. By hook or by crook we made sure we stayed up. We got over the line and that was massive."
The summer brought challenges as well as opportunities. Top scorer Erhun Oztumer - the so-called Turkish Messi - left for Bolton on a free transfer. "That's football," says Keates. "He played his part in us still being a League One club." There could be no star replacement but Keates sat down with his staff in the summer and mapped out a way forward.
He leaned on old team-mate Darren Wrack - "someone I trust 100 per cent" - who is now working in recruitment, while new chief scout Gary Jenkins watched target after target. With assistant manager Andy Davies, they worked out what a Walsall player needed to look like if the club was to get back to doing what it does best - punching above its weight.
"I had to make sure that whoever we brought in freshened the place up and there was not this hangover from the relegation battle," Keates explains. "So we needed players who want to progress, develop and take their careers forward. The players that I have brought in have had an impact and now there is a good feeling around the place."
Josh Gordon, a 23-year-old forward from Leicester and briefly Keates' team-mate at Rhyl, is an example of the identikit signing. "There is something there investment-wise that we can develop and work on," says the manager. "We can potentially either sell him in a couple of years for good money or he will be able to stay and help progress us as a club."
It is Gordon's non-league background that is more relevant than his stint in Leicester's development squad. The aforementioned Cook and fellow forward Morgan Ferrier have arrived from Tranmere and Boreham Wood respectively despite neither man ever having played in League Two let alone League One. The pair already have four goals between them.
"We have had a look and I think a lot of clubs are now having a look at the National League," says Keates. "Everyone talks about Jamie Vardy going to Fleetwood and then Leicester but there are lots of players out there. There is a lot of hunger and a lot of desire and I think that's why people are looking down the pyramid because it's a good grounding."
The same applies to non-league managers. For Keates, it was the perfect preparation. "The Wrexham job was very similar to the situation I inherited here," he explains. "It was on a slippery slope and looking over its shoulder. The job was to build the football club and give it an infrastructure. It was a complete rebuild really but we laid the foundations.
"It was not just coaching, it was spreadsheets and budgets and managing things. So as a learning curve it was massive. You hear a lot about the head coach these days and at the top level that makes sense because you cannot control everything. But at that level, it was everything right down to making sure we had the right coach for the travel arrangements.
"I did a degree as well while I was coaching so that helped me loads on the academic side. It was even just the idea of learning because I had gone straight into football as a kid and four years ago I could not do a spreadsheet. I could not even do a Word document. So I had to re-educate myself to make that transition to where I am now. It was massive for me."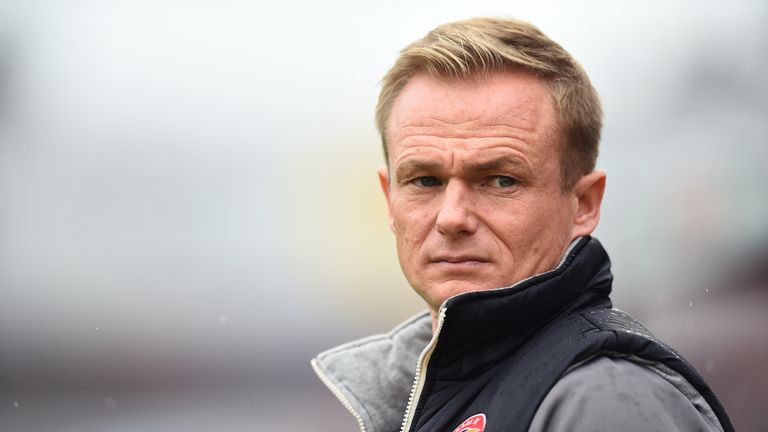 I could not even do a Word document. So I had to re-educate myself to make that transition to where I am now.
Dean Keates
All of which has helped to prepare Keates for this next task. One that he still insists is about securing survival first and foremost. "We have to make sure we are League One," he says. "We can't be looking over our shoulder again." But one that could yet, against all the odds, have a far bigger prize awaiting them if this early season form is somehow maintained.
"It is early days and I will keep drumming that home but we have to try to keep these standards week in and week out until the end of the season," he adds. "As I have said to the lads, I have been here at Walsall and finished sixth bottom, staying up by a couple of points and then the season after there were only three bodies added and we won promotion.
"That was the season Kevin Keegan was at Fulham in League One and Manchester City were in the division too. We ended up finishing second behind Fulham despite being one of the pre-season favourites for relegation. Can it happen? Who knows? Who would have predicted Leicester would win the Premier League? You just never know.
"All you can do is train them hard, give them as much information as you can about the opposition, get them to buy into what we are trying to do, and then let them go out there and play. The most important thing is to go out there and play with a smile on your face. I want them to remember those days as a kid and why they loved to play football.
"I loved playing. When that whistle went I still played that game like I did when I was eight because I loved football. That was my identity so that's what I try to put across to the players. At the end of the day, it is about good habits because if you give it everything in training that's what will happen at the weekend too and everything will be OK."
If Walsall do come up short, clearly it will not be for a lack of hard work.
If you're reading on skysports.com comment below to get involved in the debate, but please adhere to our House Rules. If you wish to report any comment, simply click on the down arrow next to the offending comment and click 'Report'.