Sky Bet EFL: Five things to look out for in the Championship, League One and League Two this weekend
Pressure building on Gary Rowett, Frank Lampard impressing at Derby and Forest Green still unbeaten in Sky Bet League Two.
Last Updated: 28/09/18 10:05pm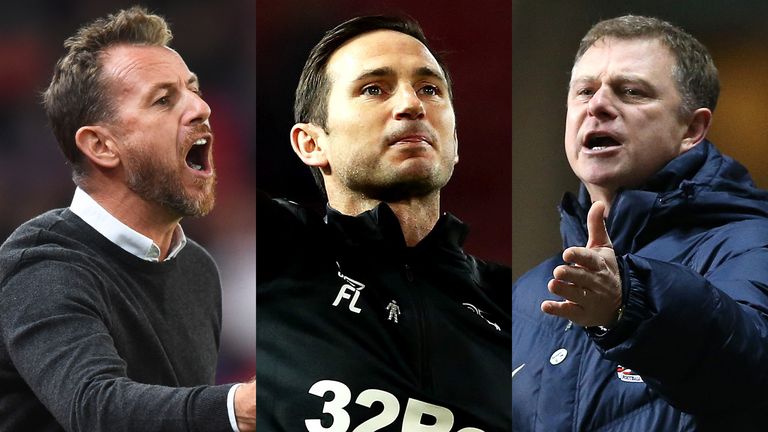 We cast our eye over five things to look out for in the Sky Bet Championship, League One and League Two this weekend.
The pressure is firmly on Rowett
Club owners in the Sky Bet Championship have been relatively restrained so far this season. Assuming there are no more sackings between now and Monday, it will only be the second time this decade that we have made it to October without a single managerial change.
And even on that occasion in 2016/17 we only made it to October 3, when Roberto Di Matteo was dismissed by Aston Villa, which triggered something of a flurry of sackings as five more managers went before the end of that month.
Gary Rowett is likely to make it to October at Stoke but results need to improve fast if he is to last much longer at the club that most considered pre-season favourites for promotion, starting at Rotherham, live on Sky Sports Football, on Saturday.
"Last season, after 10 games, we had 13 points at Derby. Within the next 10-15 games we were sat in second," Rowett told Sky Sports. "We even had the opportunity to have a poor run of form and go out the play-offs only to get back in the play-offs. If you look at Fulham last year. Around this time people were calling for Slavisa Jokanovic's head, and what an unbelievable turnaround they had.
"It can happen quickly when you've got the type of quality we know we've got in our group. But what we've got to do is we've got to give ourselves a chance by having a solid base.
"I've got no doubt. It's not just bravado in front of you guys, I've got no doubt we can turn the season around and climb the table very quickly. We've got to stop talking about it and start doing it. Then you will see us move up the table pretty quick."
And Hurst is also feeling the heat
Talking of managers under pressure... Birmingham's surprise win at Leeds last weekend means that Ipswich are now the only side without a win in the Championship this season, turning the heat up on Paul Hurst.
There is plenty of willingness to give Hurst time at the club, especially considering that so many of the fans were keen to see Mick McCarthy leave, but again there has to be a question of how long the patience can last.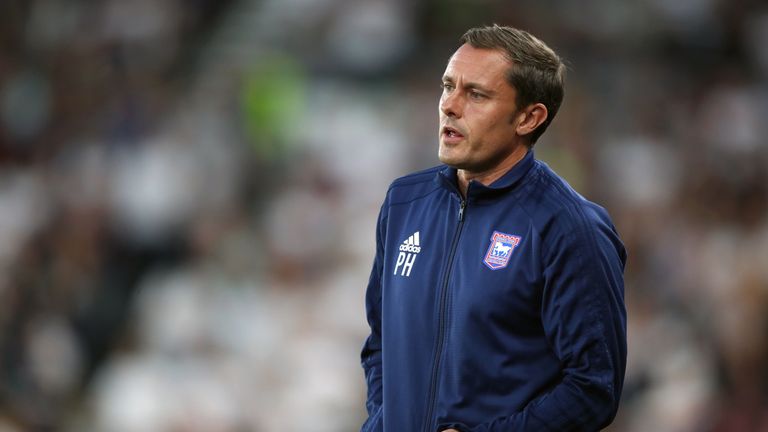 Birmingham should have their tails up after their win at Elland Road and will provide tough opposition to a side whose record is pretty straightforward this season. Ipswich have drawn all five at home and lost all four on the road.
Should they lose at St Andrew's, then their next two games are against Middlesbrough and at Swansea, which means we could be easily looking at Ipswich going into the second international break of the season without a victory.
Even the most forgiving of owners will struggle to spend two weeks looking at their team winless and bottom of the league after 12 games without deciding that something needs to be done.
Lampard moving Derby on
Now, in the interests of balance, we move on to discuss a manager very much not feeling the pressure. And, neatly, one who also happened to take over a job from Rowett.
Frank Lampard has not had the perfect start at Derby by any means but it has been close to a perfect week as they came from behind to beat Brentford on Saturday before that stunning win at Manchester United on Tuesday. They can cap it all off with a win at Bolton on Saturday.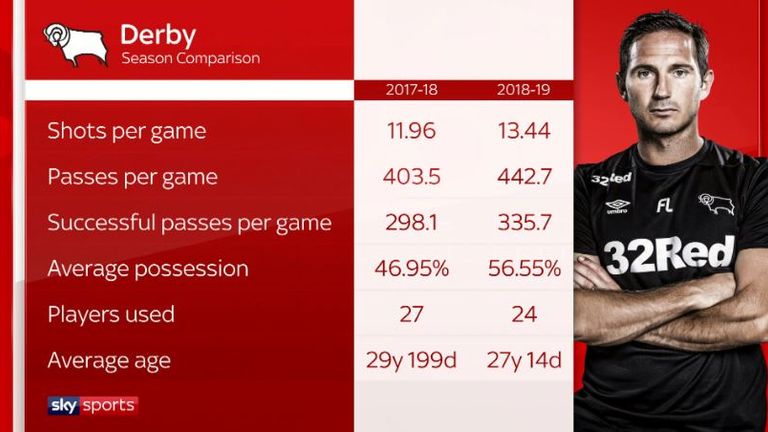 Derby are not yet necessarily better than they were last season, they reached the play-offs after all, but they do appear to have a lot more vigour, helped in part by the reduction in the age of the squad and the loan additions of Mason Mount and Harry Wilson.
"I think it has been a great start [for Lampard] and the differences are very evident from last season," said Sam Parkin on EFL Matters on Thursday night. "The average age has come down and they have [the freedom] in that front area to express themselves and make a few more mistakes.
"They also aren't taking risks as much as they were [at the start of the season] and giving the ball away in silly areas. They know what areas not to overplay in as well. I would not say it's light and day from last year but the pressing and the speed with which they are moving the ball now, the tempo is a lot quicker."
Robins doing a fantastic job at Coventry
The theme of the day is managers, so we now move down to Sky Bet League One and ask the question: Is anyone doing a better job in the Football League than Mark Robins right now? It might seem a strange thing to say about a side sitting 13th in the third tier, but hear us out.
Robins took over a side in March 2017 that were hurtling towards relegation from League One and steered them to victory at Wembley in the Checkatrade Trophy final a month later, giving a huge and much-needed lift to 40,000+ fans that travelled to London in the process.
He then steered a side playing in their first fourth-tier season for 59 years to their first top-six finish in 48 years, going on to win at Wembley again in last season's play-off final and taking the club back into League One.
Now, even after losing their runaway top goalscorer from last season, Marc McNulty, in the summer, Robins has secured 11 points from Coventry's first nine games with a side that only won four games before mid-February the last time they played at this level. We haven't even mentioned all the ownership problems that still dog the club to this day.
On Saturday they face Sunderland at lunchtime, live on Sky Sports Football. The Black Cats are more fancied but even if Coventry lose, the match should still be treated as a celebration of how much they've risen back having fallen so far.
Forest Green still unbeaten
Nearly two months into the season and there are just two teams in the Sky Bet EFL still unbeaten. League One leaders Portsmouth are one, and the other is Forest Green.
The strange thing about Forest Green is that they are just seventh in League Two, below sides that have lost twice and even, in one case, three times already.
Mark Cooper's side have a record of three wins and six draws, which does make you wonder how much value an unbeaten record has when a couple more wins and defeats instead would have you higher up the table.
But resilience is a valuable quality and there's every chance that a team that were only promoted to the Football League for the first time in their history last season could make it 10 games unbeaten when they travel to winless Macclesfield on Saturday.
The formbook would suggest an away win is on the cards. However, in the past two weeks in this column we've praised Newport and Yeovil, before those sides went on to lose 6-0 and 3-0 the following day. So we'll be keeping our predictions to ourselves on this occasion.