Championship: Peterborough take captain Gabriel Zakuani off transfer list
Peterborough have removed club captain Gabriel Zakuani from the transfer list.
Last Updated: 15/11/12 5:21pm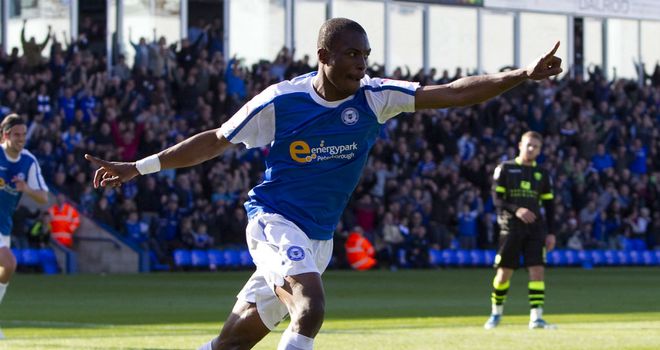 Zakuani, along with team-mates Nathaniel Mendez-Laing, Emile Sinclair and Tyrone Barnett, were disciplined and fined by the club after they went out in Peterborough last Saturday after they had lost 2-1 to Crystal Palace.
Mendez-Laing has already left the club, joining Portsmouth on a one-month loan deal.
Zakuani protested his innocence on Twitter and the club has now reversed their decision, with the fines imposed on him and Sinclair also lifted.
Both players will be available for selection against Blackburn at London Road on Saturday.
"I had a long weekend dealing with the situation and the news was coming in fast and furious about what had gone on," Ferguson told Sky Sports News.
"The conversation we had after the Palace game was based around 'can we be a little bit more professional in how we do things'. That wasn't so much a criticism but rather where I felt we wanted to go with it.
"So to find out four players had gone out on the town on the Saturday evening, I was furious, I can't tolerate that.
"But since further enquiries have come in, obviously Gaby and Emile's only crime was going out, the other two will be dealt with differently.
"The key point I made to payers is they have gone out in Peterborough. That shows a total disrespect to the club's fans, to myself, to other team-mates because we have lost against Palace and we are second-bottom in the league.
"It just sends the wrong example and if it was up to me I would fine all four of them, although I can't do that now as the representatives have got involved.
"If four of my players went out again after we lost to Blackburn, I would want to fine them and that will be the case from now on."
As for the future of the four players, Ferguson added: "Three are (still on the transfer list), Gaby is not. Emile is still on but that is a footballing decision."