Peter Beagrie
Football League Expert & Columnist
Peter's picks
Peter Beagrie reflects on the League Two season and hails both Nick Powell and Mark Yates.
Last Updated: 07/06/12 11:54am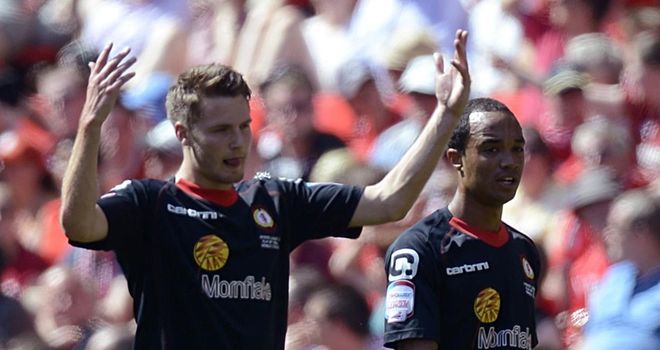 This has been an incredible season and it's not likely to be forgotten any time soon.
We saw Manchester City win the title in the dying seconds and Didier Drogba dramatically end his Chelsea career by winning the Champions League - but the Football League also gave us all sorts of drama in May.
West Ham won the Championship Play-Offs in the 88th minute to break the hearts of Ian Holloway and Blackpool and then we saw an epic League One Final between Sheffield united and Huddersfield. It wasn't the best game, but it went to the 22nd penalty and I've never seen a more exciting shoot-out.
Meanwhile, in League Two a youthful and exuberant Crewe side graced Wembley with an incredible goal from their prodigious talent Nick Powell.
With all of that in mind, let's draw the curtains on the season and raise our glasses to some of the outstanding performers.
I've chosen my League Two highlights below, but feel free to add your comments. There's too many stars for me to mention, but if you want to pay homage to somebody else then make your mark in the comments box at the bottom of the page...
Take a look back at Peter's Championship highlights
Take a look back at Peter's League One highlights
My League Two manager of the season...
This was a really difficult decision. Initially I opted for Swindon's Paolo Di Canio, but he had one of the biggest - if not the biggest - budgets in League Two. He obviously spent the money wisely and built a team that reflected his own philosophy of football; always entertaining and expressing yourself. However, he was given every chance of success.
The same could be said of the other two managers in the top three - Graham Turner (Shrewsbury) and Steve Evans (Crawley). The top three budgets in the league probably produced the top three teams. I felt that provided a stark contrast with the jobs that Mark Yates and Steve Davis have done at Cheltenham and Crewe respectively with much lesser resources.
So I'm going to go for the person that I feel genuinely deserves to be called League Two's Manager of the Season and that's Mark Yates. He missed out on taking Cheltenham up via the play-offs, but this team were the second favourites for relegation at the start of the season and ended up in sixth place with 77 points behind much richer clubs. He's played an exciting brand of football, he's done well in the transfer market and I think he deserves this.
A shout out for...
Steve Davis - I'll also reserve a special mention for Crewe's Steve Davis. He had to replace a legend in Dario Gradi and did it by going on a 19-game unbeaten run and taking a team from 18th place to promotion via the Play-Off Final - all with a team with an average age of 22. He has a couple of old-timers in there, but the rest of the team were given the license to express themselves and he has imparted his knowledge on them. It all came to fruition at Wembley and they'll be in League One next year.
Graham Turner - He first became Shrewsbury manager in 1978 and they were renowned for their set pieces, their professionalism and their never-say-die-attitude. In 2010 he went back to the club after a long spell at Hereford and he has managed to get them out of the division. They've been favourites for promotion for the past few years and promotion has finally arrived, so I'm really pleased for a guy who personifies passion in football.
My League Two player of the season...
The best players are mentally strong and they turn up on the big occasions and make a difference. Well Crewe's young star Nick Powell certainly made a difference with a great goal in the Play-Off Final and I think he's nailed on to make a good career in the game if he can keep his feet on the floor.
He was outstanding at Wembley and hardly wasted a ball. His physique, build and ease of movement reminds me of Dennis Bergkamp and he plays like more of a number 10. Sometimes people freeze at Wembley, but he did what we expected of him and more. His goal was unerring in the way it was destined for the top corner - as much as he's destined for a very good career in the game.
He was run close by Matt Ritchie of Swindon, who was the architect behind the Robins' success last season. He hit double figures for goals and assists and is being watched by a host of clubs. He possesses lovely balance, a great left foot and he will terrorise defences in League One next year if Swindon can keep hold of him.