Sergejus Fedotovas talks up Hearts survival prospects
Hearts director Sergejus Fedotovas claims the club are on the road to fending off the immediate threat of closure.
Last Updated: 09/11/12 5:12pm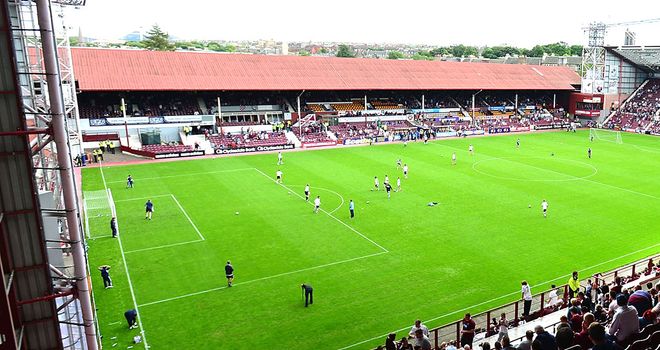 But Fedotovas warned much more money was still needed to meet a £450,000 tax bill.
Hearts were presented with a winding-up order on Tuesday by Her Majesty's Revenue and Customs, the latest in a long line of such petitions.
The William Hill Scottish Cup holders paid off the most recent one in February but majority shareholder Romanov's UBIG investment vehicle is believed to have stopped funding the club since then.
And Fedotovas, the closest figure to Romanov on the Hearts board, continued to urge fans to take control of the situation.
Fans were urged to buy tickets for three forthcoming home matches and subscribe to a share issue after the board warned on Wednesday that the visit of St Mirren a week tomorrow could be the club's last match.
"We are having a good response from the fans, from the people who really care about this club," Fedotovas said at Tynecastle today.
"I need to say thank you to everyone who has come to help us out. I'm hoping more people will continue to come and with their help we will be able to put this club in a safe zone.
"It's far from enough at the moment but the progress is good and if we continue like this we'll be fine."
The Lithuanian added: "We have been speaking to the companies of Mr Romanov and we have had some promising response.
"They say they will look at ways to help us out. Obviously not immediately, they require a certain time.
"I would not take that for granted but at least they are looking at ways to help us.
"At the end of the day any funding will have to be paid back - if we are able to get a fix it will be a short-term fix.
"So I think the best solution is for supporters to take this club into their own hands and ensure it will be here for many, many years."
Hearts have less than seven days to pay HMRC or face liquidation, although they could stave off that danger by voluntarily going into administration before then if they cannot pay.
When asked if administration was inevitable, Fedotovas said: "I have never thought about this and my priority is finding a solution, and I strongly believe a solution will be there."Fedotovas blamed the global economic situation for their ongoing problems paying tax and defended the decision to re-sign Ryan Stevenson in August despite their precarious financial position.
Stevenson had walked out of the club in January amid frustration over late payment of wages, a situation that was repeated in the last two months.
"We haven't paid any millions for Ryan Stevenson," Fedotovas said. "He is a Scottish player, we were able to negotiate a decent contract with him and the management believe he will be of good service to this club."
The latest wage delays sparked a Scottish Premier League transfer ban, set to last until December 23, but given Rudi Skacel had been training with the club before the embargo was extended, it is not inconceivable to think Hearts might have been willing to add to their squad further just weeks ago.
Fedotovas admitted there was a £2million funding gap that Hearts will have to plug before the summer, when they can repeat this summer's reduction of the wage bill.
But they face another tax bill of £1.75million, which HMRC have claimed after players on loan from Kaunas, which Romanov also owned, were paid in Lithuania rather than in the UK.
The matter is subject to a tribunal which could take several months to rule and Fedotovas has insisted the £1.79million share issue is not designed to pay off this sum, but to meet the shortfall in revenue before the end of the season.
However, he was unable to offer supporters any guarantees that supporters would be handed more say in the running of the club in the form of a representative on the board in return for their investment .
"We will definitely look at this and try to address it but to a certain extent it's difficult to do because I believe every single fan wants to be on the board," he said. "How to pick the right person, how to do it is a question for the future and we will be thinking about that and addressing it for the future.
"We are trying to maintain a dialogue with fans' groups and representatives and listen to what they want to see and say."