Steven Gerrard says clubs must pay 'top money' if they wish to buy any of his Rangers players
By Andrew Dickson
Last Updated: 04/12/18 1:42pm
Steven Gerrard has warned it will take "top money" to prise the best players from his table-topping Rangers team when the January transfer window opens.
The Ibrox side moved ahead of their Old Firm rivals Celtic in the Scottish Premiership with a 2-1 win at Hearts on Sunday and are at the summit in December for the first time in seven years.
Key to their good form has been striker Alfredo Morelos, a scorer of 17 goals in all competitions so far, and interest in the Colombian is expected in the weeks ahead.
Gerrard, who insists he wants to keep Morelos in Glasgow, said ahead of Rangers' match against Aberdeen on Wednesday: "For any club looking over our fences, if you want our top players, you have to come with top, top money.
"That's the only message I'll ever say on any of my top players. Top money, that's it. He has to be [equipped to deal with speculation] and so do all the other players. They have to be ready."
Morelos equalled the Premiership record of scoring in seven consecutive matches at Tynecastle and has struck more goals in the competition than anyone else with nine.
Yet his weekend performance drew complaints from Hearts manager Craig Levein, who insisted he should have been sent off for his part in a feisty running battle with Christophe Berra.
Morelos undoubted has a physical side to his game - an accumulation of bookings means he misses Sunday's trip to Dundee - but Gerrard has launched a staunch defence of his player.
He added: "Craig's entitled to his opinion, like I am when I speak about Hearts, Aberdeen or whoever it may be.
"What we'll do, to make all the other managers in the league happy, is we'll tell Alfredo not to compete.
"We'll tell him to just get kicked from pillar to post, from the first minute to the last. We'll just tell him not to go near anyone.
"We'll make it non-contact for Alfredo, see if they like it and then nobody will complain. I'm not really interested [in analysis of Morelos] - he's scored 17 goals and he's in fantastic form.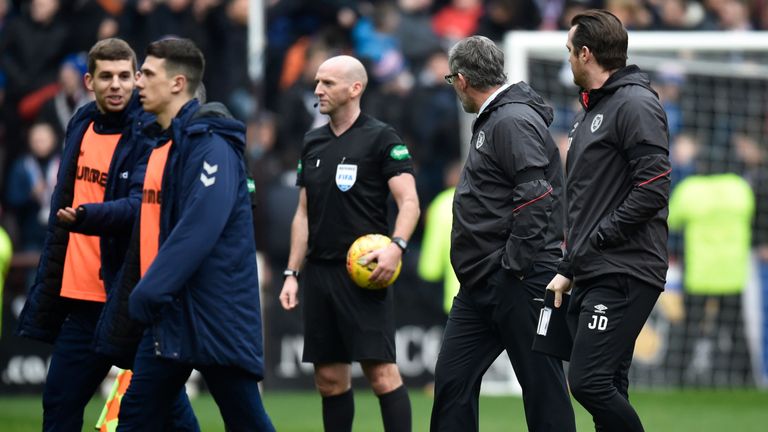 "That's my only concern. What other managers and defenders come out and say about Alfredo is none of my business. It's their opinion and they're entitled to it. I'm not really that interested.
"I'll always be supportive of him and all my players, that's my job. His form this season has been magnificent. He's scoring high numbers and I think he's one off last season's total.
"It's fantastic for him in terms of records and competing against all other top players who have gone before him. The league has got some strong forwards and Alfredo's certainly up there."