Rangers players warned
Rangers' players have been warned that 'significant redundancies' will be made unless wage cuts are agreed with the administrators.
Last Updated: 08/03/12 2:29pm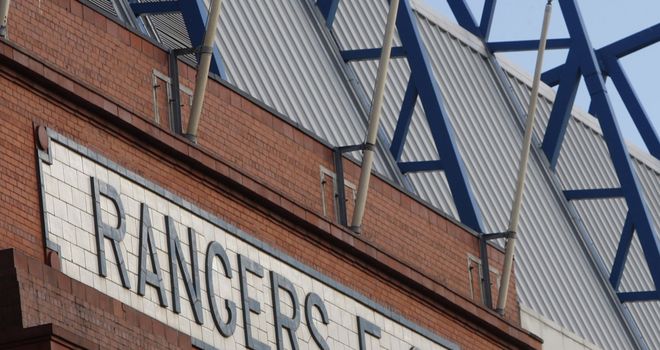 Rangers' players have been warned that 'significant redundancies' will be made unless an agreement can be reached on wage cuts with the administrators.
Discussions over proposed staggered reductions in salaries - from 75 per cent for the highest earners, down to 50% and 25% - broke down on Tuesday evening without an agreement being reached but will resume on Friday in the hope of finding common ground.
The Ibrox outfit's admininistrators Duff and Phelps were at the High Court in London on Thursday in a bid to secure £3.6million held in an account belonging to club owner Craig Whyte's London-based solicitors as they look to secure the finances to help the club fulfil their remaining fixtures.
But Mr Justice Warren was told that a number of other organisations - including HMRC and Ticketus - had staked a claim on chunks of that cash, with a four-day trial hearing set for 30th March when lawyers will make arguments on behalf of organisations claiming funds.
David Whitehouse, co-administrator of Rangers, confirmed outside the High Court that there were a number of interested parties interested in buying the stricken Scottish Premier League club.
But with a significant delay in recouping the funds they were hoping to lay claim to on Thursday, he admitted it was now imperative that an agreement was reached with the playing staff, with the prospect of liquidation raised just 24 hours earlier.
Funding
Whitehouse told Sky Sports News HD: "Our position at the moment is that we are still in negotiations with the players. The players know what needs to be done if we can deliver that funding gap purely by wage reductions.
"We have also been speaking to interested parties over the last two days to gauge the extent of which we can bring those discussions forward to try and deliver an earlier sale of the business in a timetable which would minimise the level of redundancies which would need to be made.
"We are going to have a discussion tomorrow (Friday) with the players when we know what timetable we can work with and we can determine what level of redundancies would need to be made.
"We are still hopeful that the players can deliver what they were hoping to deliver on Tuesday evening.
"We need to know we've got an on-going funding structure, otherwise we will make what are quite significant redundancies among the playing staff."
When questioned over the interested parties involved in buying the club, he added: "There are a number, we don't want to go into detail."