SPFL: Former Rangers supremo Charles Green insists he was 'driven out of Ibrox'
Former Rangers chief executive Charles Green has revealed he was "driven out of the club".
Last Updated: 07/03/14 10:28pm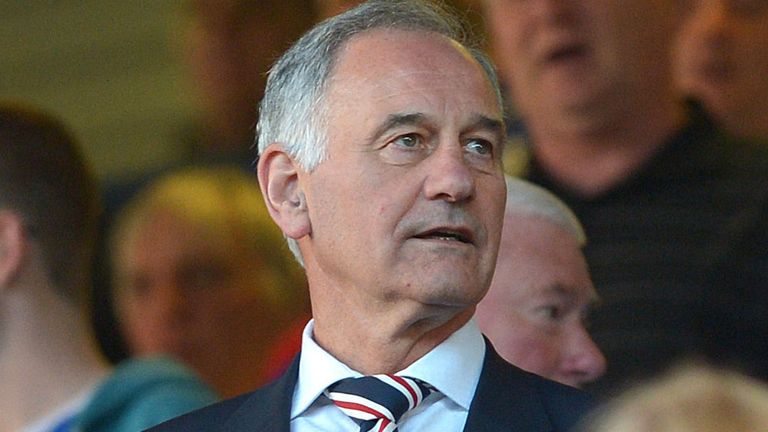 Green led the consortium which bought the assets of Rangers for £5.5m from administrators Duff & Phelps on June 14, 2012, just two days after they were consigned to liquidation when HMRC rejected the offer of a CVA.
The Yorkshireman, 60, insisted he was at Rangers for the long haul, claiming he would not consider leaving "until he had heard the Champions League music over Ibrox again".
But after a turbulent period in charge of the League Two side, he stepped down in April 2013 in the wake of a backlash from supporters over a series of controversial public comments.
He returned to the club on August 2 last year on a consultancy basis 'to assist with shareholder relations and advise the company on its capital structure'.
However, his second coming lasted just 18 days and he agreed to stand down from the role and sell his shareholding, at the time the largest in the company, to current board member Sandy Easdale.
Now, in an exclusive interview with Sky Sports News, he has broken his silence on his departure, and on the terms of his pay-off.
"When I joined Rangers, I was the only employee, the only director and the only investor," he said.
"I was going to have the same salary as Ally McCoist but Malcolm Murray (former chairman) said that was wrong and halved it. For the work I did at Rangers, I should have had double.
"Secondly, I didn't want the severance pay. I would have stayed at Rangers but was driven out of that club.
"It's a matter of public record what I took from the club when I left. It is in the accounts. My salary was £360,000 a year, but I didn't take 12 months' notice.
"I agreed I would take less money because I didn't want to penalise the club, but I would have happily carried on at Rangers.
"The bonus was a bonus which was in my contract, and I was entitled to that."