Rangers boss Ally McCoist savours title success in Scottish League One
Ally McCoist hopes Rangers can continue their 'recovery' after the Ibrox club clinched the Scottish League One title.
Last Updated: 13/03/14 11:54am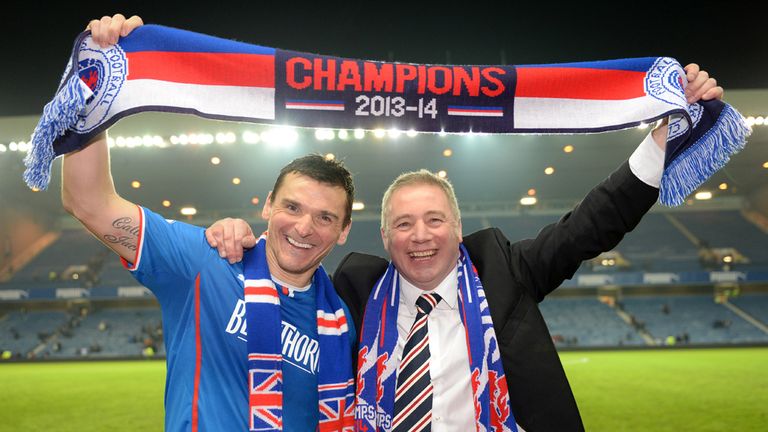 Lee McCulloch scored a first-half hat-trick, including two penalties as the Light Blues moved 26 points clear of second-placed Dunfermline with eight games left.
Rangers started at the bottom of Scottish league football after lapsing into administration and then liquidation in 2012, but are now only one promotion away from the Scottish Premiership.
McCoist said: "We are absolutely delighted, not only to wrap the title up but with the manner we wrapped it up, particularly in the first half, which was really pleasing and we are thrilled for the players, the staff and the supporters.
"It has been a terrific league campaign and I thought we finished it well.
"I think 26 wins and two draws is a great achievement, the players deserve an enormous amount of credit, as do the supporters.
"These are all championships that we have to win, to get back to where we want to be, in the top flight.
"These are stages in our recovery which must be met so I think it is only fair that they should be celebrated as you would winning any league.
"There are a lot of boys in the dressing room winning their first league, the majority of players will go through their careers and not win a league.
"The Championship could and hopefully will be, a great league next year so we are certainly planning for that and hopefully we strengthen and continue to build for the championship and for the years after that."
McCoist heaped praise on captain McCulloch, whose treble came from the centre-half position.
The former Rangers striker said: "I actually scored a quicker hat-trick in Vladikavkaz in a Champions League match than the time Lee scored in tonight.
"But I wasn't playing centre-half to be fair. I think the last person to do it here was Paul Gascoigne on the day we won the title against Aberdeen - although I draw the line at saying they were similar players.
"But it's an unbelievable achievement.
"McCulloch epitomises the spirit that has been required within the club at the beginning of the journey back.
"I'm absolutely thrilled for him. For a captain to score a hat-trick from centre-half on a title-winning day is real 'Roy or the Rovers' stuff."
McCulloch was glad to repay the loyalty of the supporters after some difficult times.
"Delighted to get the hat-trick, but I think it's about giving the supporters something back and getting the league done and dusted early," he said.
"I thought we were brilliant tonight compared to our last game, so delighted to give everybody something to shout about."