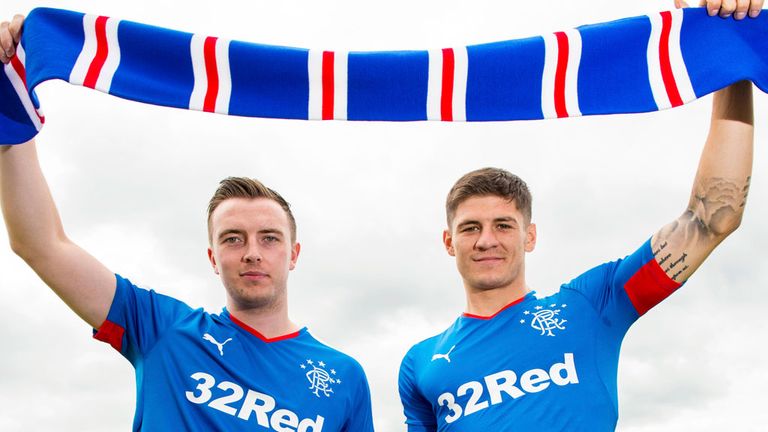 Rangers boss Mark Warburton has begun the process of rebuilding his threadbare squad with the signings of defensive duo Danny Wilson and Rob Kiernan.
And the former Brentford manager, who took over at Ibrox last week, looks likely to add a third recruit after former Derby midfielder John Eustace flew into Glasgow to discuss terms over a possible move. 
Wilson, who started his career at Ibrox in 2008, captained Hearts to the Scottish Championship title last season while former Republic of Ireland U21 captain Kiernan heads north following the end of his loan spell at Birmingham City.
Wilson, who ended his stay at Tynecastle when his contract expired last month, has signed a three-year contract while Kiernan, who worked with Warburton at Watford and Brentford, has agreed a two-year deal.
Speaking to RangersTV Wilson, who left Rangers for Liverpool in the summer of 2010, said: "It's good, I feel fortunate to have been asked to come back and play and just walking about brings back memories and hopefully we can make some good memories going forward.
"I've not really been back at the training ground since I left aside from an U-21 training camp so it's nice to come in and see some of the same faces that you've known before. It's a nice feeling being back.
'Important'
"I wasn't really sure what I was going to do when I was leaving Hearts so when I got the call I was interested straight away. When I spoke to the new management team, the important thing that they said was that it's a new step going forward, rather than looking to what's been previously.
"So I'm looking forward to coming in, getting a pre-season under my belt and hopefully contributing well for the club."
The Scotland international made his Rangers debut at the age of 17 in 2009 with then-captain David Weir, Warburton's assistant manager, helping the youngster make the step up to the first team.
Wilson said: "Obviously he was a massive influence on me when I was so young. I'm glad he is here but it wasn't a big factor. Rangers have still got a massive pull and I am more than happy to be back. I'm glad to have a friendly face here but I'm sure he has a different role now."
And Kiernan admits he was taken aback by the size of Rangers after finalising his deal at the club's Murray Park training ground.
Speaking to RangersTV he said: "It's second to none, it's something you don't even see in some Premiership clubs.
"I've been in the Championship and been at big clubs, it's no disrespect to anyone it's just that this is another level. The stadium is incredible and I can only imagine when they fill it what the atmosphere is like. The facilities here, it's unbelievable.
"I'm going to enjoy reading and learning about it (the club's history). I've been to the stadium and I've just seen some of the trophies and some of the history and some of the things on the walls. It's amazing, it really is, and I don't think I've been to a club that's got that tradition behind it.
"This is a massive club, probably bigger than anywhere I've played before. It might not be where it needs to be at the moment, or where it wants to be, but that's the objective and I want to be part of it."
And Kiernan used his 'unveiling' as a Rangers player to shed light on the reason a proposed permanent move to Birmingham fell through last week.
Reports he had failed a medical at St Andrew's were rubbished by the defender who said: "I completed my medical there and went back to sign the day after but the paperwork wasn't quite ready when I arrived.
"During that time the call came from Rangers. I was a little bit disappointed that it turned sour and I had failed a medical because I have the email confirmation... I never failed a medical and completed everything that was asked for." 
On Kiernan's arrival, Warburton told Rangers website: "I'm delighted to get hold of Rob. He's a boy I know very well from Watford. He's passionate about playing football, technically gifted, great range of pass, 6' 3" and he's a good specimen as well 
'Excitement'
"But Rob just loves playing football. He played comfortably in the Championship last year down south and had offers to go back down into the Championship but when he heard about this here you could hear immediately his excitement.
"He wants to play football, he wants to get on the ball and impress, he wants to be the best player and that's how Rob is. He's well liked in the dressing room, well liked off the pitch and for me he'll really add value here at Ibrox."
And the former City trader claimed he and Weir were making progress with rebuilding the Rangers squad, which included working on a deal for Eustace.
Eustace arrived at Glasgow Airport on Tuesday morning to explore a possible move to the Scottish Championship side after leaving Pride Park when his contract expired at the end of last season..
The 35-year-old told Sky Sports News HQ: "I'm still a few weeks off from being fit but hopefully I'll be up to speed soon."
On the prospect of a possible transfer to Ibrox, Eustace added: "It's exciting but I've just come up to see Mark (Warburton) and see what Rangers is all about."