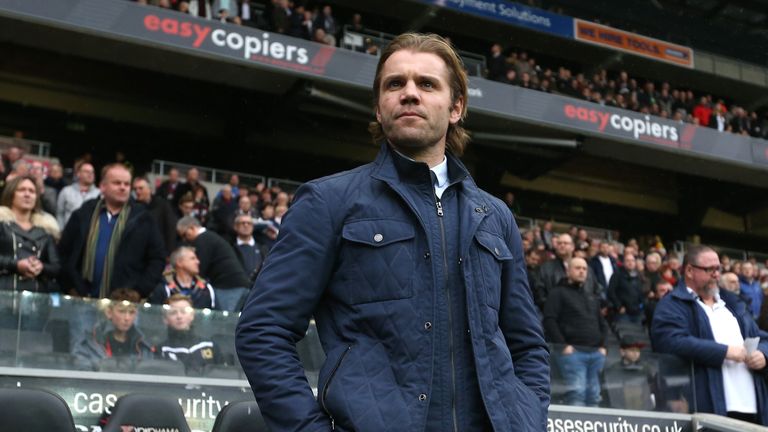 New Dundee United head coach Robbie Neilson is excited to take over at Tannadice and is "refreshed and "ready to go" following his spell in England.
The 38-year-old, a former United player, replaces Csaba Laszlo at United and takes charge of his first game against Partick Thistle on Saturday.
Neilson, who has been out of work since being sacked by MK Dons in January this year, has signed a deal until the end of the 2019/20 season.
Speaking to Sky Sports News, he said: "I'm absolutely delighted to be back here, it's a fantastic football club.
"It was so appealing to come back, not just because of the football club but also because of the fan base.
"It gives me confidence coming in and knowing the type of football you need in the Championship. Since I have come back up to Scotland six months ago I have watched a lot of the Championship.
"There are a lot of teams in the Championship this season that think they should be in the top flight, but it's up to the team that wins it to get there and that's it.
"We have to accept where we are, we have to work hard and get the fans back onside and we do that by winning football matches.
"So it all starts on Saturday - there is no point thinking about what's going to happen in April and May, it's what happens on this Saturday and Saturday after that."
The 38-year-old former Hearts boss says he has learnt a lot from his time with MK Dons in England and will use the experience to help United.
He added: "It was a fantastic experience, but I ready to go again, I feel refreshed
"I have learnt so much from that experience, the good side of it and also the difficult side.
"I want to use that experience to help this football club."