Sky Sports pundits slam 'miserable' Arsenal in Champions League defeat to Monaco
Last Updated: 26/02/15 2:01pm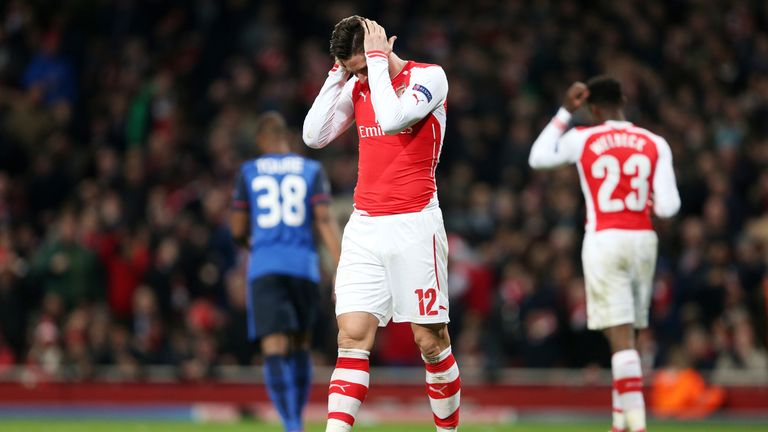 The Sky Sports pundits believe Arsene Wenger hit a new European low as his Arsenal side were humbled 3-1 at home to Monaco.
The Gunners went 2-0 down in the first leg of the Champions League last-16 tie thanks to strikes from Geoffrey Kondogbia and Dimitar Berbatov, before Alex Oxlade-Chamberlain gave a ragged Arsenal a lifeline with a superb late effort.
However, in injury-time a hapless Arsenal defence was left exposed after Oxlade-Chamberlain's slip allowed Monaco to break and Yannick Ferreira-Carrasco to restore the visitors' two-goal advantage.
It was a frustrating night for Arsenal, who are on the brink of a last-16 exit for the fifth season in a row, and Jamie Redknapp believes it is the darkest night of continental football for the Gunners boss.
"Probably Arsene Wenger's most disappointing performance in Europe, ever," he said.
"I came here today and was really looking forward to watching Arsenal play. I expected something special, but it just didn't happen.
"They played against a Monaco side that were organised, well drilled, did their jobs when they had the ball and when they didn't. That was the difference. It was so disappointing, so inept.
"Monaco are 11 points behind Lyon and four or five of their best players weren't playing. Everything that is bad about Arsenal over the last five or six years, we saw today.
"This is the sort of night that gives Arsene Wenger's critics oxygen."
Miserable
Graeme Souness was also left unimpressed by Arsenal's display, feeling the Gunners could take no positives from a display that leaves them with a mountain to climb in the second leg.
"Arsenal were miserable tonight," he said.
"I like coming here. I always enjoy coming here. This is the first time I've come to the Emirates and not enjoyed anything about Arsenal's play.
"That's a miserable night's watching for an Arsenal supporter. Nothing about the game excited me, got me on the edge of the seat.
"Arsenal are trying to play the ultimate football. They're all really good, neat and tidy on the ball, all very creative. All the successful teams have a contrast, a combination of midfield players. People who can break things up, people who work hard.
"Arsenal – I've said it, and I'll keep saying it – are too easy to play against. For me, an average team has blown Arsenal away."
Gunners great Thierry Henry admitted Arsenal's task is a particularly difficult one, and was left disappointed with his old club's lack of tempo throughout the match
"The players got frustrated, he said. "The passing at the back wasn't very good – no real pace on it.
"There was no sense of urgency to try to win the game, and Monaco had an easy one today."