Zlatan Ibrahimovic says he is not in talks with any clubs as his Paris Saint-Germain contract nears an end - but reckons his career is "only just warming up".
The 34-year-old, who has scored 136 goals in his 164 games at the Ligue 1 side since moving from AC Milan in 2012, is out of contract at the end of the season.
And though the Sweden international insists he has not yet held discussions over his future - Manchester United a reported suitor - he gave a typically self-assured answer when asked about his prospects of continuing to play at the top level.
"I'm only just warming up," he told reporters ahead of PSG's Champions League last 16 second leg at Chelsea, with his team leading 2-1 from the first leg.
"I don't believe that it's the end of my career.
"Age is just a number. The difference is how you feel. I feel young, I feel very young.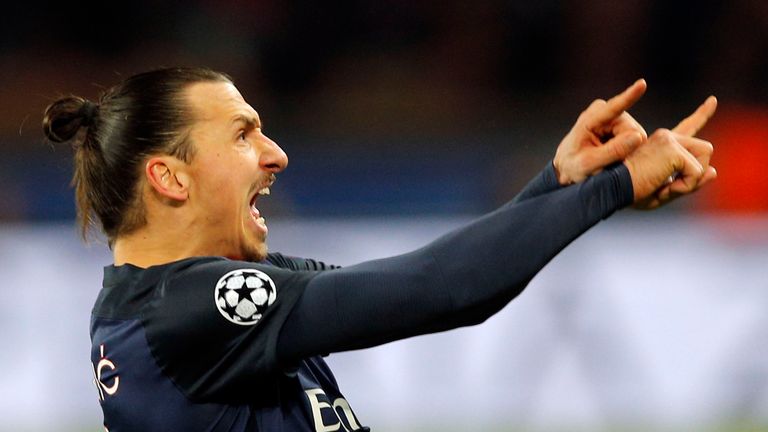 "The season I've done so far, I've never had a better one statistically.
"My future is I have another two months with PSG, then I have the Euros to play with my national team.
"Whatever happens after that, like it is today, there is nothing after that. I'm not in discussion with anybody because for me it's not the moment to talk about that.
"I'm not worried about the future. The future looks good after the season I'm doing."
Ibrahimovic believes it is only a matter of time until PSG win Europe's biggest prize, although he risked the wrath of some fans by declaring that the club's history had begun with Qatar Sports Investments' 2011 takeover.
"The club I'm playing in now is a project that began three and a half years ago," he added.
"With all the respect, what happened before that, I think the club was born the day that the Qataris took over. It's a totally new club.
"With time, with what the Qataris are investing, there are no limits. Trust me, they will hunt this Champions League until they get it. And they will not stop. With me or without me."