A Swiss court has opened a corruption probe against Nasser Al-Khelaifi, the Qatari businessman and chief executive of Paris Saint-Germain, and former FIFA secretary general Jerome Valcke.
Al-Khelaifi is a key member of the organising committee for the FIFA World Cup in Qatar and was described by French newspaper L'Equipe as "the most powerful man in French football".
Switzerland's Office of the Attorney General (OAG) said on Thursday: "It is suspected that Jerome Valcke accepted undue advantages from a businessman in the sports rights sector in connection with the award of media rights for certain countries at the FIFA World Cups in 2018, 2022, 2026 and 2030 and from Nasser Al-Khelaifi in connection with the award of media rights for certain countries at the FIFA World Cups in 2026 and 2030."
The Paris offices of beIN Sports were searched on Thursday morning as part of a criminal probe against Valcke and Al-Khelaifi.
In a statement released on Thursday evening, beIN Media group said they "refuted all accusations" made by OAG.
It added: "The company will fully cooperate with the authorities and is confident as to the future developments of this investigation."
The French financial prosecutor's office issued a statement saying two of its representatives, along with other French officials dealing with anti-corruption and tax avoidance affairs, had carried out the search at beIN.
It added that the operation had been carried out in conjunction with the EuroJust body, a European Union agency for cooperation in criminal matters, and Swiss authorities.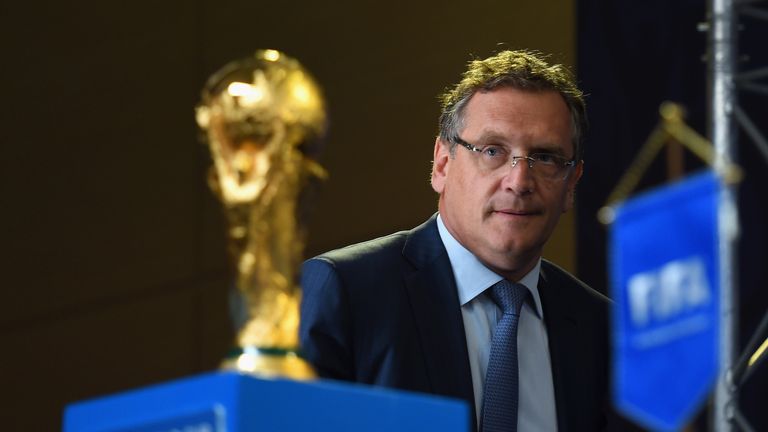 Al Khelaifi's profile has risen in recent weeks as PSG pursued and sealed a world record transfer of Brazil forward Neymar from Barcelona for £198m.
The case stemmed from a wider investigation of FIFA's business that saw criminal proceedings opened against Valcke in March 2016.
Valcke was FIFA's secretary general under then-president Sepp Blatter from 2007 until he was fired in January 2016 after being implicated in an alleged scandal involving ticket sales and misuse of expenses, the result of a probe by the US Department of Justice which also brought down his boss, the then FIFA president Sepp Blatter.
The French former TV presenter was initially banned for from football for 12 years by FIFA's ethics committee, which was subsequently reduced to 10 years.
Valcke launched his case at the Court of Arbitration for Sport in Lausanne this week to challenge the ruling.