What major weakness can Liverpool exploit in the Champions League final? Why does Philippe Coutinho look so uncomfortable for Barcelona? Guillem Balague gives his analysis of Sunday's 2-2 draw between Barcelona and Real Madrid at the Nou Camp…
An unbeaten season now means a lot
Sunday's Clasico was a game that meant nothing in terms of points, but absolutely everything in terms of pride.
I compared it to a kids' team playing against their rivals from the local school. All they were playing for was pride - and when that happens, you get a football match with a lot of incidents, controversy and passion.
The players looked beyond the need for points, but while there was no trophy to be played for, Barcelona's unbeaten run was on the line. Before they wrapped up the title, that was hardly being mentioned but now it has become a historic feat that they want to achieve.
I've spoken to members of Arsenal's Invicibles team of 2003/04, such as Thierry Henry and Lauren, and they told me they didn't appreciate the importance of it until years later. Lauren told me that he recently showed a video of that season to his children and felt a pride over watching it that he didn't really feel at the time.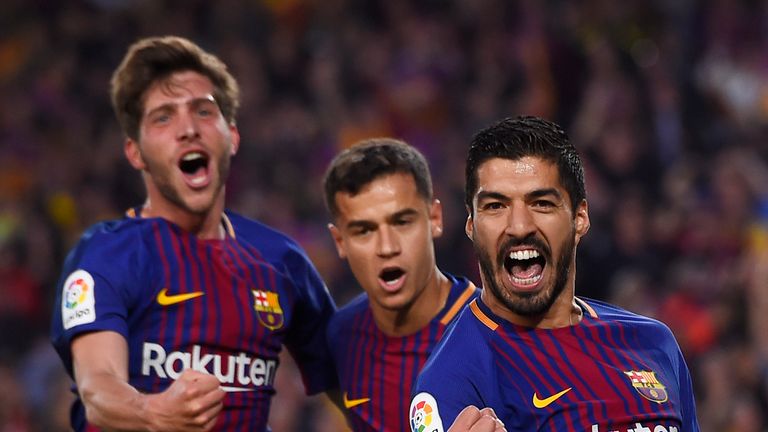 Ernesto Valverde insists they need to fight to go unbeaten and the players are all now doing that. When Sergi Roberto was sent off before half-time, Barcelona decided to set up in a 4-3-2 formation with seven players defending and Lionel Messi and Luis Suarez up front.
The seven defenders were happy to suffer and, in fact, they ended up creating the better chances in the second half. That showed the spirit they have and how important it is for them not to lose any more games.
Lots to learn for Liverpool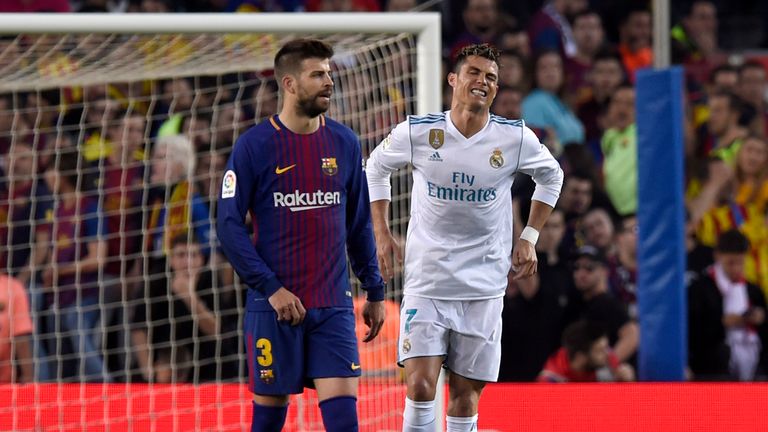 Real Madrid were the better team in the first half and there was plenty of food for thought - both positive and negative - for Jurgen Klopp and Liverpool ahead of the Champions League final.
For instance, in the first half the midfield triangle of Casemiro, Toni Kroos and Luka Modric controlled the game and were patient with the ball, but when they lost it they pressured high and it worked really well. Liverpool will struggle if they play like that for 90 minutes in Kiev.
Cristiano Ronaldo and Karim Benzema dropped deeper to join in the build-up and Gareth Bale had a fantastic game. Arguably it was a quiet one for him going forward, but he had a lot to do without the ball.
At times, he was playing as a right-back, defending against Jordi Alba. He was very focused and did very well. He will make Zinedine Zidane think twice about leaving him out in Kiev because when he is confident and in-form, then he is very effective (though he should perhaps have been sent off - more on that later).
The first half witnessed the return of the B-B-C and it worked for 45 minutes, though we saw Marcelo lose his position, as he does so often, to allow Luis Suarez to open the scoring.
He stepped up high to apply pressure, but when he was beaten he didn't track back. Four other Real Madrid players got back to the penalty area before he did - and he is supposed to be the full-back!
Mo Salah will be looking at that as a huge opportunity to make an impact. There will be space created because Marcelo doesn't have 90 minutes of full concentration in him.
There is something else Liverpool can learn. Real Madrid struggled to beat a 10-man Barcelona who defended deep and counter-attacked. Zidane admitted that much and Liverpool will probably use that tactic in Kiev.
Ronaldo got injured and didn't appear in the second half, but it is only a little sprain and he may need to rest for a couple of games. It was inflamed and it worried him, so he was taken off, but Real Madrid are not too worried about a serious injury.
The referee wasn't good enough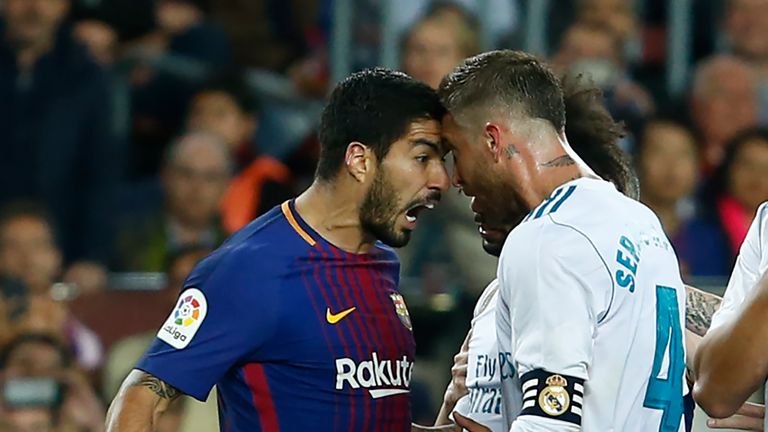 This Clasico had moments of tension, especially during the last 10 minutes of the first half, and while the players were world-class, the referee was not of the same standard.
The sending off of Sergi Roberto was fair, as he over-reacted to a clash with Marcelo but there is an argument to be made that Bale should have been sent off.
He was booked in the second half - and I didn't think that was a yellow - but I did think he should have been booked earlier for a high tackle on Samuel Umtiti. If he had been booked for that, then the second yellow would have resulted in a red.
Suarez clearly fouled Raphael Varane in the build-up to Barcelona's second goal and then, with the score at 2-2, Marcelo should have been given a penalty in the 76th minute when he was tripped by Jordi Alba.
So the referee made a lot of mistakes and Real Madrid will feel hard-done-by but it's interesting that both teams feel that officials are against them. Those two clubs should surely never, ever feel like that, as they get more decisions for them than against them over the course of a season.


Gerard Pique continues to push the theory that referees help Real Madrid, so at half-time he had a word with Nacho in the tunnel. You can see from the pictures that Nacho disagreed.
Sergio Ramos has claimed that Messi put pressure on the referee as they walked off the pitch at half-time, saying he was scared of Real Madrid (although he used stronger words than that) and was trying to help them.
Ramos believes that, because of that pressure, the referee made some of the decisions that he did against Real Madrid in the second half.
Barcelona's celebrations were deliberately provocative
There was an improvised celebration from the Barcelona players at full-time, largely in homage to Andres Iniesta after his final Clasico.
Pique had the idea of asking the coaching staff to form a Guard of Honour because Real Madrid had opted not to before the match.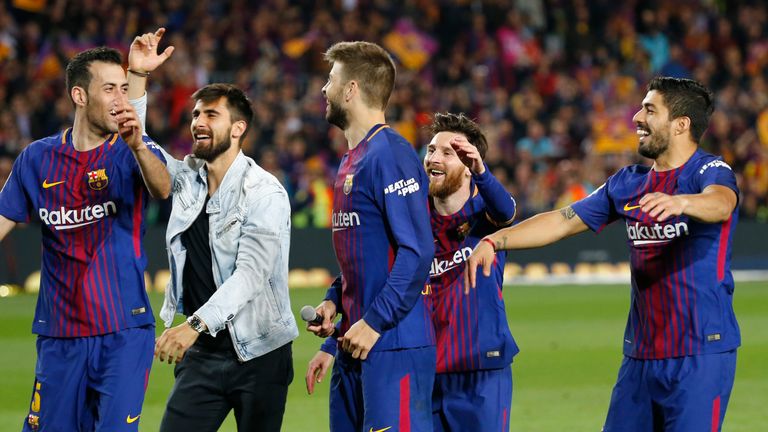 It was clearly a provocative gesture - call it banter if you will - and it was another sign of Barcelona looking for the recognition that they feel they haven't got because they didn't go far enough in the Champions League.
For me, winning the league is the reward that all coaches want. You can see that in Zidane, who feels the most important title is La Liga and he has failed this season. That's why he was thinking of leaving. However, their progress in the Champions League has blurred the picture.
They have been unable to beat a top-six side at the Bernabeu in La Liga this season and he sees that as a failure - but he now plans to continue and winning the league will be his main target.
The most important title is La Liga and after continuing their hopes of going the season unbeaten, Barcelona's players felt the need to celebrate.
An uncomfortable day for Coutinho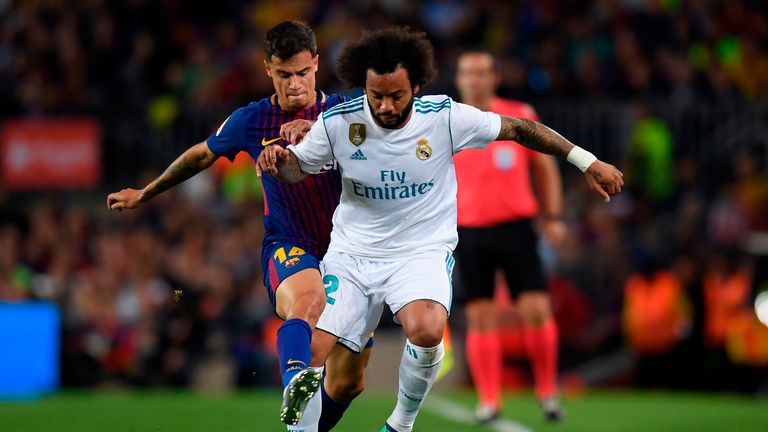 Philippe Coutinho was not comfortable on the right-hand side. I saw him play in that position against Atletico Madrid at the Camp Nou and he seems to be in limbo.
He doesn't know when to attack or when to defend and he is not sure how to join in. When Iniesta departs, he will probably move over to the left but it will take him a while to become a midfielder.
He is a forward and thinks of driving the ball into forward areas, rather than controlling games. The transformation is going to be difficult for him.


The game even bypassed Iniesta in the second half when they were down to 10 men and things became fast and furious. He has a muscle complaint and was eventually replaced.
But in the absence of Iniesta next season, Coutinho won't have a reference point to tell him what to do. He has a lot to learn and Valverde will need to help him.
Valverde will stay, but Barca are weaker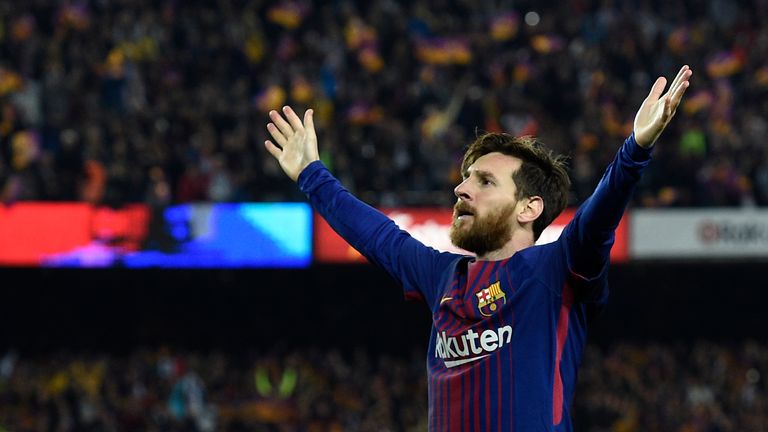 Speaking of Valverde, the Barcelona president, Josep Maria Bartomeu, confirmed on Monday that he is going to stay.
Nobody doubted that really, but it is true that a lot of things were said after the Champions League exit to Roma. It was reported in the Catalan media that a member of the board had argued winning the league and cup would not be enough for the manager - and Bartomeu indicated that was the truth.
However, you have seen the reaction of the players on the pitch and there is a clear divide between them and the board.
The players don't think the board should say things like that and they want to see the board doing better in terms of recruitment and finance, so that they can challenge Manchester City and Manchester United for the top players.
The truth is that no matter how well the finances are handled, Barcelona are now in a weaker position compared to those kinds of clubs.