Lionel Messi's passing is an underrated part of his genius
Barcelona face Manchester United on Tuesday evening
Last Updated: 16/04/19 7:57pm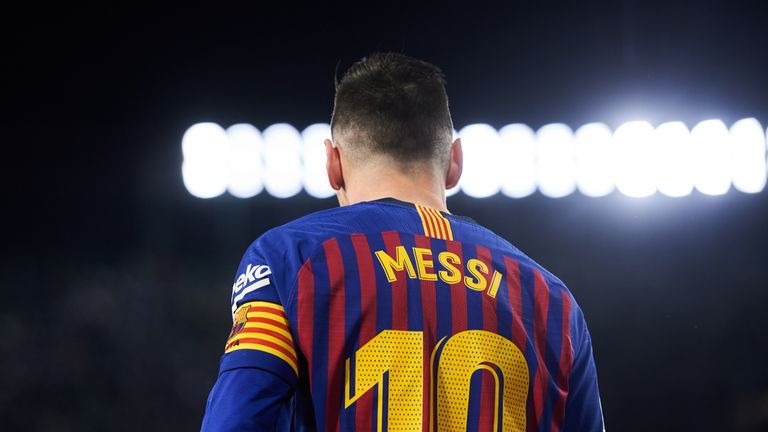 Lionel Messi is widely hailed as the game's best player but he's also the best passer. Adam Bate takes a look at the Barcelona man's greatness through the prism of the through-ball.
When Lionel Messi first captured the imagination as a teenage prodigy, it was because of his signature dribbling abilities. Instantly reminiscent of his compatriot Diego Maradona, his gifts were impossible to miss and the world waited to see where they would take him.
The answer? Into the history books as one of the game's great players and among its most remarkable goalscorers, breaking record after record with Barcelona. In January, Messi became the first player to score 400 goals in a single major European league.
"His numbers are stratospheric, incredible," Barca coach Ernesto Valverde said when that target was reached. "But it's not just the goals - it's everything else he does too."
It is an important point. So stunning are those goal statistics and so eye-catching are the dribbling abilities that it has become all too easy to overlook the fact that Messi also happens to be the greatest passer of a football in the game today.
Indeed, his vision and creativity are as much as part of his genius as the ability to provide the final touch and the talent for cutting teams apart by gliding beyond opponents.
In fact, his passing could be the one aspect of his game that Messi is continuing to improve - the quality in his play that will actually endure longer than anything else.
Think of the pass masters of recent times and former Barcelona team-mates Xavi and Andres Iniesta might be the names that spring more readily to mind. That was their art. With Messi, it is merely part of the tapestry, as Javier Mascherano once explained.
"When you start watching football and the big teams, you might see a goalscorer, or a player with quality, a midfielder who creates and scores goals," he said. "But you do not ever see a total, complete player. And that is Leo. He is a creative player, a midfielder, but he is also a goal scorer. Finding three kinds of players in one is what makes him different."
There is no missing his greatness in front of goal. Messi leads the race for Europe's Golden Shoe yet again. He is the top scorer in league competition and in the Champions League. In Spain, he has the most goals from open play, set pieces and counter-attacks this season.
But he also has the most assists in La Liga this season too, having created more chances than any other player. One statistic in particular highlights just how much Messi stands out above the rest and that's the number of successful through-balls that he plays.
Opta defines a through-ball as a pass splitting the defence for a team-mate to run onto. It is just about the hardest pass in the game but it's one that Messi is able to hit time and again.
He has played 18 through-balls this season. That's not as many as the 33 goals that he has scored but when put into context it might be even more impressive. No other player in La Liga has played more than nine of them. No other player in any major European league has played more than nine of them. He is twice as good at it as anyone else.
Messi compared
Isco has played 21 through-balls in the last five seasons, the most by any Real Madrid player. Messi has played 78 of them in that time.
Some might suggest that it's easy playing in a team as good as Barcelona. Well, not really. Messi is not only accustomed to being double marked most weeks but he is also up against packed defences refusing to budge from their own box. The through-ball should be even more difficult when denied the chance to counter-attack and with so little space in behind.
And yet, still Messi threads the needle and finds the angles that others cannot. As his former Barcelona coach Tata Martino once put it: "He sees passes that most people can only see whilst watching the game on television, not ones that you can normally see on the pitch."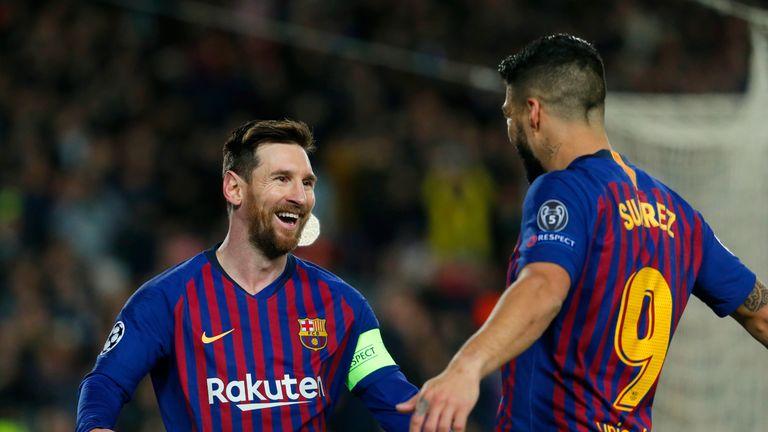 He sees passes that most people can only see whilst watching the game on television, not ones that you can normally see on the pitch.
Tata Martino, former Barcelona coach
This is the fifth season in a row that Messi has found more through-balls than any other player in La Liga, resulting in an extraordinary gulf between him and the rest. He has made more of them in two seasons than anyone else has made in four. He has made more this season than Luka Modric, Real Madrid's Ballon d'Or winner, has made in the last five.
The last man other than Messi to top La Liga's through-ball charts was Cesc Fabregas. The top three in that 2012/13 season in La Liga were Fabregas, Mesut Ozil and Andres Iniesta - an indication of the sort of players best known for such passes. In the Premier League last season, the top trio were Fabregas, Ozil and Kevin De Bruyne.
What was once the preserve of playmakers like Modric and the rest, those individual famed for setting up others rather than finishing off moves themselves, is now Messi's domain.
Another example. Over in Italy, Andrea Pirlo once made a career out of these passes - playing more through-balls than anyone else in Serie A during his four seasons at Juventus between 2011 and 2015. But even peak Pirlo wasn't registering Messi numbers. He has made more of them in these past three seasons than Pirlo did in his Juve career.
He has matched his best season, this season.
In other words, and this really should hammer home the point, Messi is making more creative passes than the man often cited as the most creative passer of his generation - and he is doing so while also scoring more goals than anyone else in the world at the same time.
The evolution of Messi's game will be fascinating to watch in these coming years. His old rival Cristiano Ronaldo has morphed into the best penalty-box target man in football as his other attributes have waned, so how will Messi adapt to maximise his output?
For now, he continues to defy logic by posting some of the most absurd dribbling numbers despite the age curve for that skill-set suggesting it is a young man's game. But expect him to make a transition of his own before too long, one that will see him rely instead on his uncanny vision for picking out others in order to stay at the very top of the game.
Pirlo made the move to a deeper role early in his career and Paul Scholes did the same much later, garnering huge acclaim for his performances there. Vision on a football field is not a skill that diminishes with age and that makes for a tantalising thought. Already the outstanding playmaker in the world, Messi's best passes could yet be ahead of him.