La Liga: Why new signing Mario Mandzukic is proving the perfect fit for Diego Simeone's Atletico Madrid team
As Real and Atletico prepare for the Madrid derby on Saturday, Mario Mandzukic will be aiming to be a big factor once again, just as he was in the Rojiblancos' Super Cup triumph last month. Adam Bate looks at how the powerful Croatian forward has settled in nicely at his new club...
By Adam Bate
Last Updated: 11/09/14 2:27am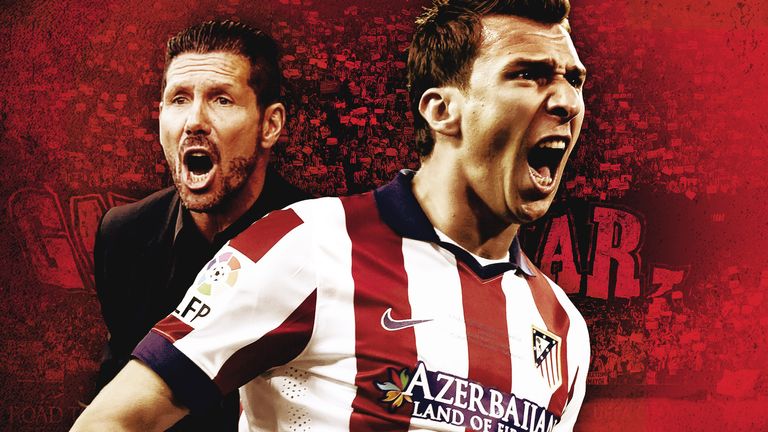 It's been an impressive beginning to Mario Mandzukic's career at Atletico Madrid with the powerful forward scoring in each of his first two games at the Vicente Calderon stadium. His first secured the Super Cup against Real Madrid and the second turned out to be the winner against Eibar.
But it's not just that Mandzukic has got off to such a fine start in an Atletico shirt, it's the manner of the goals. The strike that did for Real came from a long ball by Miguel Moya before being flicked on with the head of Antoine Griezmann and tucked away past Iker Casillas. That first Primera Liga goal was a routine header dispatched into the net from a Gabi free-kick. It's typical Mandzukic.
After life under Pep Guardiola at Bayern Munich, it's not difficult to see why he might be feeling at home. Working with Diego Simeone, Mandzukic is appreciated once more. "I'm very happy, especially with the coach," he told reporters at his initial press conference as an Atleti player. "I think we see football the same way. Regarding Pep Guardiola, I prefer not to talk about it."
On the face of it, there seemed little reason for the tensions that emerged with his former boss. Upon Guardiola's arrival, Mandzukic had just played a pivotal role in Bayern's glorious 2012/13 season - a year in which the team won the Champions League for only the second time in 38 years.
Then coach Jupp Heynckes was a confirmed admirer. But plans were already afoot to bring in Robert Lewandowski from Borussia Dortmund and with Guardiola taking over, Mandzukic rarely found himself on the same wavelength as the Spaniard. In January, the striker appeared to refuse the coach's handshake after being substituted in a Bundesliga game against Stuttgart.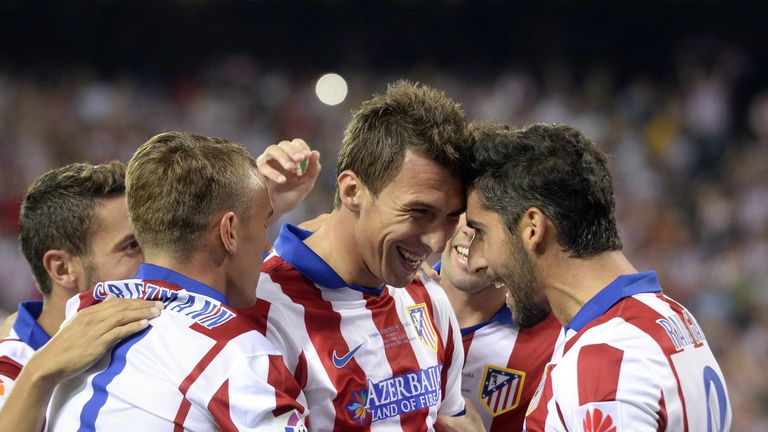 In truth, this antipathy was professional not personal. Bayern's explosive football that so did for Barcelona in that 7-0 two-legged battering in 2013 has given way to the tiki-taka style synonymous with Guardiola and Spain's national team. For Mandzukic, it's not an obvious fit and as Diego Costa found out this summer to his cost, that approach is a world away from Simeone's Atletico.
"If you don't take advantage of Costa's runs, you isolate him," said the Atleti boss in discussing Costa's World Cup woe that amounted to two appearances, two defeats and no goals in Brazil. "He likes to exploit the spaces, to attack from deep positions and to get on the end of final passes, but Spain's football focuses more on the collective."
Not suited
Mandzukic fared rather better than that at Bayern last season, still managing to net 26 goals in all competitions – the best goalscoring season of his career. But it was evident to the player himself that he was not being utilised in the way that best suited his attributes.
"It's a great club and I never thought I'd want to leave," he reportedly told Croatian newspaper Sportske Novosti in the summer, before adding with disarming frankness, "but, let's be honest, I cannot play to my strengths under Guardiola's style no matter how hard I try."
Saturday's Madrid derby at the Bernabeu is likely to illustrate the point well. Mandzukic's last trip to the Bernabeu as a Bayern player saw the visitors lose the first leg of their Champions League semi-final in April. Bayern had 72 per cent possession that night, but Mandzukic had only 32 touches and mustered just one off-target effort on goal. Time and again, he was bypassed.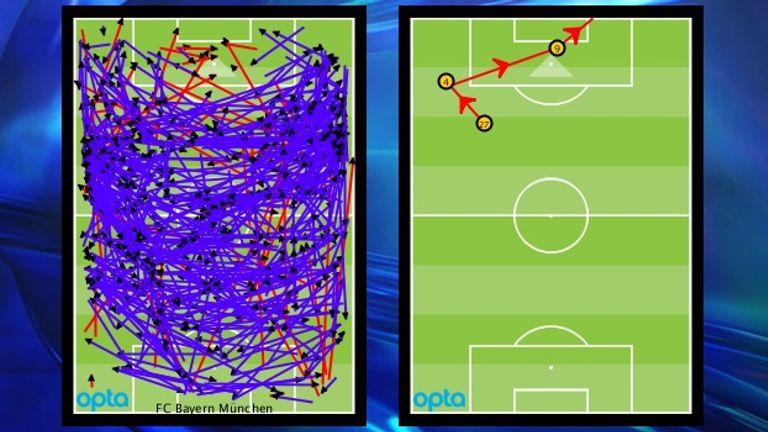 In that Super Cup game at the Calderon where he opened his Atletico account against the same opposition, he was in a team that enjoyed 39 per cent of possession… but enjoyed is the right word. Mandzukic had more touches of the ball, more shots and scored the only goal of the game.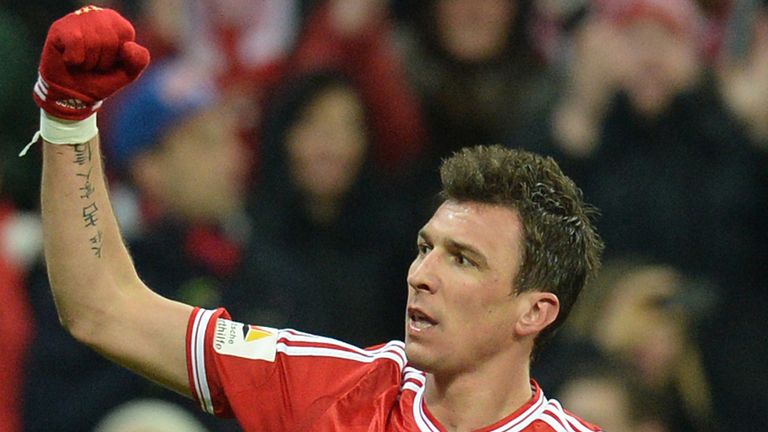 Guardiola's preference is for the subtleties offered by the supreme link-up play of Robert Lewandowski. Despite his fondness for pressing, he has less use of the Mandzukic battering ram. In contrast, the 28-year-old is precisely the sort of player Simeone wants on his side.
So often the instigator of the press with his energetic running, Mandzukic battles defences, driving them back to create space for team-mates as well as preventing opponents building patiently without pressure on the ball. The term 'defending from the front' has rarely seemed so apt.
Mandzukic is both a physical and mobile striker who does so much of his best work without the ball, seemingly doing the work of two players and thus allowing an extra man in midfield. As his old Wolfsburg coach Felix Magath put it: "He's so fit that I think he could play two back-to-back games without stopping even for a minute." In short, he's made for this Atletico side.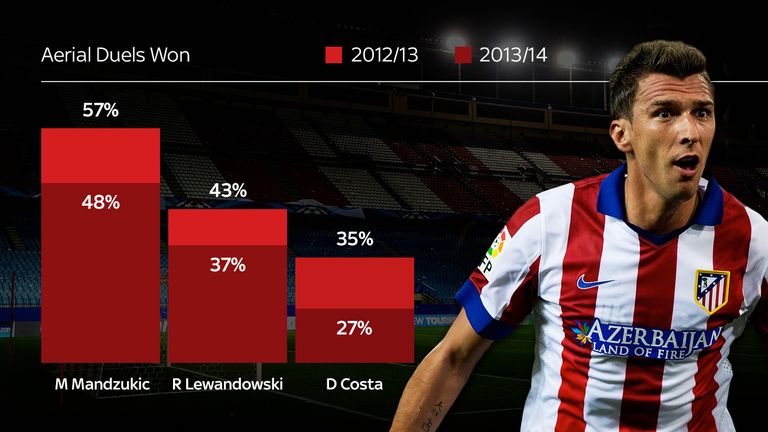 Costa's physicality was vital to the success of the Rojiblancos last term and at 6'2" he's the same height as Mandzukic. And yet, Costa won just 27 per cent of his aerial duels in La Liga in 2013/14. In the rough and tumble of the Bundesliga, Mandzukic's aerial duel success was up at 48 per cent and as high as 57 per cent in the previous campaign under Heynckes.
These statistics suggest that Mandzukic can not only fill the void left by Costa, but intriguingly offer the hope that his robust approach can also offer something extra. "The new players give me other benefits," said Simeone. "We'll see how the team grows without losing the essence." With Mario Mandzukic leading the line, there seems little chance of Atletico's ferocity diminishing.
You can watch the Madrid derby between Real and Atletico live on Sky Sports 5 HD this Saturday (kick off 7pm)