Barcelona v Real Madrid: El Clasico's greatest moments
By Adam Bate and Jim Lethem
Last Updated: 20/03/15 1:45pm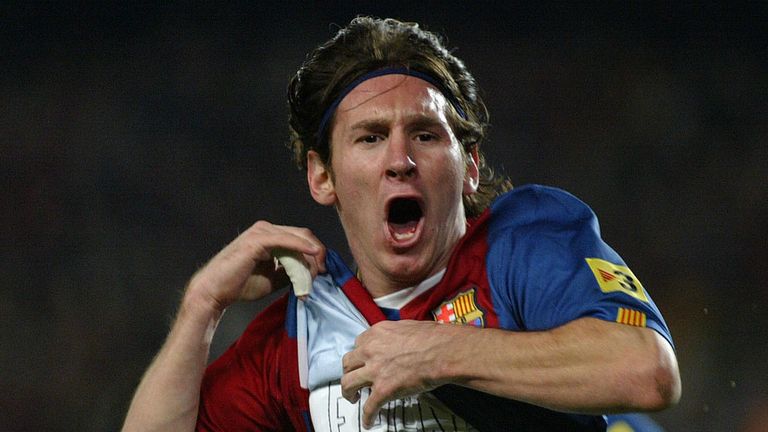 From Luis Figo's infamous return to the battles between Lionel Messi and Cristiano Ronaldo, El Clasico is a game synonymous with high drama and has the quality to match.
Sunday's showdown between Barcelona and Real Madrid will mark the 263rd meeting between these legendary rivals.
Here we recall just some of the memorable moments that set El Clasico apart from the rest…
Figo's return
The trip to the Nou Camp in November 2002 was not actually Luis Figo's first visit to his former stadium since donning the white of Real Madrid. But it is the most memorable. The former Barcelona hero had decided against taking the corners on his first return following his controversial world-record move to Madrid but this time he elected to resume deadball duties. "To do otherwise would be to act abnormally," said Real sporting director Jorge Valdano. But there was nothing normal about the treatment the Portuguese winger received as beer cans, cigarette lighters and even a glass whisky bottle rained down on him. And yet, the extraordinary events will be remembered for one specific item: a suckling pig's head thrown onto the pitch. Deplorable or delicious, depending upon your sympathies, the incident has come to symbolise the tribal intensity of El Clasico.
Ronaldinho time
While Figo had been treated to such a hostile reception three years earlier, the genius of Ronaldinho sparked a very different response from the Madrid crowd following a virtuoso display at the Bernabeu in 2005. In the week he was named the European Footballer of the Year, the Brazilian star humbled the opposition Galacticos as Barca emerged as the 3-0 victors in the Spanish capital. Ronaldinho netted a second-half brace - each time cutting in from the left and beating Sergio Ramos with ease before slotting the ball past the helpless Iker Casillas - to earn the begrudging applause of the home fans. This was a world-class footballer at the peak of his powers and - in European terms at least - his arrival sparked a power shift in Spanish football. Real had won three Champions League trophies from 1998 to 2002 but Barca were to win three of their own by 2011 - the first of which came courtesy of Ronaldinho's brilliance later that season.
Messi magic
Although Lionel Messi did enough to earn a Champions League winners' medal in that 2006 campaign, he missed the latter stages of the tournament through injury and was but a mere pup as Ronaldinho and Samuel Eto'o took centre stage. It was 2006/07 that marked his breakthrough season and it was that year's El Clasico in front of his own fans that surely heralded his breakthrough game. Messi became the first player in a dozen years to score a hat-trick in the fixture, three times hauling his side back level, including a sublime injury-time equaliser. It was not all about Barcelona, however. The point arguably kept Fabio Capello in his job and the confidence-boosting draw inspired an improvement in Real's fortunes as they went on to claim an unlikely La Liga crown - with David Beckham finally winning his first title with the club.
Brilliant Barca
Aesthetically and symbolically, Barcelona's 5-0 footballing masterclass of November 2010 was perhaps the high watermark of Pep Guardiola's glorious time in charge of the club. Jose Mourinho had enjoyed the best start of any Real Madrid manager in the history of the club but he was impotent to prevent this Barcelona team at their very best. Although it was Xavi who opened the scoring, it was Messi, while curiously failing to get on the scoresheet, who controlled the contest. While Cristiano Ronaldo tried and failed to find his first El Clasico goal, the Argentine genius probed and prompted in his 'false nine' role. It was a sublime team performance and the home fans lapped it up. Pedro added a second, David Villa grabbed a brace and young substitute Jeffren found a late fifth goal to sum it up - this was a side playing in perfect harmony.
Ronaldo's revenge
Real did not have to wait too long for their revenge. Barcelona's final season with Guardiola at the helm ended without a Primera Liga trophy as Mourinho's men ended a run of three successive titles for the Catalan club. Real showed greater consistency as they efficiently thrashed the rest of the division, racking up a record goals tally in the process, but into April there remained a nagging suspicion that Barca were the better side - not least due to a 3-1 win at the Bernabeu earlier in the campaign. That changed when Real Madrid emerged as 2-1 winners – beating Barcelona in their own backyard. Sami Khedira's opener was cancelled out by Alexis Sanchez with 20 minutes remaining but the defining moment came shortly afterwards with Ronaldo rounding Victor Valdes before imploring the crowd to calm themselves. Sweet revenge for the man who'd so often been in Messi's shadow.
No contract?  No problem. Watch el Clasico for £6.99 on NOW TV with a Sky Sports Day Pass.