Barcelona say Atletico Madrid cannot supply tickets to away fans ahead of their game at the Wanda Metropolitano due to "logistical problems" in the stadium.
The two sides are due to meet in the Spanish capital on October 14, live on Sky Sports, but Barcelona have released a statement on their website warning supporters that applications for away fans have been cancelled as the hosts can no longer supply tickets previously offered.
Should that remain the case, it will be the second La Liga game in a row in which Ernesto Valverde's side have played without their supporters in the stadium.
Barcelona had attempted to get last week's fixture with Las Palmas postponed after violent scenes broke out during Catalonia's unofficial independence referendum but that request was rejected by the league, leading to a 3-0 home victory being played out in front of an empty Nou Camp.


Now Barcelona say Atletico cannot provide the tickets which had previously been offered to away fans for logistical reasons at the new Wanda Metropolitano stadium, which has hosted two La Liga fixtures and a Champions League clash against Chelsea since opening on September 16.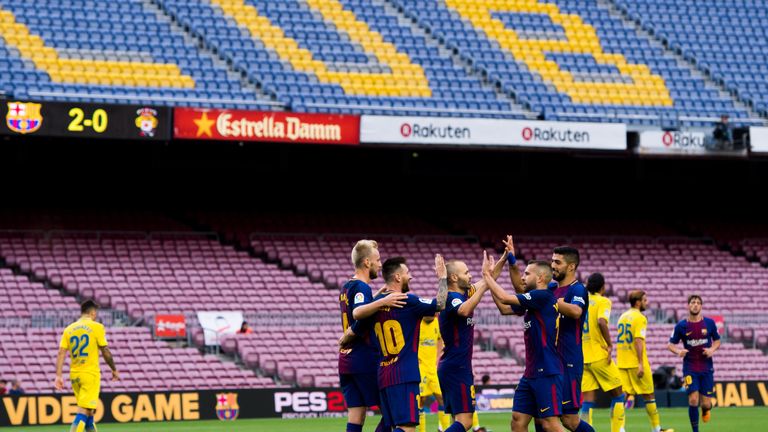 "Due to logistical problems in the new Wanda Metropolitano stadium, Atletico de Madrid cannot supply the tickets previously offered to FC Barcelona supporters clubs ahead of La Liga match on Saturday 14th of October," Barcelona's statement said.
"Therefore, all FC Barcelona supporters clubs ticket applications for the above match have been cancelled."
Barcelona have a 100 per cent record in La Liga after seven games and are five points clear of second-placed Sevilla, with Atletico fourth.