Guardiola bites back at Jose
Barcelona coach Pep Guardiola has launched an astonishing attack on Real Madrid rival Jose Mourinho.
Last Updated: 27/04/11 8:27am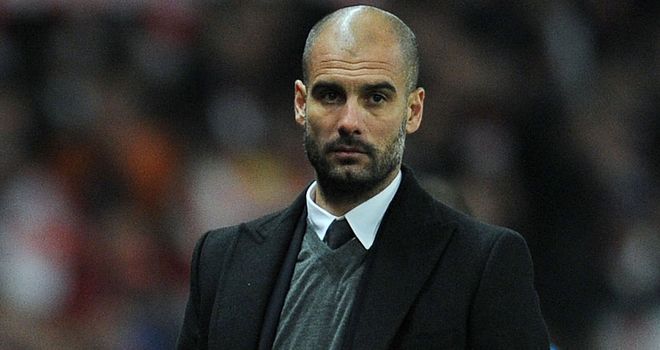 Barcelona coach Pep Guardiola has launched an astonishing attack on Real Madrid rival Jose Mourinho ahead of their UEFA Champions League showdown.
The bitter Spanish rivals are gearing up for the latest instalment in their El Clasico series with a place in the final of Europe's premier club competition at stake.
Speaking at Real's press conference earlier on Tuesday, Mourinho hit out at Guardiola regarding comments the Barca coach was supposed to have made about certain refereeing decisions.
Mourinho, referring to an example following last week's Copa del Rey final between the duo regarding a disallowed Pedro Rodriguez goal for offside, said Guardiola had created a new group that criticises officials when they make correct decisions.
"Up until now we've had two groups of coaches," said the Portuguese.
"[There's] a very small group who didn't talk about referees. Then there's a larger group, of which I'm included, of coaches that criticises referees when they make big mistakes.
"And with Pep's statements we've come to a third group, which is a one person group, who criticises good decisions made by the referee. I've never seen this before."
The man
Guardiola refused to take the comments lying down, though, and launched an angry response during his press conference later that evening, taking the bait laid out by Mourinho in spectacular fashion.
The Barca coach said: "Wednesday at 8.45 we will meet each other on the pitch. Off the pitch he has already won.
"In this room (press room), he's the f****** chief, the f****** man, the person who knows everything about the world and I don't want to compete with him at all.
"It's a type of game I'm not going to play because I don't know how.
"I won't justify my words. I congratulated Madrid for the cup that they won deservedly on the pitch and against a team that I represent and of which I feel very proud."
Motivated
He added: "Off the pitch, he has already won, as he has done all year.
"On the pitch, we'll see what happens."
Guardiola continued: "If you think that his allegation that I always complain about the referees is true after you've all heard from me over the last three years, well there's nothing I can do. Off the pitch there's nothing we can do to fight that."
Although Guardiola seemed to have been ruffled by Mourinho's apparent mind games, the Barca coach insisted his players would not be affected by all this.
He said: "Do you think the players will run more because I've spoken to Jose through the cameras? It's the Champions League semi-finals. The players won't be motivated by this, they know what I think about everything associated with this game."