What next for Cristiano Ronaldo? Real Madrid forward's future is uncertain
By Guillem Balague, Nick Wright, Adam Smith
Last Updated: 22/01/18 4:51pm
With Cristiano Ronaldo's future in the headlines again, Guillem Balague looks at what's next for him...
Cristiano Ronaldo scored twice in Real Madrid's 7-1 thrashing of Deportivo on Sunday. It provided some much-needed relief from what has been a dismal season.
Madrid are still 19 points behind Barcelona in La Liga, and overall Ronaldo has struggled to reach his usual standards. He has only scored six goals and provided three assists in 15 appearances and a closer look at the stats emphasises his drop in form.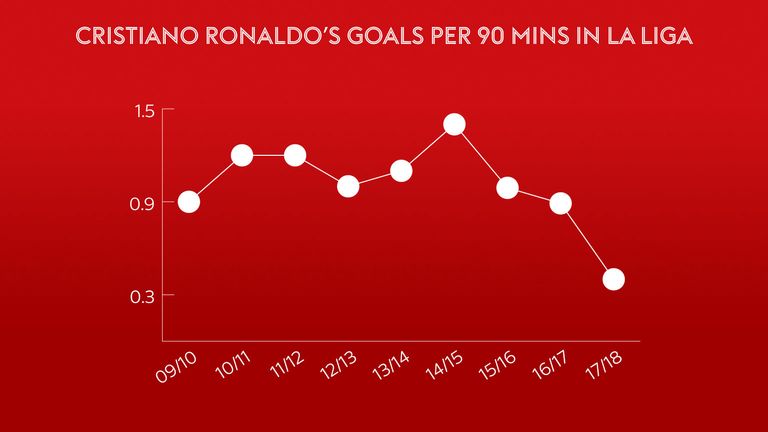 Ronaldo averaged roughly one goal for every 90 minutes played in each of his previous eight seasons at Madrid, but his current return equates to just 0.4 goals every 90 minutes.
Ronaldo has not been helped by the poor performances of players around him, with Isco and Karim Benzema particularly disappointing, but the stats suggest he can't complain about a lack of service.
In fact, Ronaldo has had 101 shots in La Liga this season. It's the second-highest total behind Lionel Messi, but while Messi has 19 goals to show for his efforts, Ronaldo's total of six gives him a conversion rate of just 5.9 per cent - one of the worst of any striker in Europe's top leagues.
Ronaldo's influence on the Real Madrid team is diminishing. He has become an out-and-out striker since passing his physical peak two years ago, but when you are a number nine it is all about how you finish. Right now, Ronaldo simply isn't doing that.
Ronaldo has cut a frustrated figure and once again his future is in question. He doesn't feel loved by the club and he has used that to feed a constant narrative that Real Madrid do not pay him enough or look after him enough.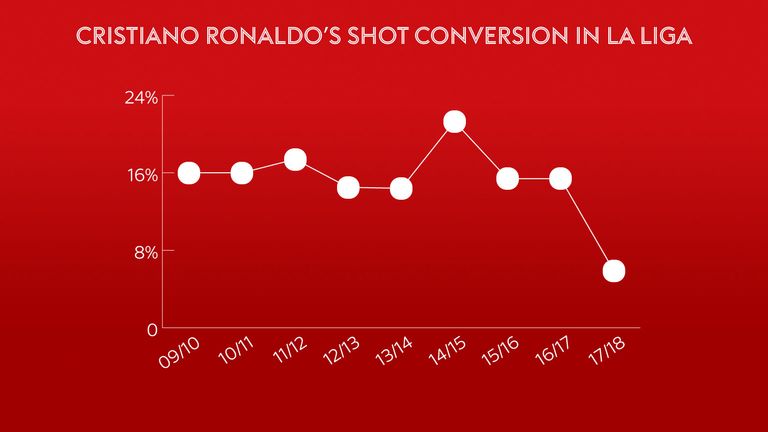 It has helped him get new contracts in the past but what's different now is that Madrid have no intention of paying him the 50m euros-per-year salary he is demanding.
They tied him to a new 23 million euros-per-year contract in November 2016, and they don't even want to discuss another one.
Real Madrid president Florentino Perez is the man who holds the key. Ronaldo was signed by his predecessor Ramon Calderon, so Perez has never felt as attached as he does with his own signings.
Now, for the first time, both Perez and Ronaldo are moving in the same direction. They both want to see what's out there. Ronaldo's future at the Bernabeu is no longer guaranteed.
So could he re-join Manchester United? His people have put the word out about a possible return but the reality is that United do not want to get involved.
They were interested towards the end of Sir Alex Ferguson's reign and during David Moyes' time in charge, but it's a different story now.
That's mostly because of Ronaldo's age. He will turn 33 in February and his best days are clearly behind him, so it is difficult to justify the huge sums that would be involved in the deal.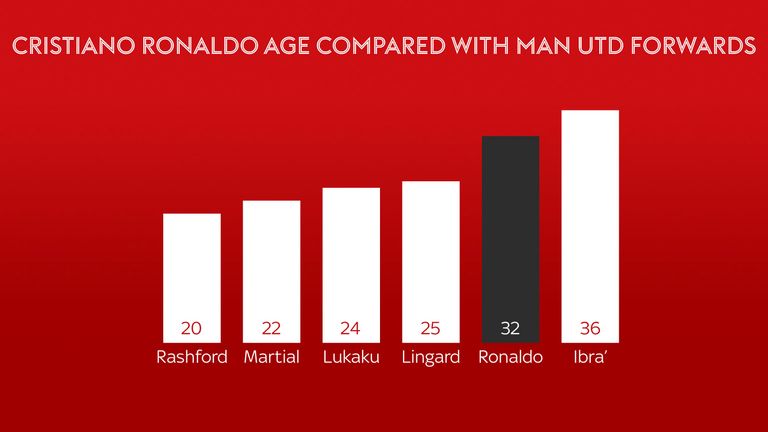 Of course, there is a romantic pull to having him back at Old Trafford, but the truth is that he does not fit the profile of a squad with an average age of just 26.
Of the other big clubs in Europe, only PSG could afford him with the figures his representatives would demand. But if that were to happen, Florentino would like Neymar in return. Real Madrid would be the only real winners in that swap.
It is not an ideal situation for either Ronaldo or Madrid, but both parties have little choice but to focus on improving their fortunes on the pitch.
If Ronaldo can use his goals against Deportivo as a springboard to help Madrid win more trophies, perhaps the club will become more open to another new contract. Or, more interestingly for both sides, perhaps more doors might open to him too.