Cristiano Ronaldo wants to finish his career at Real Madrid after signing new five-year contract
Cristiano Ronaldo signalled an ambition to finish his career at Real Madrid after signing a new five-year deal.
Last Updated: 16/09/13 6:10am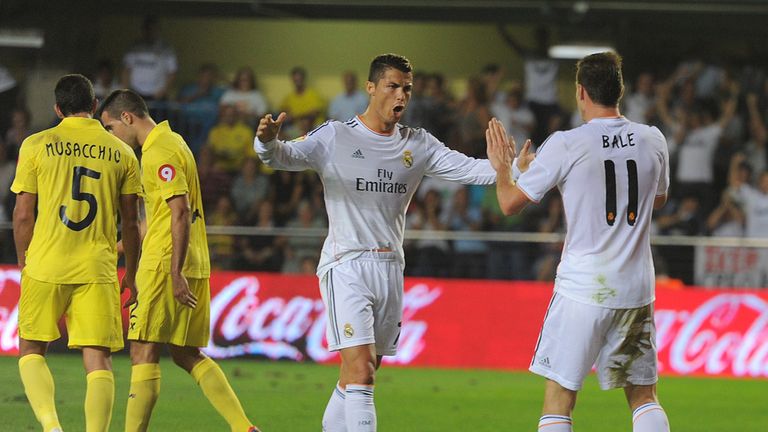 Ronaldo was pictured on Real Madrid TV on Sunday signing his new deal, alongside president Florentino Perez, before fronting a press conference at the Bernabeu.
The 28-year-old Portuguese forward, whose previous deal had been due to run out in 2015, expressed delight at agreeing terms after speculation in the summer he could be tempted back to Manchester United.
But the possibility of a sensational return to Old Trafford, where he is still appreciated four years after his departure, seems remote after Ronaldo stressed the Spanish capital is where he wants to stay.
"I'm really happy here," he said. "I'll be here five more years. I just want to win trophies for this club.
"I appreciate the fans like me a lot to be here. I'm happy, I want to give my best on the pitch.
"I will be honest with you - everyone knows I was in Manchester for six years. Manchester is in the past.
"Now my club is Real Madrid. This is my home, my family is here and I'm really happy here.
"I respect all the clubs who ask about me. But they always know that my decision, that my only goal is to be here and to play at this club until, maybe, the end of my career.
"The future nobody knows."
The 28-year-old had been linked with a move away from the Bernabeu following the arrival of Gareth Bale during the summer transfer window.
The 100m-euro fee Real paid to Tottenham for the Wales winger eclipsed the previous world-record of 94m euros they splashed out to lure Ronaldo away from United in 2009.
Ronaldo has scored a remarkable 203 goals in 203 appearances for the Spaniards, helping them secure the King's Cup in 2011 and the La Liga title in the 2011/12 season.
Sky Sports' Spanish football expert Guillem Balague says that Ronaldo had agreed the extension in the summer, but wanted to wait before signing the deal.
When asked if the deal was a reaction to Real's world record signing of Bale, Balague told Sky Sports News: "Not exactly.
"He will renew his contract until 2018 and he will be the best-paid player in Spain, above Messi, on €17m (£14.2m) net, so we are entering a new phase of wage structures here.
"Obviously, there were one or two things that Cristiano Ronaldo had to make sure before he actually signed the contract, a contract that was agreed in the summer around mid-July.
"Florentino Perez said in L'Equipe that Ronaldo was going to stay at Real Madrid forever and he knew it because everything had been agreed, just not signed.
"Ronaldo wanted to see two things: No.1, the submission of the club to him in the sense that he wanted to feel as important as possible as the No.1, and I think he's felt that in the last few months.
"No.2, he wanted to see Bale coming and if he was going to earn more money than him, and if Real Madrid were going to pay more money for Bale than they paid for Cristiano.
"Well, Bale will earn less than €17m for sure, but this is where it gets funny as Real have always said they paid €91m for Bale, which is less than the €96m they paid for Cristiano, but in fact they paid €101m, so they were trying to twist the truth a little so that Cristiano didn't get upset."
Balague also believes that Ronaldo was never going to join United this summer, despite 'flirting' with his former club.
"There were certainly contacts between Cristiano Ronaldo, his representatives and Manchester United, no doubt about that," he added. "And there was no doubt about the interest of Manchester United to bring Cristiano back.
"I never believed that Cristiano was going to go to Manchester United. I heard in interviews that he said Manchester United was a place where he'd like to go, he loves it there and the people love him also.
"But he felt that, to actually get the heights he wants as a player, he had to stay at Real Madrid, but he had to stay on his conditions.
"It was kind of convenient that he was flirting with Manchester United in the last year or two, but it was pretty clear to Real Madrid, and people who know Spanish football, that Cristiano always wanted to stay at Real Madrid."