My Career: Gaizka Mendieta
Gaizka Mendieta talks Sky Sports through winning trophies and playing against Zinedine Zidane...
By Peter Fraser - Follow me on Twitter @SkySportsPeteF
Last Updated: 16/01/14 12:18pm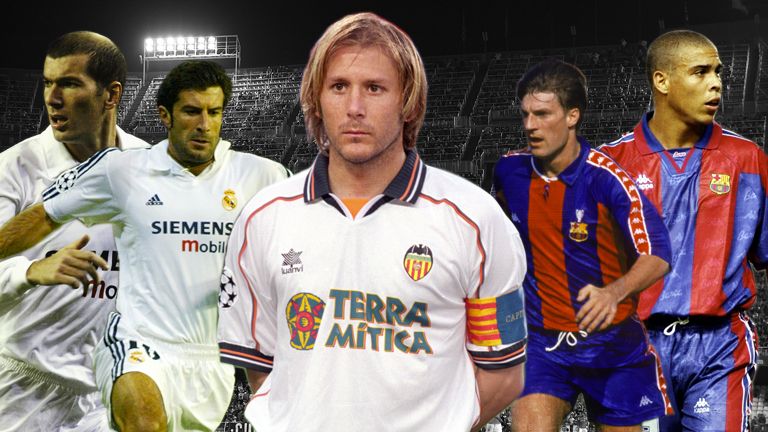 Having played in two successive UEFA Champions League finals, Gaizka Mendieta enjoyed some glorious moments in his club playing days.
The former midfielder was arguably the most influential player in Valencia's route to the European Cup finals of 2000, against Real Madrid, and 2001, versus Bayern Munich. Both those finals ended in defeat but appearing in the showpieces would be standout events in anybody's career.
At the same time, Mendieta - who also played for Spain, including at the 2002 World Cup - had many other memorable times, such as winning the 1999 Copa del Rey with Valencia and later lifting the 2004 English League Cup after joining Middlesbrough.
The now-39-year-old can also count Lazio and, on loan, Barcelona among his ex-clubs before he retired in 2008 but it was at Valencia where he achieved his greatest success. Here, Mendieta talks Sky Sports through winning trophies, idolising Ruud Gullit, and playing against Zinedine Zidane.
Finest Hour - Copa del Rey final, 1999
"It is hard to pick just one but I remember my first trophy with Valencia, the Copa del Rey. It meant a lot for me and for the club after 20 years of not winning anything. The two Champions League finals, as well, would be some of the best times in my career, although they were bittersweet. But looking back now, what we achieved with that Valencia team was unbelievable. It left a sadness that we did not win either of the Champions League finals but we came closest in the second final."
Favourite Goal - Atletico Madrid 0 Valencia 3, June 1999
"I scored the second goal in the Copa del Rey final against Atletico Madrid. Winning the cup meant so much for me and the club. Scoring that goal is one of those feelings which you cannot really explain, because you are over the moon. I remember running around with my team-mates and I was so happy."
Football Hero - Ruud Gullit
"He was a very physical but at the same time a very technical player. He was not a typical star. He had something different off the pitch. On the pitch, whether it was for the national team or for his club, he was an incredible player."
Toughest Opponent - Football Legends
"I was lucky to play against many great players. I remember Michael Laudrup, Luis Figo, Zinedine Zidane and the Brazilian Ronaldo, who was an unbelievable goalscorer."
Most Talented Team-Mate - Predrag Mijatovic
"That is a difficult one to pick. If I try to think of a player who helped me and influenced me in my early years at Valencia, there was Mijatovic and also Luboslav Penev. They were world stars and I was only 17 or 18 years old. Lubo was a real character. He always wanted the perfect ball and would always tell you what you had to do. In a way, I suppose that helped make me a better player. Mijatovic was different and was a very talented player. At Barcelona, as well, there was Luis Enrique and Patrick Kluivert. There was also Alessandro Nesta at Lazio. All through your career, you can learn from anyone. At different stages in my career, they all influenced me."