Bravo Benzema
Guillem Balague says Karim Benzema is fulfilling his potential and David Villa may move to England.
Last Updated: 03/04/12 1:47pm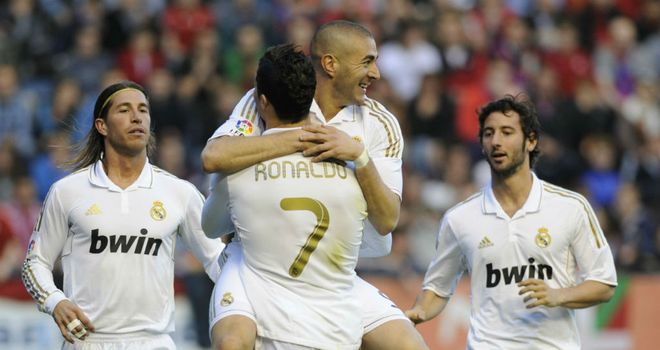 As a 17-year-old, Karim Benzema was promoted into the Lyon first-team squad.
His first task was to stand in front of his new team-mates, including Juninho and Michael Essien, and sing a song. He was awful. Everyone laughed. But when the laughter died, and silence filled the room, the 17-year-old looked around at his illustrious team-mates and declared: "You laugh now but I will laugh last, I will be taking your positions in the team".
That epitomises just how confident he is. And it may have taken a while but finally we are seeing what he is made of, both mentally and physically. He has lost weight and he looks really sharp, and took a fantastic goal against Osasuna in Real Madrid's 5-1 win. Between him, Gonzalo Higuain, and Cristiano Ronaldo, they have scored 99 goals this season - unbelievable.
I was really surprised with the tactical changes Osasuna made, which really affected them and they reacted too late. When they brought on Dejan Lekic and they moved Nino - surely the shortest striker in the world - to a wide position, they greatly improved.
It is extraordinary what is happening at Real Zaragoza, and it's all down to the team changing their mentality. They now believe they can avoid relegation.
Angel Lafita was key in their victory over Valencia a few weeks ago by stealing a ball and assisting for the second goal, and he also scored a key goal at the weekend against Sporting Gijon.
Zaragoza love to battle without the ball. They are less confident with it because they don't have the quality but their results in the last three games mean they have a chance of getting out of the relegation zone.
Guillem answers your questions...
Got a question for Guillem? Then send it in here or use the feedback form below, and then look out for his answer next week.
VILLA IN ENGLAND?
Hi Guillem, I'm interested in your opinion regarding David Villa. When he moved to Barca, Sir Alex Ferguson came out and said he was the only player he would have spent big money on. Do you think there is an opportunity there for United to get Villa? Many thanks. Jay Stoddard
GUILLEM SAYS: Premier League teams have never had a better chance of buying David Villa. Before he just wasn't up for it - he didn't know the language, his family was young - but now you can convince him. He will start training with the team in April and there's an opportunity for a Premier League team to take him. For Barcelona he plays wide left, sometimes as a striker - they miss him - but Barcelona can be a cruel team. If you drop your level a little bit then you cannot catch up. May be Villa is thinking to himself before that happens he will try himself in a foreign league. He hasn't got offers from anyone yet.
FINAL BILBAO
Hi Guillem, Do you think Atheltic Bilbao will be able to keep hold of their star players this summer? Fernando Llorente, Iker Muniain, Javi Martinez and Ander Herrera would improve any Premier League side and have all been linked with moves away. What are the chances of any of them leaving and in particular, do you know how strong Manchester United's interest is in any of them? Thanks. Shane Farrington
GUILLEM SAYS: Martinez would be a very expensive signing - 40million plus. That means you really have to think of him as the main star of your team. Barcelona are looking at him as a centre back possibility or he can play central midfield. If someone is willing to spend that kind of money - and that's a big if - then he is most likely to stay in Spain. Llorente will have a year left on his contract, but he is dragging his heels on signing a new deal and there is an opportunity for English sides to go and get him. He's had offers in the past from Spurs and Liverpool were in touch with before they signed Fernando Torres and then opted for Andy Carroll. And Fulham could have got Llorente for £1.5million at one stage but at the time - I won't say who the manager was - they didn't think he was good enough. He is most likely to leave. Ander Herrera will stay, Martinez will be sought by Barcelona or Real Madrid and Iker Muniain - who will be a superstar - will probably stay another year.
END OF AN ERA?
Hi Guillem, with the European Championships only a few months away many are describing it as the end of an era for England and the start of a transitional phase. The same could also be said for Spain in a way, Xavi, Carles Puyol, Fernando Torres and Villa all probably being phased out over the next few years. Who will replace these players? Will Spain still be as strong? And will Spain have to alter its style of play to accommodate this change? Thank You. Tom Simpson
GUILLEM SAYS: They have still got the veterans and new people are coming in, like Muniain. And there are others who could be part of the team like Raul Garcia of Osasuna or Isco of Malaga so there is not much to worry about. Remember Spain has been getting success at age-group levels recently. It doesn't mean we will win every competition. In terms of recycling the team the only one that worries people is Puyol. In the likes of Cesc Fabregas we have something like Xavi but we haven't got a centre back with the quality and influence of Puyol.
PEP'S REPLACEMENT
I just wanted to hear your opinion on Athletic Bilbao's Marcelo Bielsa being linked with the Inter job? Thokozani Nkala
GUILLEM SAYS: He is an obsession for Massimo Moratti. I just wonder, if Pep Guardiola goes, and he hasn't said either way yet, Biesla would sit very well with them in a way. In another way he wouldn't because he shows videos of the entire games to his players and I cannot see how the Barcelona players will accept that. As Guardiola said it is a privilege to have someone like that in La Liga.