What happens next?
Why does Mourinho want rid of Zidane? Could Villa follow Guardiola out of Barca? Guillem has the answers...
Last Updated: 30/04/12 3:45pm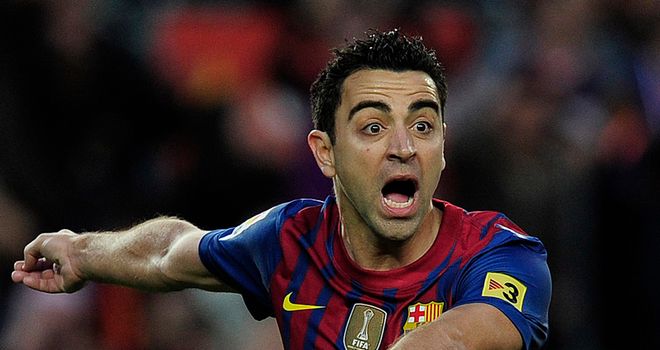 At the moment, Real Madrid are going about getting the title without much sophistication.
It's all very direct, but it all counts. After the 0-0 draw against Valencia, I think there was an instruction from Jose Mourinho to be more direct and not to pass the ball around in midfield in case they lose it.
He's trying to avoid any pressure and he wants them to get the ball to the front three - Angel Di Maria, Karim Benzema and Cristiano Ronaldo - as quickly as possible.
It was interesting that Gonzalo Higuain and Kaka didn't even warm up against Sevilla. It's pretty clear that Higuain wants to leave and while Mourinho would like to keep him, if he's going to stay then he won't play much.
Real Madrid are looking to the future. Now that Mourinho has decided to stay he wants to reinforce his authority at the club and that perhaps involves getting rid of Zinedine Zidane from his role as sporting director.
Zidane was useful to Mourinho when he was fighting to get rid of Jorge Valdano, but he is quiet and is not the "bad cop" that Mourinho wants have next to him. The idea is to get somebody who is more vociferous and who will defend the Mourinho corner, so that he doesn't have to do it all himself.
It's quite clear that his number two, Aitor Karanka, is not that type of person and it's obvious that Mourinho thinks he needs that at the club.
Also, he would like to change the medical department a little bit and would prefer to have more of a hand in the academy. Generally he thinks the club needs to make a jump forward and incorporate itself in the 21st century. He thinks things are done too slowly and should be done better.
Now that he's pretty much won the league, that will be his next fight at the club.
Interestingly, there was a little bit of whistling from the fans at the end of the Sevilla game and that has been interpreted as a criticism of the way that Real Madrid approached the second half of the game against Bayern Munich when, again, they were direct and the defence sat deep.
There were big gaps between the defence and the midfield and between the midfield and the attack. There is perhaps a general impression from some fans in some quarters that winning a cup and a league in two years - and reaching two Champions League semi-finals - does not represent the miracles that were expected of Mourinho.
But he is certainly better than what they had in the previous couple of seasons.
I will discuss Pep Guardiola's departure when I answer your questions below, but it was amazing how the story was treated by the English media.
In fact, I'd like to congratulate the English press because they treated it like Sir Alex Ferguson was leaving. The press conference was live on Sky Sports News and it was big news in all of the newspapers. Everybody seemed to have an opinion
I appreciate the fact that England treated it as such a big story. It shows how up and modern the English media is. I don't think Sir Alex Ferguson leaving Manchester United would be treated the same way in Spain.
Guillem answers your questions...
Have a question for Guillem? Then send it in here or use the feedback form below, and then look out for his answer next week.
END OF AN ERA?
Hi Guillem, just wanted to get your opinion on whether we're seeing the end of Barcelona being a dominant force in Europe, with Pep leaving at the end of the season and players like Puyol and Xavi retiring in the near future, or whether a few world-class signings like Bale, Neymar and Thiago Silva would see them keep their billing as the best club side in the world. Would love to get your opinion. Thanks. Dale Anders (Barcelona fan)
GUILLEM SAYS: Remember, Pep Guardiola has left behind a team that is very young. The average age is 23 or 24 with a few obvious exceptions, such as Xavi - who has played injured for the last few weeks - and Carles Puyol who will need more rest than he's had this season. That's why Cesc Fabregas was brought in.
I still think that the quality is still there - and don't forget that Lionel Messi is still there. But everything needs to be seen with fresh, new eyes and Pep couldn't do that any more. The fact that he considered Cristian Tello and Thiago Alcántara to be better options against Real Madrid and Chelsea than Alexis Sánchez and Cesc suggests that perhaps he was too close to everybody to see clearly.
I don't think Gareth Bale is a target, but Thiago Silva is an option at centre-back and if Neymar comes in - and Barcelona have already paid some money for him - then we are talking about a team that will be competitive. Jordi Alba is also in the equation, there is an agreement with him, but he may still renew his contract with Valencia so Barcelona will have to pay a transfer fee. They need a striker too.
They are going to try to sell Dani Alves and David Villa. I don't know if they will sell them, but that's what they are trying to do. If that's the case, that will raise some money to get the players they need.
RIGHT ABOUT MESSI?
Will the board say to the new Barca coach to target a centre forward and move Messi to the right again? I'm sure he would still score 50 goals from that position but having no-one in the box in the last three games hurt the team badly. The system against Madrid and Chelsea was not fluid in terms of the team shape. Too many midfielders and too square across the pitch. Messi has 63 goals but was playing too deep so there was no focal point of attack with Tello and Iniesta both basically playing on left-wing. I believe Villa would have made a big difference but when fit he normally plays left to accommodate Messi. Gracias Guillem.
GUILLEM SAYS: Don't forget that Messi has scored 65 goals this season playing in the centre! The fact that he missed out on making an impact in the two Chelsea games and the Clasico is partly because of how the team played. They just didn't play to his strengths as they have in the past. There are many reasons for that.
It would have been a different idea to have played him on the right in those games. Real Madrid and Chelsea were expecting him to play in the middle, so why not play him on the right? I agree with that idea and I would like to talk to Pep Guardiola about that as part of the biography I'm writing.
COULD HAVE HAD XAVI...
Hi Guillem, great column as usual. I'm a Man United fan. Could you elaborate on what you said in last week's column: "Did you know that on one occasion when he (Xavi) wasn't completely in love with football and the way things were going at Barcelona, he almost signed for Manchester United?" That would have been interesting!?? This is the first I've heard of it but try to keep my ear to the ground. When was this? I'm guessing it was around the time we signed Veron? 2001/02?? What were the circumstances? Why didn't it happen? I would've LOVED that!!!! Andy Eyre (Manchester Utd fan)
GUILLEM SAYS: There's two things here. Firstly, Xavi has always said if he had come to England (and it's too late now) then he would have come to Manchester United. Also, when he was 24 or 25 he was considered the replacement to Pep Guardiola and people were saying he didn't seem to have enough impact on the Barcelona team. He now admits that, at that point, he wasn't enjoying his football much. His agent was approached by Manchester United, but it didn't happen. He renewed his contract at Barcelona and that killed the story.
DATES OF FATE
Guillem Do you think that RFEF should take some responsibility for the elimination of both Barcelona and Real Madird at the Champions League semi-final stage? The RFEF would have been aware of the Champions League dates when formulating the 2011/12 La Liga fixtures. To place a Clasico between the two semi-final dates seems ludicrous to me. Barry
GUILLEM SAYS: Last season there was a series of Clasicos in the league, the cup final and the two semi-finals of the Champions League - and Barcelona still won the European Cup. I don't think it's a matter of calendar; the calendar will always be like this. Every team plays all the other teams - and then plays them again the other way round. They are trying to put El Clasico as one of the last four or five games of each half of the season to make it interesting because they are often playing for titles. I don't think it makes a big difference. In many cases it's about how you manage your squad, not what happens in the calendar.
FOR SPAIN AGAIN
Hi Guillem, Do you think Fernando Torres has done enough to earn a recall to the Spain squad in time for this summer's European Championships? Also what's the latest on David Villa's recovery - is he likely to be fit in time? Finally, who do you think Vicente Del Bosque will pick, he has plenty of options with Roberto Soldado, Fernando Llorente and Alvaro Negredo also in decent form. Thanks in advance. Manchester Utd fan
GUILLEM SAYS: Torres has scored four goals in two games and he seems sharp again. Also, he seems to have rediscovered something that he was lacking in that he is making the runs that he should have been making before. He isn't taking half-a-second to think about it now, so I would definitely take him.
David Villa thought that he would be with the group by this stage, but he isn't just yet, so he is going to have to keep working on his recovery. He thinks he's going to be ok to make it for the national team and I know Vicente del Bosque will wait for him. Llorente will be taken as well and I wonder if Spain need any strikers other than those three? After all, sometimes they play without a striker.
HAVING YOUR PHILL
Hi Guillem, I was wondering what you thought about Phillipe Coutinho, who is currently on loan from Inter to Espanyol. He has been impressive for Espanyol and looks like he will develop into a top quality player. Do you think he is destined for greatness? Also I heard he wants to stay longer at Espanyol, so do you see him going on loan there next season as well? Thanks Roman Pearce (Arsenal fan)
GUILLEM SAYS: Coutinho is going to be a great player, no doubt about it. Espanyol are trying to keep him for another season, but it doesn't look likely.
He needs time to play, but he's going to be fantastic and will be one of the top 10 players in Europe. He's like Pablo Aimar, but perhaps even better. He dribbles, he plays in the hole and it's a shame that he will leave Espanyol!
Keep your questions coming in and don't forget to follow Guillem on Twitter: @GuillemBalague