Jose Mourinho war with media is deliberate strategy, says Guillem Balague
Guillem Balague analyses the strategy behind Jose Mourinho's battle with the Spanish media.
Last Updated: 06/05/13 12:51pm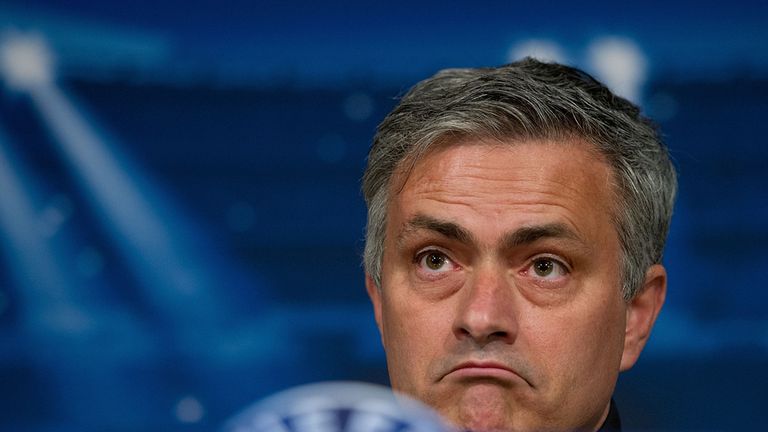 He has been going to war with the media from the beginning. He stopped them travelling on the plane that used to go to games so they have to stay an extra night after matches or get flights at odd times instead of coming back with the team.
He closed down the training ground and didn't allow the players to talk to the press as much. He basically went to war with the media because that's what he's done everywhere. He did that in England, in Italy and even in Portugal and of course there are people who dislike that sort of approach.
Also, there is a general conclusion that Mourinho has been a lot of noise without much product. For one league title and perhaps two cups there has been too much controversy and too much tension between the two sides.
There must be something behind his child-like behaviour in press conferences and there are different points of view on this. Some say he's trying to force Real Madrid to sack him and that's why he said that in the last 10 to 20 years Barcelona has been a better team than Real Madrid and things like that. Other coaches have been sacked for less than that.
The problem is Real Madrid don't want to sack him because they would have to pay 10 million euros of his buy-out clause. The agreement at the moment is that if he goes then whoever gets him may have to pay 10 million euros. All of that will be negotiated and it means that Mourinho will stay until the end of the season.
The most interesting twist in the last week is that Pepe had a go at his own manager. There is a civil war whereby the technical staff are on one side and the players are on another; the players don't understand Mourinho and his methods any more.
There was a fantastic front page on my newspaper AS that said 'Mourinho I: The Semi-Finalist' because he was showing off that he had managed to get to three semi-finals in three years - but he was bought to get the 10th European Cup!
Players looked at that cover and enjoyed it because things have broken down for good. We'll discuss all of this further on Revista de La Liga on Tuesday night.
Guillem answers your questions...
Got a question for Guillem? Then send it toskysportsclub@bskyb.com or use the feedback form below, and then look out for his answer next week.
IS RON GONE?
Hi Guillem, I have read in papers that Man Utd are planning to move in for Ronaldo if and when Madrid decides to sell him. What is the likelihood of this happening? Also, are Madrid trying to sign Bale to replace Ronaldo? Thanks. Novin Singh
GUILLEM REPLIES: Let's make this clear once again. Real Madrid have no intention whatsoever of getting rid of Ronaldo this summer. But then again, if they don't renew his contract he would only have two years left so it would be an interesting proposition. They say 100% that he is not leaving this summer.
THE CALLEJON CONUNDRUM
What has happened to Jose Callejon during this season? Last season he hit double figures with crucial goals, and this season his has disappeared into the background, sort of like Kaka last season. I know Real Madrid's forwards bar Ronaldo haven't been performing, but he isn't even getting playing time. Surely he would have been an ideal man to bring on in Dortmund 2 weeks ago, as he is a fighter? Thanks Elliot Berry
GUILLEM REPLIES: This is one of those situations at Real Madrid that nobody understands. Callejon could have been given more time at the start of the season, but has not been given the chance by Mourinho. Some say that he has been getting away from Mourinho and instead of being one of his warriors has been getting close to the Spanish contingent there, which has worked against him.
REAL RETURNS
Hey Guillem, I was wondering what are the chances of Madrid's cantera products coming back to play in first team next season? I am referring to players like Daniel Carvajal (right back of the season in the Bundesliga) and Javi Garcia of Manchester City. Seeing as how Mourinho may leave, Michael Essien may leave with him, and the Chelsea-loaned player has been used as a back-up for both right back and defensive midfield roles this season, Carvajal seems like a no-brainer, and Javi Garcia hasn't seen many minutes this past season with City. Could we see a more Spanish Madrid next season? Javier Pineda
GUILLEM REPLIES: The idea is to bring Carvajal back next season. He is considered to have been one of the best right-backs of the season in the Bundesliga, as you say, and they want him back.
WHO WILL BARCA BUY?
Hi Guillem. In the wake of their recent defeat by Bayern, are there any plans for Barca to strengthen their squad? I believe athletic, powerful and skilful players like Gareth Bale and Matts Hummels would be ideal additions, giving the team a more physical presence, and in Bale's case, an athletic player who should be well suited to bringing back the pressing game. What do you think? Ben Seymour, Barcelona fan.
GUILLEM REPLIES: There's two ways of looking at this. The board would like a bigger revolution in the squad with big names going, but Tito Vilanova and Andoni Zubizarreta, the director of football, would prefer a more conservative approach so there will only be two or three signings if they get their way. That of course includes a new striker because David Villa will probably be sold; a centre-back (they prefer Thiago Silva to Mats Hummels); and perhaps a physical midfielder. Gareth Bale is not in the equation because Barcelona are trying to convince Neymar to come this summer.
BIG-TIME BOSSES?
Hi Guillem, What will managers like Quique Sánchez Flores or Unai Emery need to do to become potential candidates for future vacancies at Real, Barca and the Spanish national team? Peter Nicolaides
GUILLEM REPLIES: Quique Sánchez Flores is out of the equation now because he's gone to Dubai and prefers to continue his career there, which is perhaps a sign that he thinks his time has passed. Unai Emery perhaps lacks the personality of a former player or the international name which sometimes is what is needed to get to Real Madrid and Barcelona nowadays want somebody who understands very closely what the club is all about. The national team, though, could be a possibility for both of them at some point.
HOW WILL PEP TALK?
How will Guardiola communicate with Bayern players and with the media? I've only seen Robben and Boateng making interviews in English, so they do speak English well, but majority of the team doesn't. Hispanic players speak Spanish, but they don't have that many of them in the squad. So is he going to learn German or will he have an interpreter? Will he have an assistant who speaks German and also either English or Spanish? Peter Halasa
GUILLEM REPLIES: He has been learning German since the summer and plans to do his press conferences in German. He also plans to talk to the players in German.
WILL SOCIEDAD SELL?
Hello Guillem. It looks increasingly likely that Socieded will be playing Champions League football next season. If they do, what are the chances of Inigo Martinez, Carlos Vela etc staying at the club or are they likely to be poached by bigger clubs? Also is it true that Guardiola wants to bring Inigo Martinez to Bayern next season? Thanks, Abdirashid Osman
GUILLEM REPLIES: Inigo Martinez is wanted by both Barcelona and Real Madrid, but Real Sociedad say they are not selling anybody. Financially the club seem to be ok and they want to keep hold of everybody to play in the Champions League. Also, Carlos Vela does not want to go back to Arsenal. He didn't enjoy London as a city, it wasn't so much the club, and he hopes that Arsenal don't buy him back, even though they have an option to do so for about five million euros, I believe.