Hutton hails Mallorca move
Alan Hutton is refusing to rule out a permanent move to Spain after finding a new lease of life at Real Mallorca.
Last Updated: 09/05/13 1:21pm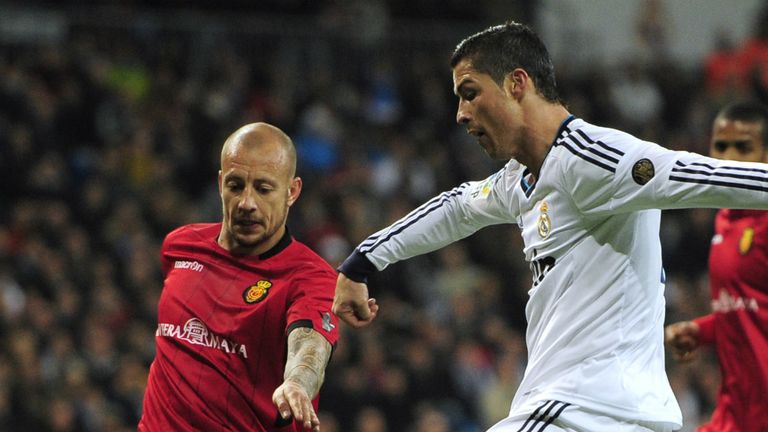 Aston Villa defender Alan Hutton is refusing to rule out a permanent move to Spain after finding a new lease of life on loan at Real Mallorca.
Hutton is currently with the Primera Liga outfit until the end of the season after leaving Villa Park during the January transfer window.
The full-back has impressed during his short stint in Spain and has been an ever-present in the Mallorca side since his arrival on the island.
Hutton found himself frozen out at Villa following the arrival of Paul Lambert last summer, with the Scotland international not figuring in the new manager's plans.
The 28-year-old has loved the experience of playing abroad and is delighted he took up the opportunity to move to Spain.
"It's been a brilliant new experience for myself and I am really enjoying every minute of it," Hutton told Sky Sports.
"It was a bit crazy [how the move came about] one January afternoon my agent told me this could be on cards and it was one I wasn't really expecting, but when I knew they were interested I wanted to grab it with both hands and experience it for myself.
"I think certain times in your career when you get offers like this you have to take it.
"It is something totally different from what I am used to and I thought it would make me into a better player overall to try something new and in my mind I had to do it."
Great decision
Hutton admits it was not a tough choice to head for Spain as he just wanted to play football after a frustrating six months on the sidelines at Villa Park.
"At the stage of my career I wasn't playing so I either sit it out or I go away and do something totally new and start playing football again and I think, for me, I had to do it and overall it has turned out to be a great decision," added Hutton.
"Obviously things were not good for me at Aston Villa and I had to look to the future and this was the main thing for me, to go out and play football and get back to doing what I love to do.
"All is going well and I would love to stay out here.
"The time I have had I've enjoyed so much. My family has enjoyed it and we've been so happy here and I would love to stay in Spain.
"Who wouldn't want to come and play in the Spanish league? It is a brilliant thing to do and I would love to stay in Mallorca and if not, hopefully Spain in general."
Hutton admits he is yet to have any discussions with Mallorca over a possible permanent move as he is focused on helping to climb away from relegation from La Liga.
"I have not as such had any talks about staying as obviously it is hard at the moment as we are fighting with everything we have got to try and stay up," noted Hutton.
"It is probably the wrong time to discuss things as we have four games left and we will see how things go and take it from when the season finishes."
Experience
The former Rangers and Tottenham man swapped training with the kids at Villa to playing against the likes of Cristiano Ronaldo and he believes the move can only improve him as a player.
"I played against Ronaldo before when I was at Tottenham and not just to play against Madrid in Madrid, but to play against one of the best footballers in world is unbelievable, from the situation I was in at Villa, doing nothing to doing things like that was great for me," continued Hutton.
"I am just glad to be playing football and some of the experiences I have had out here - playing Barcelona at the Nou Camp, playing Madrid at the Bernabeu and some massive games at home - it has really been unbelievable.
"The season has kind of totally turned around for me from basically not doing a lot to coming out here and doing some stuff players probably dream of so it has been a great experience for me."