Guillem Balague wonders if Neymar will be a success at Barcelona
Guillem Balague has concerns over Neymar's move to Barcelona and asks if he'll click with Messi?
Last Updated: 28/05/13 10:34am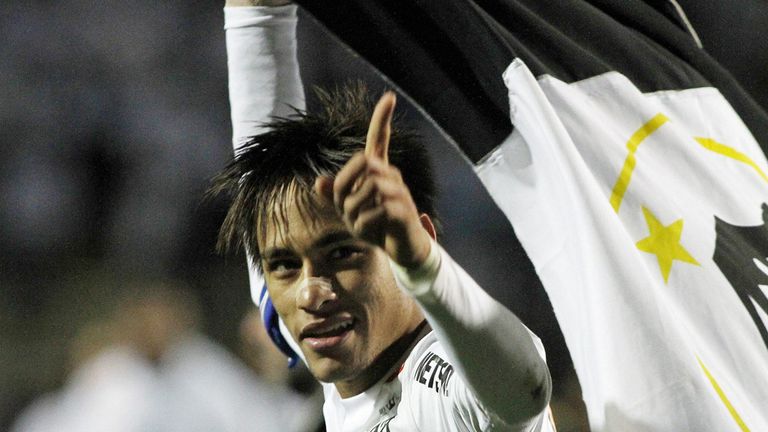 The worrying thing is that in the days before and after Neymar announced he was moving to Barcelona we saw a picture of him having dinner, training with a camera on his head and with a new haircut.
I remember Pep Guardiola saying to someone when Santos met Barcelona in the World Club Cup: "Look at Neymar. He has a new haircut for the competition, he has some boots that have his name on and now look at Lionel Messi - he is his usual self".
So there is definitely that question mark about Neymar. There is only one player in the history of Barcelona that came straight from Brazil and succeeded. The others have had a stop somewhere in Europe; an opportunity which Neymar is not going to have.
A lot of what Neymar does he should stop doing at Barcelona. He's undoubtedly a natural talent. I can only see Messi and Neymar working together in a way that perhaps they don't even imagine at the moment.
Messi is the focal point of Barcelona. With Neymar you have two focal points and that may be difficult to accept but in the long run it could be good for the team.
I think it will be good for the team but we will see.
We will talk more about Neymar on Revista and also talk about Jose Mourinho, of course, on the show from 7pm on Tuesday.
Guillem answers your questions...
Got a question for Guillem? Then send it toskysportsclub@bskyb.com or use the feedback form below, and then look out for his answer next week.
MORE THAN MESSI
Hi Guillem, Firstly I love your enthusiasm for the sport and I think you are doing a wonderful job. Coming to the question, how do you see Neymar fitting into the Barca line-up? Also, with the arrival of Neymar, what kind of effect would it have on Messi's number of goals and his performances? Thank you, Simar Singh
GUILLEM SAYS: Thank you again for the kind words. I don't think we should see the quality of Messi in the number of goals he scores but in the influence he has on the game. Everybody has got to raise their game at Barcelona. It is not about Messi reducing his potential but of everybody else raising their potential. So it is not a Messi problem, it is everybody else's problem. Neymar will be one that obviously influence the side straight away and they need everyone to raise their game for Barcelona to get back to where they were. I don't know if they can ever be the same but they can be close.
SEVILLA IN THE SEGUNDA?
Hi Guillem, Great work this season. I just wanted to know your thoughts on Sevilla. They used to be such a force and seemed to have a great scouting system, so what went wrong? Could they end up going from European highs to the second division, as Deportivo did? Can they ever get back in Champions League contention? Thanks, Marcus Albright (Tottenham/Sevilla fan)
GUILLEM SAYS: Thanks you for your kind words and it's certainly been a very pleasurable season. We told the story of Neymar on Revista in November 2011, so it's good that it came out well. We also broke the story about Pelligrini and Manchester City, so things are going well.
On the subject of Sevilla, the only problem is that people expect them to still be challengers for the top four and European competitions. They cannot do that because there is not the same money. So much so that I don't think it will become another Deportivo but everyone is for sale, including Jesus Navas, who funnily seems like a difficult asset to sell. People are not convinced he could adapt to another country while teams in Spain aren't prepared to pay that kind of money for him. Negredo is another one who will be up for sale.
I know English clubs are considering him but it depends how much Sevilla are asking for. At 18million euros he would be a bargain - he could be the next Michu if you like. It is not the same kind of money but 18m euros for a player who will score 20-odd goals per season in the Premier League is a bargain in my eyes. On Champions League qualification, we need to see how everything works financially in Spain. They can have their moment but I see Atletico Madrid, Valencia, Barcelona and Real Madrid are stronger in their squad than Sevilla. So they may not be in contention for a while.
SEEING SERIE A
Hi Guillem, How do the Spanish fans and media perceive Serie A? I know the attendances seem to be down but there are some big players there now in Mario Balotelli and Marek Hamsik, and, of course, from next season Fernando Llorente. Plus, Juventus have even been linked with Wayne Rooney. Is the Italian division on the up? Cheers, Billy Wright (Arsenal fan)
GUILLEM SAYS: Serie A has been a bit off the radar. The Premier League is now the second favourite league in Spain after La Liga. Now of course there is a lot of focus on the Bundesliga but there are so many historical clubs in Italy and financially they seem to be starting to get things right. But Balotelli and Cavani, even if he stays, are just not the kind of crowd attraction that you need. They are probably the fourth league now in Europe.
REAL DEAL?
If Real Sociedad get in the Champions League, do you think there will be a one-season wonder and sell all their best players, or can they become a regular threat at the top of the table? Thanks, Michal Hollins (Chelsea fan)
GUILLEM SAYS: That is interesting because Philippe Montanier is leaving for Rennes and they are going to have to look for another coach. They don't want to sell anybody because they want the same team in the Champions League and if they do that and improve defensively they could be one of the surprises, like Malaga, and could make it into the next round and you never know. But I am not sure if they keep improving as a team if they can raise the wages to a point where everyone is happy and everyone stays. But I see them making an impact for one more year at least.
A BELTER
If David Albelda leaves Valencia at the end of the season how do you think he will be remembered? How good was he in his prime and how strong was his midfield partnership with Ruben Baraja? Thanks, Tom Mason (Crystal Palace fan)
GUILLEM SAYS: Albelda is a legend and some of the games he has played with Baraja made him one of the best defensive midfielders around in Europe. He is consistent as well. With the ball he is not the best so he does not make an impact in the eyes of a lot of people. But without the ball and the work he put in makes him one of the top midfielders in Spain in the past decade.
FALCAO MOVE
Hi Guillem, There has obviously been a lot of talk about Falcao's future, with Monaco, Man United, Chelsea, Real Madrid and PSG all linked - but which club's footballing style would suit his talents best? Thanks, Alex Durrant (Celtic fan)
GUILLEM SAYS: Falcao should play for a team with a lot of wingers, with a lot of pace and one that likes counter-attacking football. So Manchester United would have been perfect for him. I was told there was a payment form Manchester United to keep track on any offers that Falcao may receive. Remember that a big percentage of Falcao belongs to a third-party so they were charging clubs to do that and obviously it got to the point when money was put on the table. Manchester United could not match what Monaco offered - 55m euros.